theScore examines the most important Premier League developments from the weekend, dissecting the biggest talking points after a busy slate of action.
Individual errors cost Chelsea again
The good news is that Chelsea are still very much in the title race, and none of their recent slip-ups have hindered their pursuit of silverware. The bad news is that games are coming thick and fast, and more of the same could derail their season entirely.
A week after Jorginho fumbled possession against Manchester United, the Ballon d'Or finalist once again put his team in trouble Saturday, playing the ball back to goalkeeper Edouard Mendy with multiple opponents within striking distance. Mendy dallied in possession and conceded a penalty, and then he misjudged a speculative shot from outside the area in the final minutes. Chelsea blew a 2-1 halftime lead en route to Saturday's 3-2 defeat to West Ham United, looking completely rattled in the second half.
Thomas Tuchel has excuses. Chelsea have played more games than any other Premier League team in 2021. N'Golo Kante is injured, and Romelu Lukaku is still returning to match fitness after more than a month out.
Still, Tuchel is confident about his team's overall approach, and the manager has every reason to be. The Blues are still playing clever diagonal balls, still stretching opponents, still monopolizing possession, still taking cues to press. They just continue to give counterattacking teams like West Ham enough of an opening to do damage. Sometimes, that's enough.
West Ham more than just giant killers
Now, West Ham may look like a team that's overachieving, and scalps against Liverpool, United, and Chelsea may have the appearance of upsets. But it'd be inaccurate to paint David Moyes' side as David to these Goliaths, as gate-crashers simply playing spoiler against the Premier League's elite. Because West Ham very much belong in the upper echelons of the English top flight.
There's a beautiful simplicity to the way West Ham play. They always look for vertical passes to advance the play as far up the pitch as possible, and stalwarts like Michail Antonio use their body to protect the ball and buy time for teammates to run into space and receive the next pass. Declan Rice can carry the ball for yards and yards, while midfield partner Tomas Soucek releases incredible long balls. Jarrod Bowen is a dynamo up front, capable of dribbling and harrying opponents in equal measure, and Pablo Fornals is an absolute workhorse in attack and defense. Factor in West Ham's strength on set pieces, and there's no wonder they've done so well.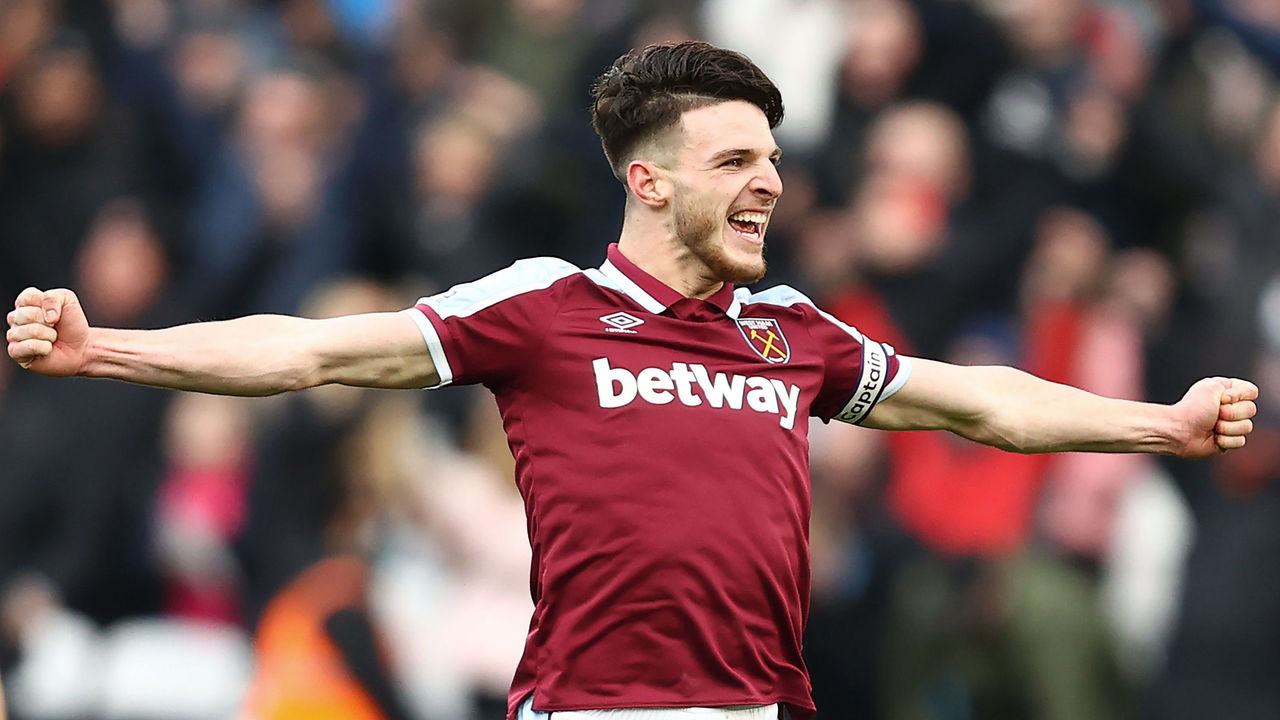 Moyes isn't too concerned about hoarding possession or even reaching a certain passing threshold. It's very old school, and it's working.
Origi proves the value of depth
Every successful team has a player like Divock Origi in its ranks: someone who can produce the goods no matter how much playing time they get. Origi knows his role – he's never going to displace anyone in Liverpool's front line – and he seems to relish it.
Origi could go elsewhere and become a starter. But maybe he's just the kind of striker that feasts on tiring defenders and the mistakes they make. If he was a starter, maybe the 26-year-old wouldn't be as effective. He has a 31% conversion rate since 2018, which is a tremendous return for a perennial substitute.
Look at the winners he's scored in recent times: He pounced on Jordan Pickford's error in December 2018 to hand Liverpool a 1-0 win in the Merseyside derby, and against Barcelona in the Champions League, the Belgian converted off a quick corner-kick routine that caught the Spanish side off guard.
| Date | Match | Time of Goal |
| --- | --- | --- |
| December 2018 | vs. Everton | 96′ |
| May 2019 | vs. Barcelona | 79′ |
| June 2019 | vs. Tottenham | 87′ |
| Dec. 4 | at Wolves | 94′ |
He did it again Saturday, finding enough space between Wolverhampton's exhausted center-backs to turn and score the only goal of the game.
"He's an incredible striker," Reds manager Jurgen Klopp said. "For different reasons, he did not play that often, but I hope one day he finds a manager that plays him more than I do.
"He's one of the best finishers I've ever seen in my life. In this great team, with our three, he doesn't play all the time, but he is a very positive boy, loves the club, wants to contribute, and he did in an incredible way."
Newcastle finally put up a fight
If Newcastle United end up avoiding relegation, they may look back on Saturday's 1-0 win over Burnley as a turning point.
The victory came just a day after Eddie Howe challenged the Magpies to become the first team in Premier League history to survive the drop after failing to win any of its first 14 matches.
"I know it's going to be extremely difficult," the 44-year-old manager said prior to Saturday's fixture. "If no team has done it, there's a reason why they haven't done it. That's because it's incredibly tough.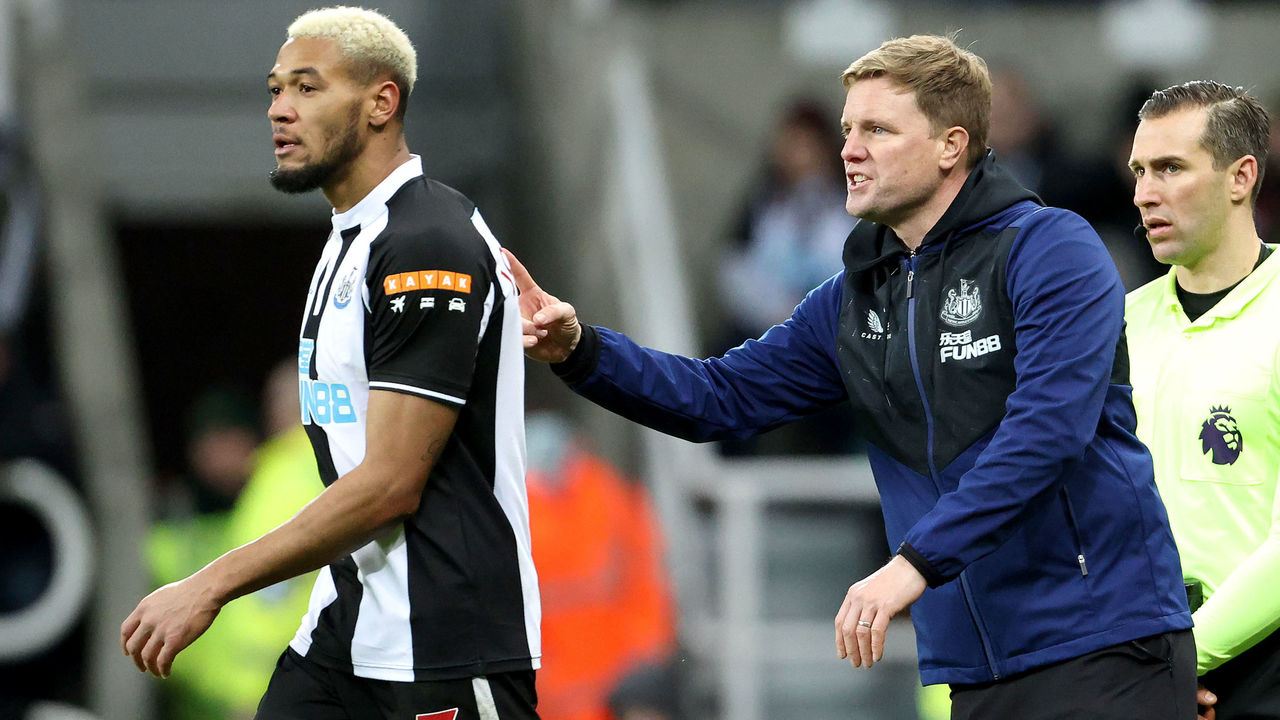 "But why not be the first? That's always been my mindset. Why not change history? That's what we're going to have to do."
Howe can take encouragement from the way Newcastle defended against a Burnley side that can cause headaches on set pieces. His team recorded a clean sheet for the first time this season, marking a step in the right direction for the most porous outfit in the Premier League.
Bernardo Silva can't be stopped
Few players in the world are having more fun on the football pitch than Bernardo Silva this season. And, unfortunately for Watford, the fun continued Saturday.
On a night when several Manchester City stars shined bright, it was Silva who stood head and shoulders above his peers again. He was phenomenal against the Hornets, scoring twice to help City claim top spot in the Premier League with a dominating 3-1 triumph at Vicarage Road. Silva capped off the night with a spectacular curling strike to match his highest scoring output in the Premier League.
The goal itself was incredible, but it was Silva's movement off the ball, and his awareness in the buildup, that paved the way for the magical moment. After the quick-thinking 27-year-old recognized a mismatch with Danny Rose, Silva demanded the ball before blazing past the aging full-back to create just enough space to rifle his shot into the back of the net.
He offers plenty more for title-challenging City, his second goal offering the perfect snapshot of what's made the Portuguese international so valuable to Pep Guardiola's squad this season.
Three-way title race is heating up
Unlike the previous two Premier League campaigns, the 2021-22 title race is shaping up to be infinitely more entertaining and dramatic. Granted, we haven't even hit the halfway point of the season, but it's impossible to ignore the tug-of-war that's currently taking place at the peak of the table.
By the time the dust settled Saturday, three teams enjoyed a taste of what life is like at the summit.
Chelsea started the day as leaders before their surprise loss to West Ham opened the door for Liverpool to leapfrog into first with a win over Wolves. But it was last season's champ who ended the day atop the table, as Manchester City cruised past Watford to gain sole possession of the most coveted position in England.
With only nine days separating the start of Matchday 16 from the end of Matchday 18, the situation at the top of the table is far from stable. The upcoming congested holiday period could prove to be pivotal in the three-team title race.
United show signs of improvement
Ralf Rangnick said he was "positively surprised" by Manchester United's intensity in Sunday's 1-0 win over Crystal Palace. He isn't alone in that assessment. The ferocity of United's press in the opening few minutes was a rare sight indeed from these players. The crowd at Old Trafford roared in excitement, and the early pressure forced two quick turnovers in the final third.
Predictably, the Red Devils couldn't keep up the pace in the second half, and the day would've ended in frustration if not for Fred's moment of genius later in the game. But you could see United's game evolve. Cristiano Ronaldo impressed Rangnick with his work ethic off the ball, and United spent more time than previously in the opponents' half with Marcus Rashford playing alongside Ronaldo while Bruno Fernandes and Jadon Sancho stretched play out wide.
"We always tried to be on the front foot," Rangnick said afterward. "We were never not apart from maybe the last five minutes. At all other times, we were trying to keep them away from our goal."
Rangnick called for more "control" in games, and his team showed a lot more of it against Palace.
Bamford makes heroic comeback
Leeds United badly missed Patrick Bamford's goals over the last 11 matches. Their top scorer from last season was out with an ankle injury, unable to help as Leeds plummeted down the standings and teammates picked up injuries of their own.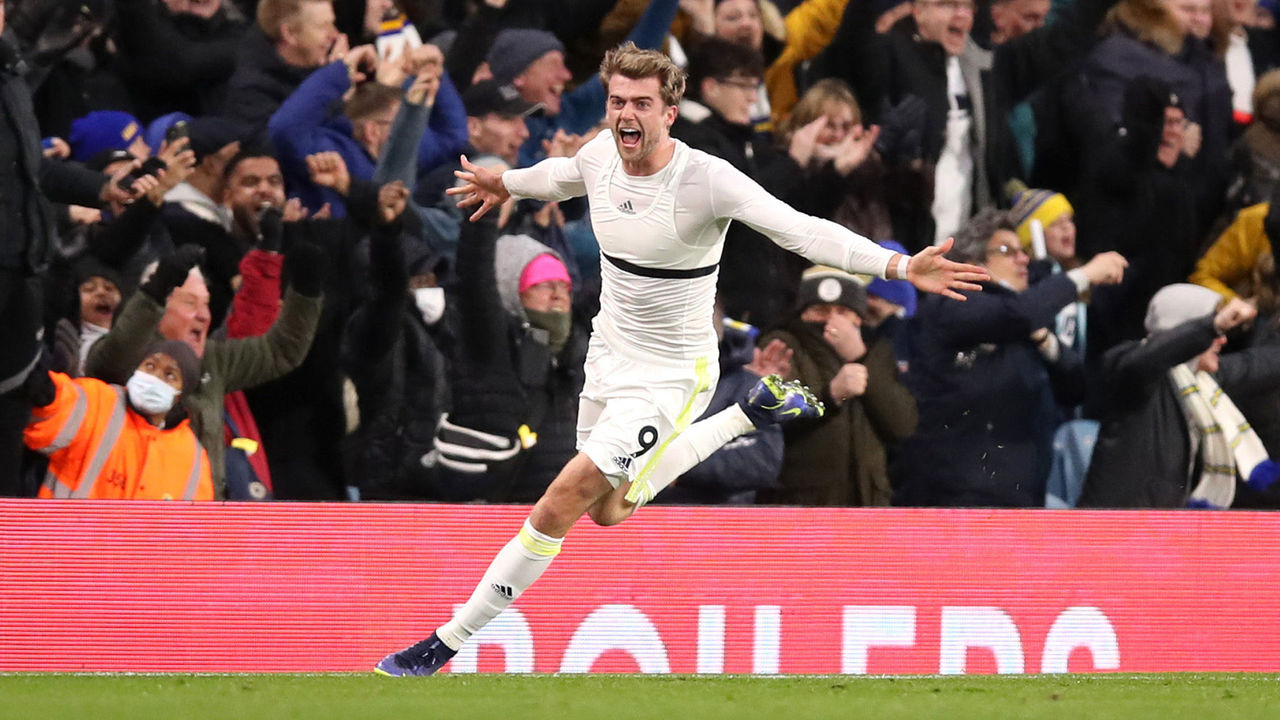 So, Leeds had many reasons to celebrate Bamford's 95th-minute equalizer in Sunday's 2-2 draw with Brentford. For just the third time this season, the West Yorkshire side finished a game with more than one goal. Plus, having come into the match with the fewest goals scored in the penalty area, Leeds finally got a big one from their talisman. Manager Marcelo Bielsa said he appreciated how opportunistic Bamford's finish was, probably because his team lacked that same ruthless streak in recent tussles.
Even if Bielsa expected three points Sunday, his team still managed to move a further point away from the relegation zone, a respectable outcome given the loss of captain Liam Cooper and midfield lynchpin Kalvin Phillips to injury.
Conte's Tottenham taking shape
Antonio Conte is 3-1-0 in the Premier League since taking over Tottenham Hotspur. Disregard the loss to little-known Mura in the Europa Conference League – a relative anomaly given how much Conte rotated his squad – and it's a pretty damn good start.
Sunday's 3-0 result against Norwich City pushed Spurs up to fifth place, above Arsenal, and the fans sang Conte's name as the hosts secured three more points.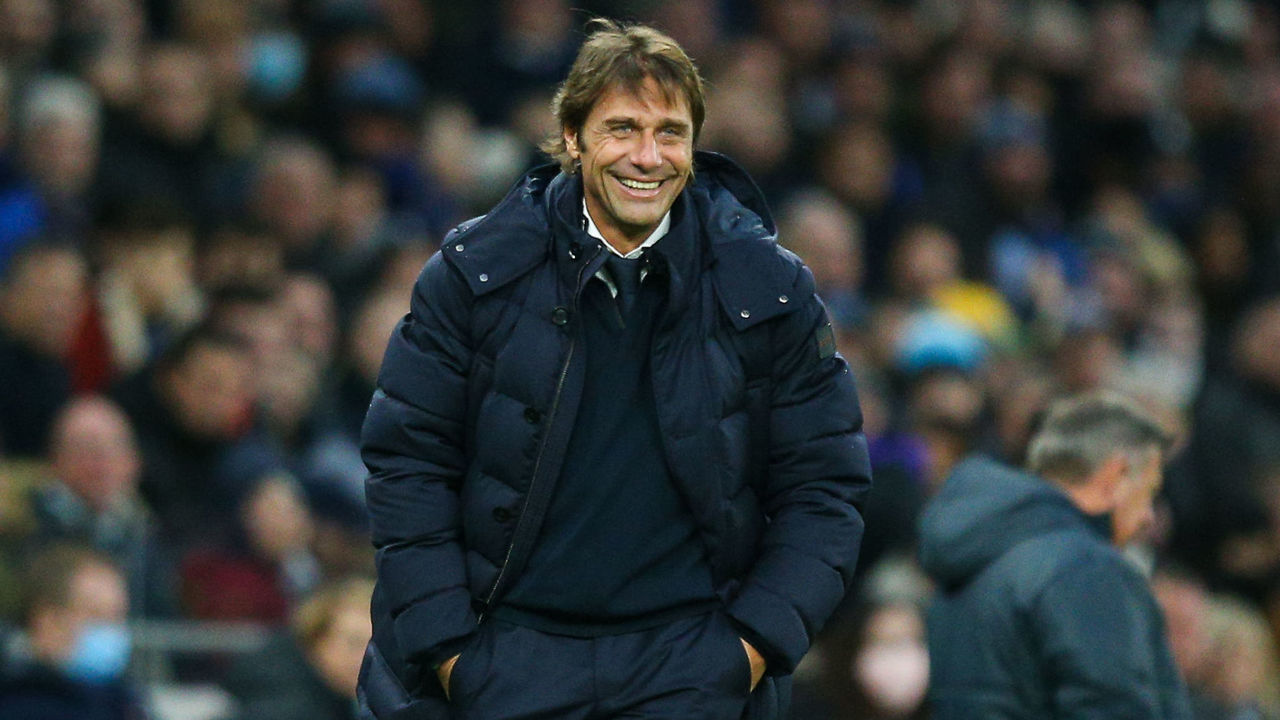 "They trust a lot in my work, and to listen to my name was good because I have just arrived, only one month I've been here," Conte told Sky Sports. "Maybe it's too much early! But I want to show in the future I deserve this."
Tottenham already look like a more responsible outfit, and the defenders are playing a greater role in the overall construction of each play. Ben Davies has benefited from becoming one of Conte's pet projects, as he's shown a greater appetite to get forward from the left side of the three-man defense. After making a run into the penalty area, Davies assisted Heung-Min Son for the third of Tottenham's goals Sunday.
Leicester's defense continues to be a mess
Brendan Rodgers faced a familiar foe Sunday, as the Leicester City boss locked horns with Steven Gerrard in the first managerial meeting between the two since their days coaching Celtic and Rangers, respectively, in Scotland. But, unlike the new Aston Villa manager – winner of three out of four matches since taking charge after Sunday's game – Rodgers could find himself on the hot seat if he can't solve Leicester's defensive vulnerabilities.
Whatever confidence Leicester City regained after bouncing back from a recent poor run of form was undone Sunday. They had several decent spells but were consistently overwhelmed against an Aston Villa side that capitalized on the visitor's defensive deficiencies to record a 2-1 win – a score that flattered the visitors.
But it wasn't the usual defensive blunders that cost Leicester in Birmingham. Instead, Leicester's Achilles' heel was the same one that's plagued them all season, as Rodgers' side was undone by its utter failure to defend set pieces during both of Aston Villa's goals.
Leicester have now conceded 10 goals from set pieces this season (excluding penalties), the joint-most of any Premier League club with Crystal Palace. The 11th-place Foxes have also allowed the fourth-most goals (27) in the Premier League.