theScore examines the most important Premier League developments from the weekend, dissecting the biggest talking points after a busy slate of action.
Premier League stands united against war
Displays of solidarity with Ukraine and anti-war messages were prevalent in the Premier League, as England's top flight resumed for the first time since Russia invaded the eastern European nation this week.
Poland and Aston Villa full-back Matty Cash showed his support for international teammate Tomasz Kedziora, who is stranded in Ukraine. Cash displayed a shirt with a message of support for Kedziora after scoring against Brighton in Villa's 2-0 win and was subsequently shown a yellow card.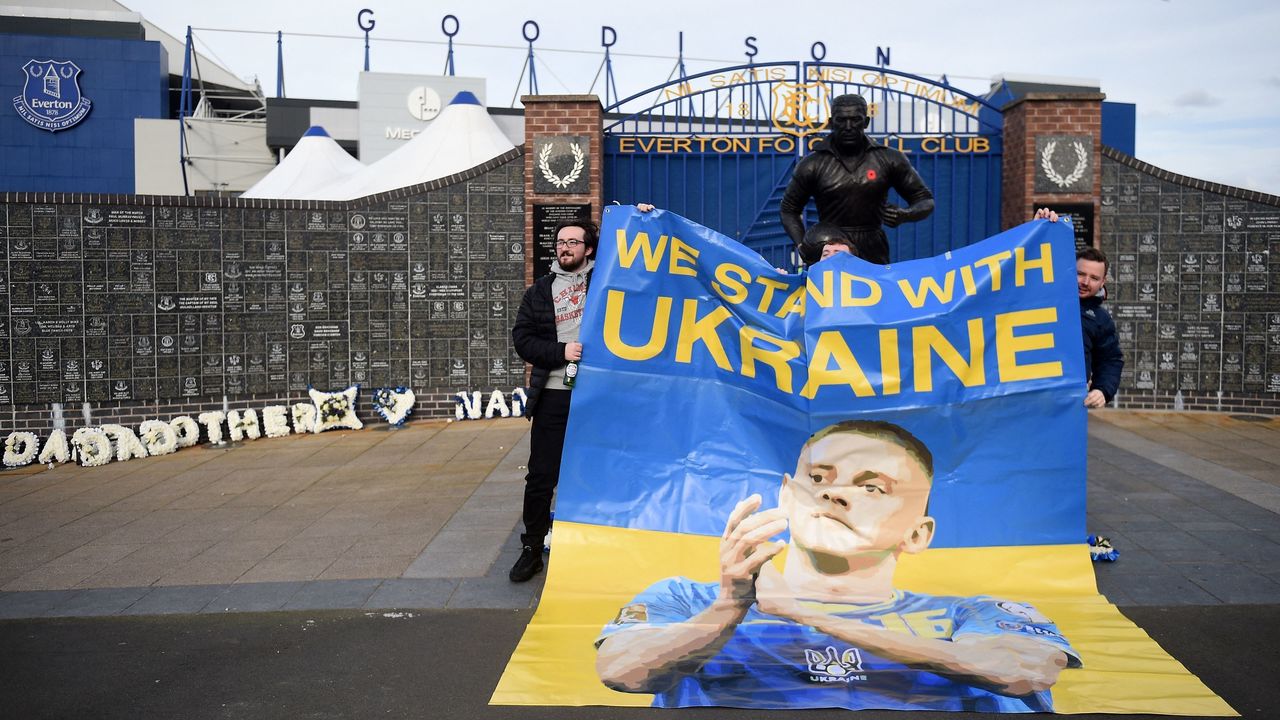 Before Manchester City's win over Everton on Saturday, Pep Guardiola's men walked out of the tunnel at Goodison Park wearing shirts featuring the Ukrainian flag and the slogan "No War." Meanwhile, Toffees players wore the flag on their backs.
Ukrainian defenders Oleksandr Zinchenko and Vitaliy Mykolenko – who play for City and Everton, respectively – shared an emotional embrace before Saturday's match, as Everton fans displayed their support for Ukraine by unveiling a banner with a picture of Mykolenko and the message "We Stand with Ukraine."
Football, so often divisive, has the power to unite and be a force for good when it involves matters that are far more important than anything happening on the pitch.
Farewell, 'El Loco'
The Marcelo Bielsa era at Leeds United is over following Saturday's deflating loss against Tottenham Hotspur. In an extremely rare sight since the Argentine took charge in 2018, boos rained down from the stands at Elland Road as supporters voiced their displeasure with a Leeds side that looked completely overmatched.
In a contest that both teams were desperate to win following disappointing midweek setbacks, Spurs restored their confidence with a decisive 4-0 victory to pile the pressure on a Leeds side that faces an uncertain future in the Premier League.
It was a fitting way to end February for the struggling Whites.
After being outscored 10-0 in their last two games, Leeds set a new Premier League record for the most goals conceded (20) in a single month. Additionally, Leeds tops the Premier League this season in goals conceded with 60 – more than Bielsa's team conceded all of last season.
While Bielsa has been primarily responsible for the club's revival after leading Leeds back to the top flight, the team's performance of late just isn't cutting it. A change in leadership was necessary for the West Yorkshire club's battle to avoid relegation.
Bielsa, nicknamed "El Loco," is a revolutionary football mind who deserves immense praise for what he accomplished at Leeds. But his intense, precise methods have a shelf life, and this was the inevitable ending.
Kulusevski reborn under Conte
Talk of Dejan Kulusevski's decline was greatly exaggerated.
The 21-year-old attacker was enduring a miserable season at Juventus before joining Tottenham in January. Massimiliano Allegri didn't afford him consistent playing time, and when he did get on the pitch, Juve's risk-averse style of play shackled the Swede. He looked dejected, unable to show the spark and verve of his breakout season at Parma.
He's been rejuvenated under Antonio Conte, though.
Kulusevski found the net again in the 4-0 win over Leeds and has now registered more goals in five Premier League appearances (two) than he did in 20 Serie A games this season. Playing alongside Harry Kane and Son Heung-Min helps, of course, but Conte's aggressive tactics have allowed Kulusevski to thrive early in his Spurs career. He's being afforded space in wide areas, and the explosiveness that had seemingly disappeared earlier in the year in Italy has returned.
Conte is a master at extracting the most out of his players, and the early signs suggest Kulusevski will be the latest benefactor. The potential €45-million fee Tottenham paid for the Swedish international could end up being a bargain.
Eriksen completes remarkable comeback
West London was the scene of the weekend's best moment in the Premier League, as Christian Eriksen defied the odds to make his long-awaited return to a football pitch less than a year after suffering cardiac arrest.
In the weeks and months following Eriksen's frightening collapse at Euro 2020 last summer, there was uncertainty whether the talented midfielder might be forced into early retirement. Concern mounted when Eriksen had to leave Inter Milan after he wasn't given clearance to play in Italy due to the implantable cardioverter-defibrillator that was inserted inside his body after the incident.
But Saturday put an end to whatever doubts lingered after Eriksen joined Brentford on a short-term deal in January. Just 259 days after he was resuscitated by a defibrillator in Copenhagen, Eriksen completed his comeback. He was introduced as a substitute at Brentford Community Stadium to the delight of home and visiting Newcastle United supporters.
Although Newcastle went on to win the contest, Eriksen put in a strong shift during a promising 38-minute cameo that suggested he'll play an important role in Brentford's bid to stay in the Premier League.
United's wastefulness a worrying theme
Manchester United have a lot of problems, but scoring shouldn't be one of them.
For once, Saturday's goalless draw with Watford had nothing to do with the quality of United's overall play. They created plenty of chances and dominated possession. It wasn't a display of sterile football. United simply couldn't get their shots on target, with only three of their 22 attempts testing opposing goalkeeper Ben Foster and another hitting the post.
"We did everything apart from scoring," manager Ralf Rangnick told Sky Sports afterward.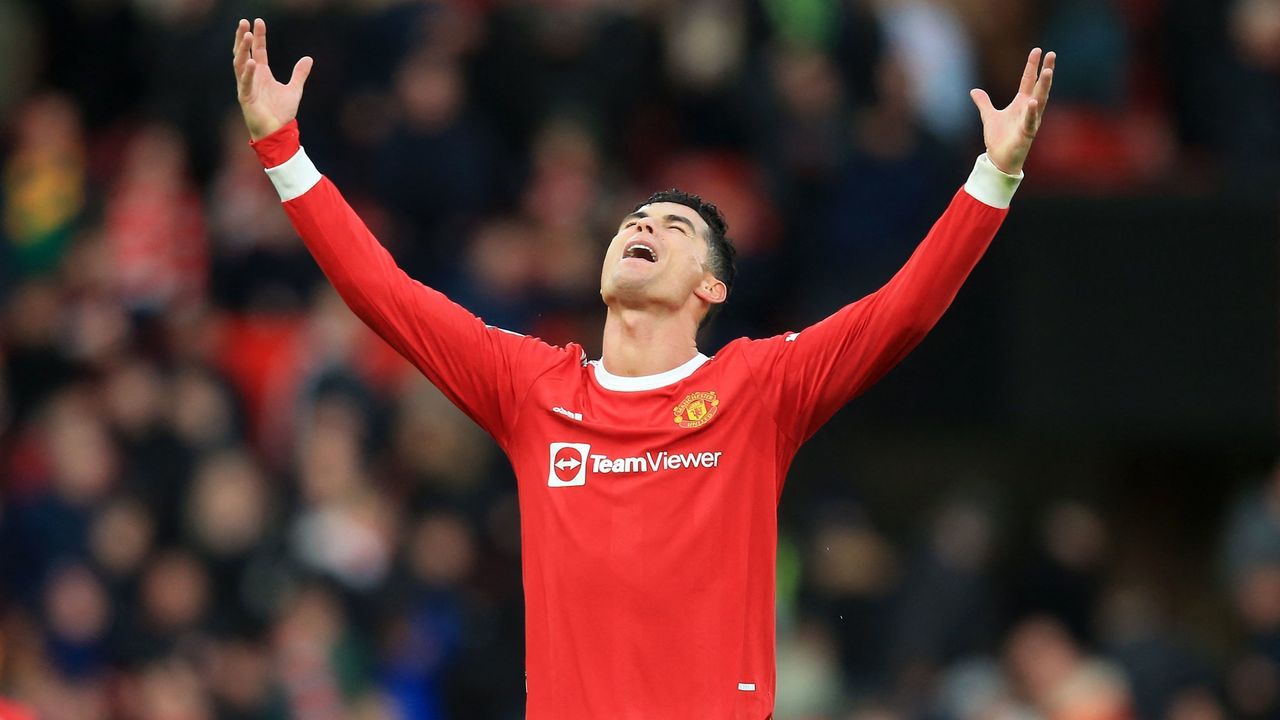 Rangnick can control a lot of things – United's style of play, the players' conditioning, the tactics involved in each match – but he can't physically will the ball into the net. What can he do if Cristiano Ronaldo, the greatest international goalscorer of all time, can't convert his chances? Or if Bruno Fernandes sends an uncontested header well wide of the goal? Ronaldo has just one goal on 36 shots in his last 10 appearances. What do you do when one of the greatest players of all time has a conversion rate of 2.7%?
The good thing is that United are playing better. If Ronaldo continues to get chances, he'll undoubtedly score. But in the here and now, with a tenuous grip on fourth place, it hurts to drop points to the 19th-placed team.
Confusion reigns over Rodri 'handball'
Frank Lampard and Everton raged after the Toffees weren't awarded a penalty for what looked to be a Rodri handball late in City's eventual 1-0 win Saturday.
"The decision was incredible," the Everton boss fumed after the match. "A mistake is when you have done something wrong and don't have time to think about it. They had two minutes to digest the handball. Even if the VAR says, 'not sure,' then go have a look. It is incompetence at best. If not that, then someone needs to explain what it is."
The images certainly appear to substantiate Lampard's fury:
Pep Guardiola dismissed the incident entirely, though. That's because Richarlison was deemed offside in the buildup before Rodri misjudged the bounce of the ball and cushioned it with his arm.
This is where confusion takes over.
Lampard said he was told after the contest that the offside incident wasn't a factor in the final decision. But referee Paul Tierney restarted play with an indirect free-kick from the position in which Richarlison touched the ball, which suggests that the final call on the field was indeed that of offside.
But according to The Athletic, the offside conundrum didn't affect the decision. Instead, video assistant referee Chris Kavanagh decided there wasn't enough clear evidence to say with certainty that the ball struck Rodri in the part of the arm that constitutes a handball under the current laws.
Are you confused yet? So are we. Someone has the wrong information here. Welcome to VAR in the Premier League.
Bromance in the West Ham midfield
When their respective football careers are over, West Ham United midfielders Declan Rice and Tomas Soucek should consider starring in their own buddy cop comedy.
The pair powering the Hammers' unlikely push for a Champions League place was once again central in the latest win for David Moyes' team. Soucek, playing on his birthday, scored the lone goal in a 1-0 victory over Wolverhampton Wanderers on Sunday.
The two gushed about one another after the match. Rice, analytical and outgoing, praised Soucek's overall contributions, while the Czech star, bashful and endearing, was quick to shift the attention back to his teammate. It was quite adorable, really.
With Rice being at the center of transfer rumors seemingly every month, make sure to enjoy this wholesome duo while you still can.
Arsenal can't blow this, right?
If Arsenal don't crack the top four this season, they'll have nobody but themselves to blame.
After a win on Thursday and some favorable weekend results elsewhere – we're looking at you, Manchester United – the Gunners suddenly find themselves in an extremely favorable position. They sit just two points behind fourth-placed United but have three matches in hand.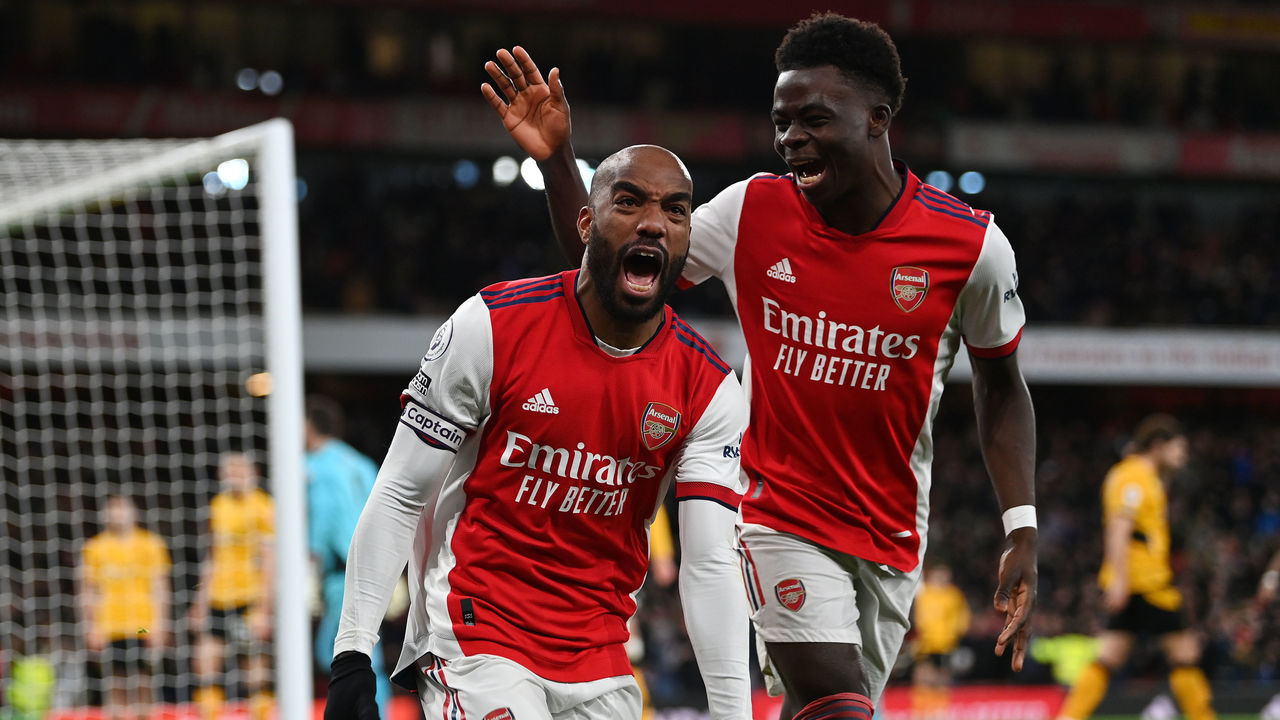 Yes, those games are only valuable if you win them, but the stars are aligning right now.
Mikel Arteta's team has a manageable schedule the rest of the way. Plus, there are no other domestic or continental commitments that could sap vital energy and take the focus away from the top-four push.
We could be well on our way to hearing the Champions League anthem played at the Emirates Stadium for the first time since 2017.