The latest news as the coronavirus outbreak, declared a pandemic by the World Health Organization, disrupts the soccer world.
For coronavirus updates across all other sports, tap here. Pull down to refresh the page. (All times ET.)
What you need to know
Matches in all five of Europe's top domestic leagues have now been postponed.
All upcoming Champions League and Europa League matches have been postponed.
Arsenal manager Mikel Arteta and Chelsea winger Callum Hudson-Odoi have tested positive for COVID-19. Both teams are in isolation.
Major League Soccer has halted its season for 30 days.
March 13 (Last update: 6:30 p.m.)
FIFA wants more games postponed
The FIFA Council has recommended all international fixtures scheduled to take place in March and April be pushed back. FIFA already postponed a handful of World Cup qualifiers in South America and Asia, but various friendlies and Euro playoffs are still scheduled to be played. Friendlies are organized by national associations and beyond FIFA's remit.
Italy called off an exhibition match against England, as the coronavirus forced the country into a national lockdown. The United States also abandoned matches against the Netherlands and Wales.
However, FIFA said it won't ask clubs to release players to their respective national teams, going against regulations in its own rulebook.
5 more Serie A players contract COVID-19
Sampdoria announced Friday that four players and a club doctor tested positive for COVID-19. Defender Omar Colley, Swedish midfielder Albin Ekdal, Norwegian playmaker Morten Thorsby, and former Italy youth international Antonino La Gumina joined teammate Manolo Gabbiadini as those to contract the disease at the Genoa-based team.
Meanwhile, breakout Fiorentina striker Dusan Vlahovic also has the new coronavirus, taking the total number of confirmed cases among Serie A players to seven.
Bundesliga, Ligue 1 halted
Following the recent suspensions of Europe's other top leagues, football authorities in both France and Germany confirmed the top two divisions in their respective countries have postponed play.
Premier League suspends season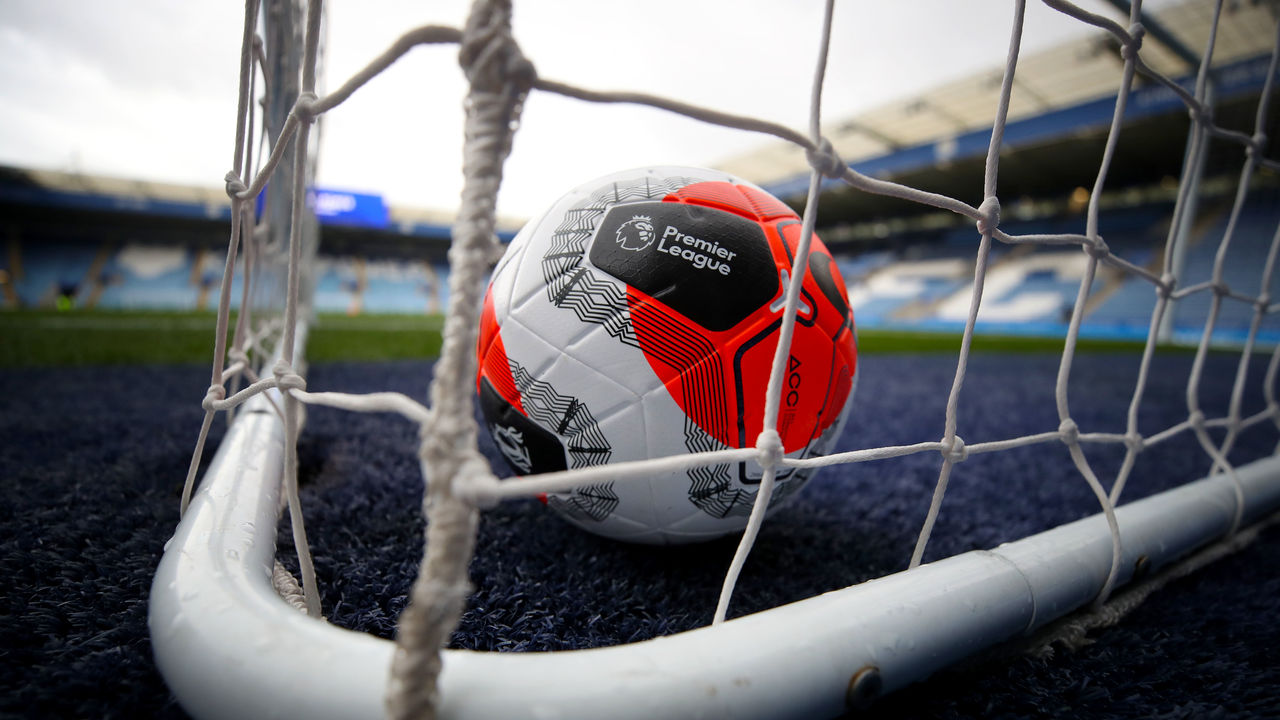 All professional matches in England, including fixtures in the Premier League, English Football League, FA Cup, and Women's Super League, have been halted until at least April 4. The decision comes after an emergency meeting was held Friday morning in response to a spate of COVID-19 cases in the top flight.
"Despite the challenges, it is the Premier League's aim to reschedule the displaced fixtures, including those played by academy sides, when it is safe to do so," read a league statement.
Champions League, Europa League postponed
UEFA announced the unprecedented decision to suspend all play in the Champions League and Europa League. Last-16 fixtures in both competitions were to be held next week. The move became inevitable after a pair of Champions League matches – Manchester City versus Real Madrid, and Juventus versus Lyon – were called off, with two of those teams in self-isolation.
"Further decisions on when these matches take place will be communicated in due course," UEFA said in a statement.
March 12
Hudson-Odoi contracts coronavirus
Chelsea winger Callum Hudson-Odoi became the first Premier League player to test positive for the coronavirus. Players, staff, and other club personnel who were recently in contact with the 19-year-old are now self-isolating.
Premier League to hold emergency meeting
A hectic hour in England's top flight began when the Premier League, despite the rising number of coronavirus cases in the United Kingdom, announced this weekend's slate of fixtures would go ahead as planned, with fans allowed to attend. Almost immediately after Mikel Arteta's positive coronavirus test was made public, though, the league announced an emergency meeting would be convened on Friday morning to discuss the remaining fixture list. The season is now expected to be suspended.
Meanwhile, the English Football League (EFL), citing the UK government's announcement earlier in the day, said in a statement that there's "no medical rationale to close or cancel sporting events at this time."
To date, there are 590 confirmed COVID-19 cases in the United Kingdom.
Arsenal manager tests positive for COVID-19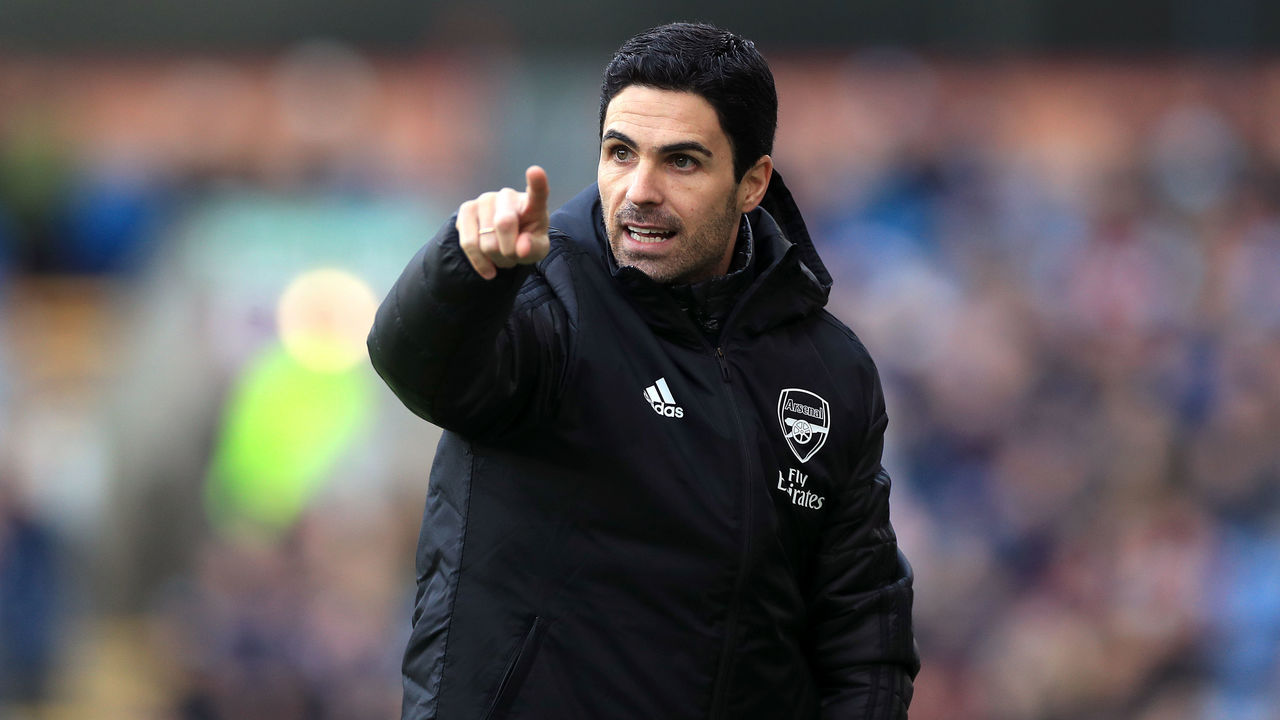 Arsenal confirmed manager Mikel Arteta tested positive for the coronavirus on Thursday evening. The club's London Colney training center has been closed as a result, while Arsenal personnel who recently came into "close contact" with the Spanish bench boss will now undergo a period of self-isolation.
"We expect this to be a significant number of people from Colney, including the full first-team squad and coaching staff, as well as a smaller number of people from our Hale End Academy, which we have also temporarily closed as a precaution," reads a club statement. The Gunners' weekend clash with Brighton & Hove Albion has since been postponed.
Manchester City player self-isolating
An unnamed Manchester City player is self-isolating as a precautionary measure after a member of his family was admitted to hospital with symptoms of a respiratory illness, the club confirmed.
Various reports claim the player in question is left-back Benjamin Mendy, though the club is yet to disclose that information. The 25-year-old Frenchman trained with his teammates as usual on Thursday, according to the BBC. City, whose recent league match was postponed along with an upcoming Champions League contest, return to action against Burnley this weekend.
FIFA postpones South American World Cup qualifiers
After consulting with CONMEBOL, FIFA decided to postpone upcoming South American qualifiers for the 2022 World Cup. All CONMEBOL matches that were originally scheduled to take place during the upcoming international window, which runs from March 23-31, will be moved to future dates.
Some Champions League matches postponed
The second leg of the last-16 Champions League tie between Manchester City and Real Madrid has been postponed. The match had been scheduled for March 17 but became untenable when Madrid players were placed in self-isolation after it emerged that a member of the club's basketball team tested positive for COVID-19.
Similarly, Juventus' fixture against Lyon, which was slated for the same day, is no longer going ahead. The Italian side continues to take precautions after defender Daniele Rugani tested positive for the new coronavirus; 121 people involved with the club, including players, staff members, and directors are "observing a period of voluntary isolation."
Major League Soccer, CCL suspended
MLS became the latest professional sports league to react to the coronavirus pandemic, with all matches suspended for 30 days. The decision comes less than 24 hours after the NBA halted its season indefinitely, as North American organizations continue to take action.
Shortly after the MLS announcement, the CONCACAF Champions League was also halted with immediate effect. The tournament is currently in the middle of its quarterfinal stage, with four MLS clubs involved.
Leicester City players showing symptoms
Leicester City manager Brendan Rodgers confirmed that "a few" players have shown symptoms of COVID-19. As a result, they've been placed in self-isolation away from the rest of the squad.
Gabbiadini latest player to test positive
Sampdoria forward Manolo Gabbiadini is the second Italian footballer to contract the coronavirus, with the club confirming he has a "slight fever, but is otherwise fine." The 28-year-old joins Juventus' Daniele Rugani as the only Serie A players to test positive thus far.
In response, Sampdoria is "activating all isolation procedures as set out by the authorities."
La Liga halted, Real Madrid in isolation
La Liga matches have been suspended for at least the next two weeks after Real Madrid players were placed in isolation on Thursday over fears they may have been exposed to the virus. The squad was quarantined after a member of Real Madrid's basketball team tested positive for COVID-19; the football and basketball teams share facilities in the Spanish capital.
La Liga, which had previously ordered all matches to be played behind closed doors, will re-evaluate the postponement of its season in two weeks.
UEFA could move European Championship to 2021
UEFA will meet with representatives of its member associations on March 17 to discuss its response to the coronavirus outbreak. The meeting, to be conducted via video conference, will discuss "all domestic and European competitions, including UEFA Euro 2020." Pushing this summer's tournament to next year is reportedly the "main option" being explored right now.
The governing body has already confirmed that all youth competitions have been postponed until April 14.
March 11
Juventus' Rugani tests positive for COVID-19
Juventus confirmed Wednesday night that Italian international defender Daniele Rugani has contracted COVID-19. In a statement, the club said it's "currently activating all the isolation procedures required by law, including those who have had contact with him."
The 25-year-old, who's the first player in Europe's top leagues to test positive for the coronavirus, took to Instagram to allay fears over his health. "I want to reassure all those who are worried about me, I'm fine," he said on Instagram. "At this moment, however, I feel even more duty to thank all the doctors and nurses who are struggling in hospitals to cope with this crisis. I invite everyone to respect the rules, because this virus makes no distinctions! Let's do it for ourselves, for our loved ones and for those around us."
In response to the news, Inter Milan, Juventus' most recent opponents, suspended all "competitive activities" until further notice.
CONMEBOL wants to suspend WCQ
CONMEBOL, the governing body for South American football, published a letter asking FIFA to postpone World Cup qualifiers, which are scheduled for the end of March. FIFA is yet to respond to the request, which was submitted on behalf of member nations Argentina, Bolivia, Brazil, Chile, Colombia, Ecuador, Paraguay, Peru, Uruguay, and Venezuela.
Argentina has already canceled all sporting events in the country until April.
First MLS matches impacted
In the wake of Washington Gov. Jay Inslee's order restricting gatherings of more than 250 people in three counties, the Seattle Sounders became the first team in Major League Soccer to postpone one of their matches. The Sounders' contest against FC Dallas, originally slated for March 21 at CenturyLink Field, will be rescheduled at a later date.
The San Jose Earthquakes followed suit later in the day, announcing the postponement of their match against Sporting Kansas City on March 21. According to a club statement, the decision "was prompted by the County of Santa Clara Public Health Department's mandate barring gatherings of 1,000 or more people through the end of March due to COVID-19 concerns."
Europa League matches postponed
UEFA postponed two Europa League matches scheduled for Thursday. Sevilla-AS Roma and Inter Milan-Getafe will not take place, and no makeup dates have yet been determined. The decision came shortly after Roma's plane was not given authorization to land in Spain.
German player tests positive
Hannover 96 defender Timo Hubers became the first professional footballer in Germany to test positive for the coronavirus. He was tested after attending a local event in which he came into contact with another person who had the virus. The 23-year-old has not had any contact with his teammates, according to the club, and remains in quarantine, where he's showing no symptoms.
Nottingham Forest allay fears
After Nottingham Forest and Olympiacos owner Evangelos Marinakis revealed that he contracted the virus, the club confirmed that all tests run on players and staff came back negative.
Coupe de la Ligue, Copa del Rey finals postponed
The cup finals in both France and Spain have been pushed back. The French League Cup final between Paris Saint-Germain and Lyon was originally scheduled for April 4. The Copa del Rey showpiece, meanwhile, was slated to feature Basque rivals Athletic Bilbao and Real Sociedad on April 18. Makeup dates have yet to be announced.
March 10
UEFA has no plans to cancel Euro 2020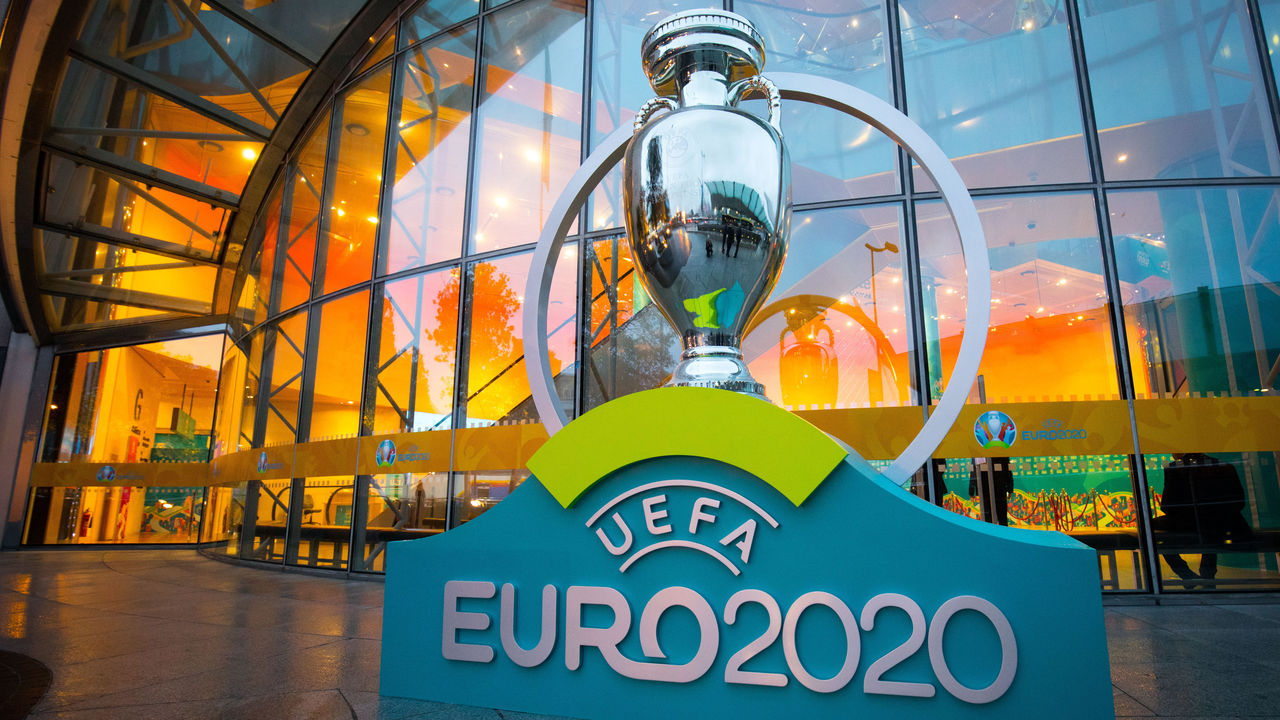 UEFA is reportedly asking governments across Europe to ensure this summer's Euro 2020 goes ahead despite the spread of the coronavirus.
The World Health Organization (WHO) doesn't expect the virus to be contained by the time the tournament begins June 12, but European football's governing body is determined to stage the tournament as planned, with fans in the respective stadiums. Euro 2020 is the first edition of the tournament to be staged across multiple countries; 12 nations are slated to host matches during the month-long event. Cities' hosting duties could be revoked if they can't ensure the safety of spectators and traveling fans.
UEFA insists that it's taking the coronavirus threat "very seriously," adding that reports of various football federations asking to move the tournament to 2021 are "completely untrue."
Arsenal players quarantined
Several Arsenal players and staff members are being quarantined in their homes for 14 days after coming into "close contact" with Olympiacos owner Evangelos Marinakis, who tested positive for the coronavirus. The club's Premier League match with Manchester City, which was scheduled for March 11, has been postponed as a result.
Though Arsenal's two Europa League games against the Greek club took place in late February, it's unclear when the period of isolation began. The risk of developing COVID-19 for those who came into contact with Marinakis is "extremely low," according to a statement released by the English club.
Champions League matches without fans
One day after Paris Saint-Germain's Champions League last-16 clash with Borussia Dortmund was moved behind closed doors at the Parc des Princes, the same approach was confirmed for two other contests in Europe's premier club competition. Barcelona's second-leg encounter with Napoli and Chelsea's trip to Bayern Munich, both slated for March 18, won't have fans in attendance at the Camp Nou or Allianz Arena, respectively.
La Liga, Ligue 1 going behind closed doors
La Liga announced that matches in its top two tiers will be played behind closed doors for the next two weeks. Ligue 1 adopted the same approach, with French football authorities confirming that all first- and second-division games will go ahead without fans until April 15. That decision came after the French government announced measures to cope with the coronavirus, including banning all gatherings of more than 1,000 people.
Getafe chief takes a stand
Getafe president Angel Torres says the Spanish team will not travel to Italy for its Europa League match against Inter Milan. "If we have to lose the tie, we will lose it," Torres said in an interview with Onda Cero radio. "We don't want to go into the epicenter of the coronavirus outbreak."
Wolves' request shot down by UEFA
UEFA rejected Wolves' request to postpone their Europa League match against Olympiacos, a decision the club says "poses unnecessary risks" to players, staff, and those who travel for the contest.
Mbappe undergoes coronavirus test
Paris Saint-Germain star Kylian Mbappe was reportedly tested for the coronavirus amid a bout with illness, and the results came back negative. The 21-year-old is dealing with a throat infection ahead of PSG's Champions League match against Borussia Dortmund in the French capital.
March 9
Sporting events in Italy suspended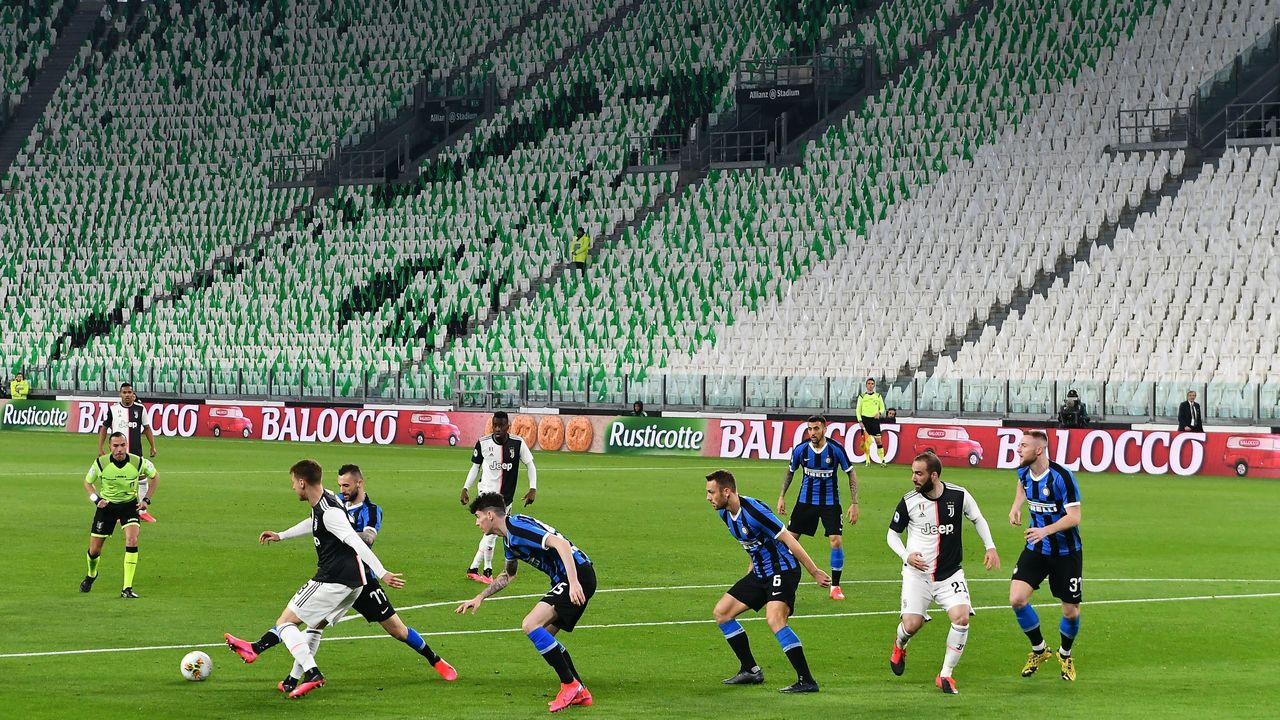 In conjunction with the Italian government's nationwide travel ban coming into effect, all sporting events in Italy are suspended until at least April 3.
"There is no reason why matches and sporting events should continue and I am thinking of the football championship," prime minister Giuseppe Conte said, as quoted by Agence France-Presse.
Italy's travel ban put some 60 million people on lockdown throughout the country, while public events like funerals and weddings have also been barred. The decree doesn't impact Italian teams' participation in the Champions League or Europa League, as those are governed by UEFA.
March 8
Surreal scenes in Derby d'Italia
With over a quarter of Italy's population quarantined and positive tests for coronavirus approaching the 6,000 mark in the country, Juventus and Inter Milan played out a surreal edition of the Derby d'Italia in front of an empty Allianz Stadium in Turin. The match went ahead following more than a week of deliberation and indecisiveness on the part of Italian football authorities.
March 4
Sporting events in Italy go behind closed doors
The Italian government announced that all of the country's sporting events – including Serie A, Champions League, and Europa League matches – must take place behind closed doors until at least April 3. Shortly before the decree, the second legs of the Coppa Italia semifinals – which involved Juventus, Milan, Napoli, and Inter Milan – were postponed. In a sign of the confusion that reigned in Italy, Milan had traveled to Turin ahead of the match under the impression that it would be played as originally scheduled.
March 3
Inter president rips Serie A's coronavirus response
The Italian soccer federation opened an investigation after Inter Milan president Steven Zhang launched a scathing attack on Serie A president Paolo Dal Pino, criticizing the way the league handled the fallout from the coronavirus crisis. Zhang called Dal Pino "the biggest and darkest clown I have ever seen" in an Instagram story.
BVB cancel summer travel plans
Bundesliga side Borussia Dortmund canceled plans to tour Asia this summer. "We are very sorry because we know how much the people over there were hoping we would come over to them," managing director Carsten Cramer told Sport Bild.
Feb. 29
More postponements in Italy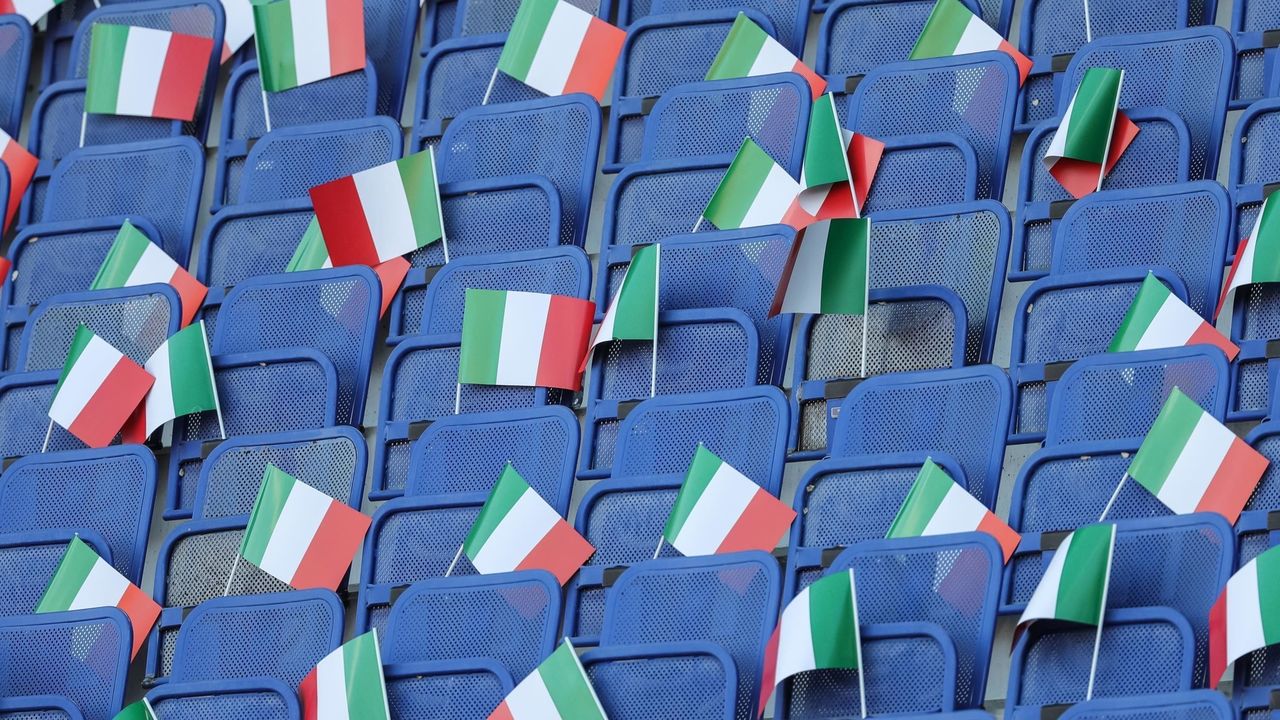 As Italy deals with the worst outbreak of the coronavirus in Europe, Serie A postponed five more matches, including the Derby d'Italia between title rivals Juventus and Inter Milan. That contest and with four others were initially slated to be played without fans before the league made a late decision to call off the fixtures.
Feb. 27
Italian footballer contracts virus
An unnamed player for third-tier Italian club US Pianese tested positive for the coronavirus, marking the first documented case of a professional player in Europe contracting the disease. The 22-year-old said he felt unwell at a hotel in the Piedmont region ahead of last week's Serie C match against Juventus' Under-23 side, at which point he was tested, and the diagnosis confirmed.
Feb. 22
Serie A takes the first step
Italian authorities ordered the postponement of four Serie A matches amid coronavirus fears in the northern regions of the country. Scudetto hopefuls Inter Milan were among the teams impacted.