Manchester City and Liverpool's squabbles represent a rare thing in football: a rivalry that tends to live up to the hype.
Nothing ultimately changes following Sunday's 2-2 draw – City retain a one-point gap while Liverpool's superior goal difference remains intact – and the title contenders' games undoubtedly lack the history and hatred of a true derby.
But the entertainment of the latest northwest production of Pep Guardiola versus Jurgen Klopp was undeniable. And, perhaps more satisfyingly of all, it was another game in which Guardiola and Klopp's control over proceedings was minimal.
The fixture was a breathless battle between footballers rather than a complicated scholarly work conceived in the tactics room. Nature beat nurture. The players relied on instincts and attacked with the liberation of a sniffer dog beelining for the butchers' door.
Klopp has embraced the chaos before. His teams have often started fast in their tussles with City, occasionally lining up in a 4-2-4 formation and welcoming havoc with a hyper-aggressive press and full-backs storming forward. There's no stronger example of this bold approach than Liverpool's 3-0 defeat of Manchester City in the first leg of their Champions League quarterfinal in 2018, a match that saw Mohamed Salah, Sadio Mane, and Alex Oxlade-Chamberlain cram goals into 19 first-half minutes.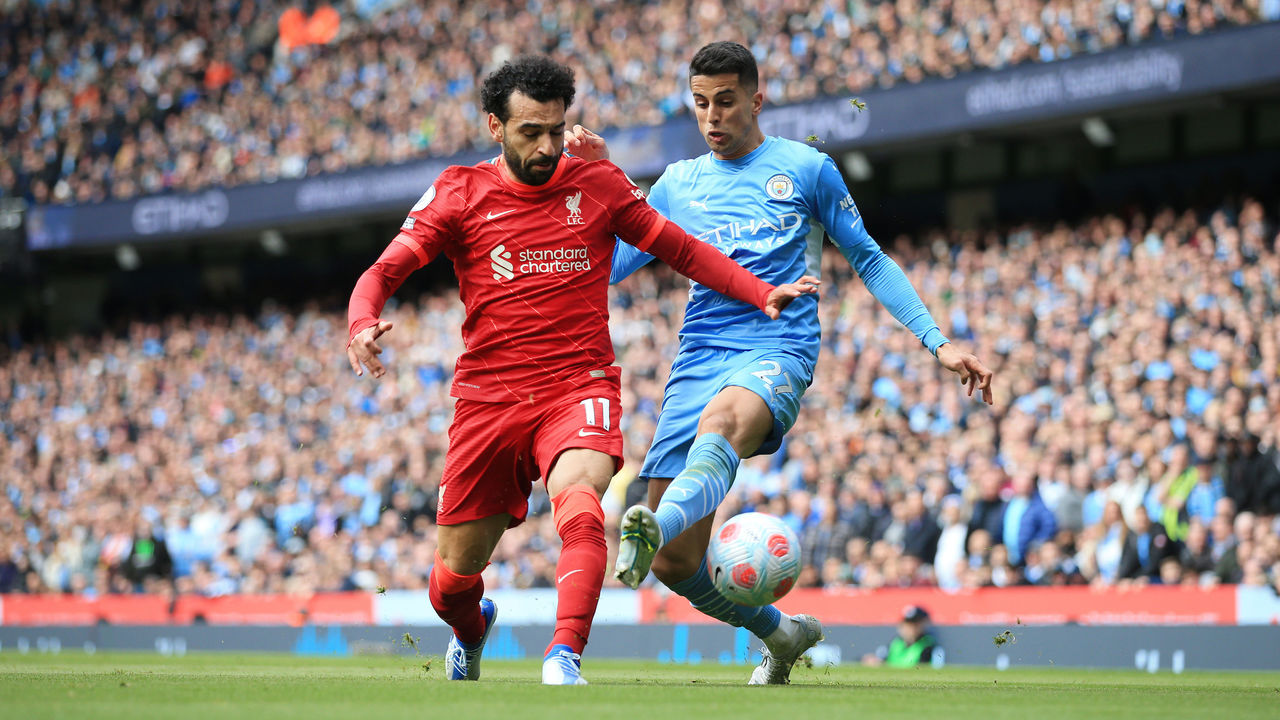 But Klopp tried to take more care this time. Salah and Mane didn't lurk in wide areas with the same intent when Liverpool didn't have the ball, moving instead to protect their full-backs by tracking Kyle Walker and Joao Cancelo. It was a match from which Liverpool needed three points more desperately than City, yet Salah focused on squeezing Cancelo off the ball near his own corner flag when the score was level.
The overall success of Salah's efforts, in particular, was mixed, as Cancelo's first-half assist attests. But the deployment of Liverpool's African widemen was Klopp's attempt at control. He didn't want the match to run wild like his other all-English matchups with Guardiola.
Guardiola's lineup also hinted at caution. Riyad Mahrez – City's top scorer on 22 goals across all competitions – was named on the bench while Gabriel Jesus started in his place. The Brazilian preyed smartly on Trent Alexander-Arnold's momentary lapse in concentration to put City 2-1 ahead and end his goal drought of 15 Premier League appearances. But he was selected more for his off-the-ball graft than his attacking ability.
Before kickoff, Jesus had attempted 32 tackles in the Premier League, while Mahrez was only at 20. And the relish with which the former Palmeiras prodigy hounded Virgil van Dijk and grappled with Andy Robertson in the opening 15 minutes was vastly different from Mahrez's tentative toe pokes. Jesus is used for specialist roles – he's played in positions as varied as left wing-back in matches against strong frontlines – and Guardiola preferred his tactical sense and grit over Mahrez's capricious talents.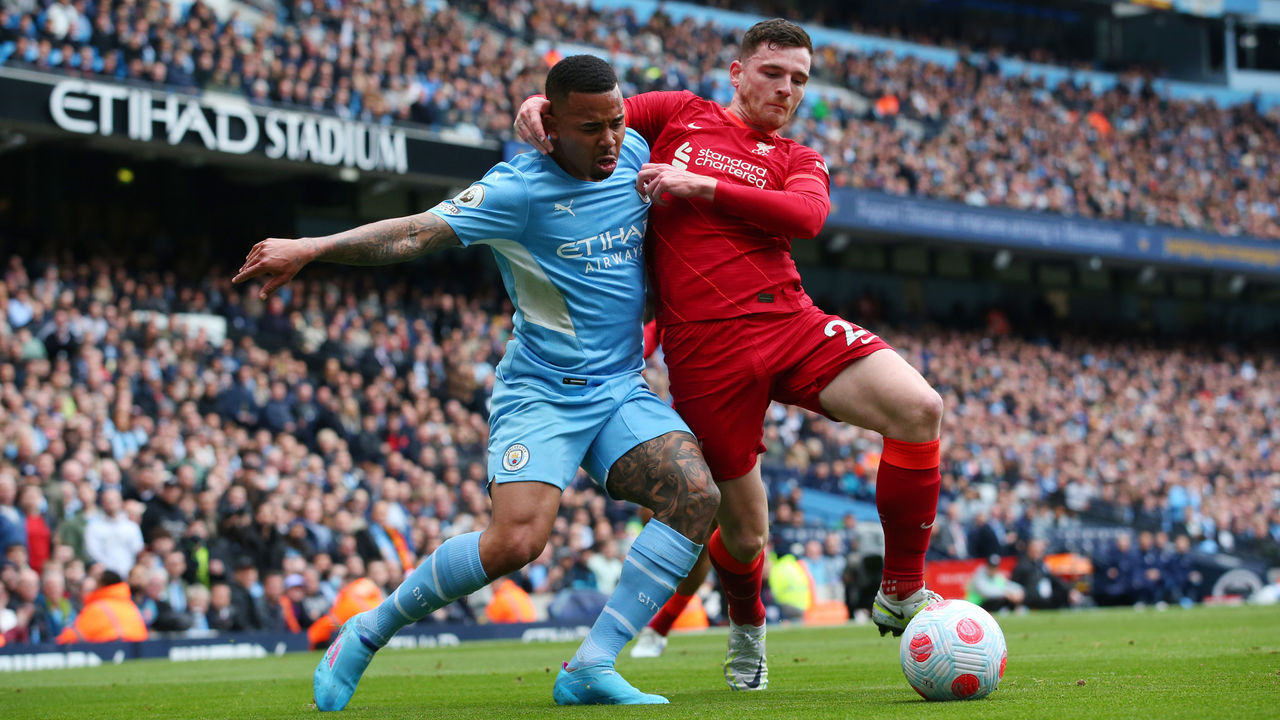 Yet despite both managers' conservative adjustments, Sunday's match reverted to type. Guardiola and Klopp were merely bystanders as passes went astray, tackles flew in, and each side scored two goals apiece. The pace was frenetic, and the game's unpredictability indicated how little control the tacticians had once their players were on the pitch.
"We were a little bit hectic at times," Liverpool captain Jordan Henderson admitted to Sky Sports after the match. "I remember (when) defending, trying to clear it rather than trying to get it down and play it, and giving them one or two chances early on."
Something stirs when these sides meet; the formations and changes to personnel can only do so much. City set aside the methodical, learned way they normally play. Liverpool's center-backs shelve their usual assured defending. It's a duel in which respect and competitiveness combine for an emotional, visceral affair that everybody – managers included – can only step back and admire.