theScore examines the most important developments and biggest talking points from Saturday's slate of action in England's top flight.
Are Manchester United … back?
It hasn't happened often in recent years, but if you looked closely, there was a smile on Sir Alex Ferguson's face after the latest edition of the Manchester derby.
After almost a decade of letdowns, such an expression was rare. The Manchester United icon even became a meme when a video of the Scottish tactician went viral while the Red Devils were being humiliated in the last derby in October. With Manchester City leading comfortably on their way to winning 6-3, he was shown on camera as the commentator said, "Sir Alex Ferguson was asked in 2009 if Man City could ever go into a derby as favorites. He said, 'Not in my lifetime.' Now it's every time."
Fast-forward three months, and it's a completely different tune for both teams. United's strong form of late suggested Saturday's affair at Old Trafford would be much closer than the season's first installment of the Manchester derby. After going behind in the second half of Saturday's encounter, United stormed back to change the narrative, scoring two late goals to seal a dramatic 2-1 victory over the reigning Premier League champions.
There'll be plenty of debate in the days and weeks to come about United's controversial equalizer. However, there's no doubt that Ten Hag's team has transformed after registering its ninth straight win in all competitions to cement its place in the top four.
"Now you see a proper team that works hard for each other," Bruno Fernandes said after the game.
It might still be too early to mention United in the same breath as title contenders alongside City and Arsenal. But it's safe to conclude that the problems that plagued United during their stuttering start to the season are officially a thing of the past. The win also sparked a glimmer of hope of finishing ahead of City in the table for the first time since Ferguson retired in 2013.
Match officials got it wrong in Manchester derby
The debate about the aforementioned equalizer won't be much of a debate at all, actually. Unless it's with a Red Devils supporter, there's seemingly no doubt among the rest of the football world that United's second-half goal shouldn't have counted.
The linesman and match official got it wrong when they let Fernandes' goal stand in the 60th minute, despite Marcus Rashford's obvious interference in the build-up.
The United striker was miles offside when Casemiro's pass was played through to him. Rashford raced to meet the ball before shielding it without making contact, allowing Fernandes to fire a curling shot beyond Ederson. It was an impressive finish, but had City's defenders already turned off at that point, thinking Rashford was offside and a call from the referee was imminent?
Probably. But that didn't matter in the end. Match official Stuart Attwell came to the head-scratching conclusion that the goal was good after seemingly receiving reassurances from the linesman, who initially – and correctly – put his flag up and called the play back for offside. But, after seemingly giving in to pressure from United players and irate home fans foaming at the mouth just feet behind him, linesman Darren Cann presumably told Attwell that he made a mistake.
The decision triggered a visible shift in momentum, culminating in United scoring a pair of goals with less than 10 minutes remaining against a City outfit that looked shell-shocked after the decision.
Liverpool have zero midfield presence
Jurgen Klopp said he'd never seen a worse performance as manager of Liverpool. Perhaps that's true, but Saturday's 3-0 loss to Brighton & Hove Albion couldn't have come as a surprise. The Reds have been reeling for months. Their lack of consistency has made upsets like Saturday's at Amex Stadium seem all the more routine.
Klopp tried to find a solution. He changed his formation Saturday, hoping his players would play a more compact game. He even made a quadruple change midway through the second half. Nothing worked.
The most alarming issue lies in midfield. For whatever reason – a lack of confidence, a lack of understanding, a lack of chemistry – Liverpool have made it easy for opponents to pass through the middle of the pitch. It's a shocking development for a side that used to pride itself on its relentless pressing and made the field as small as possible. The opposite is now true. Liverpool give opponents virtually endless possibilities when in possession of the ball, and they don't have the pace to recover.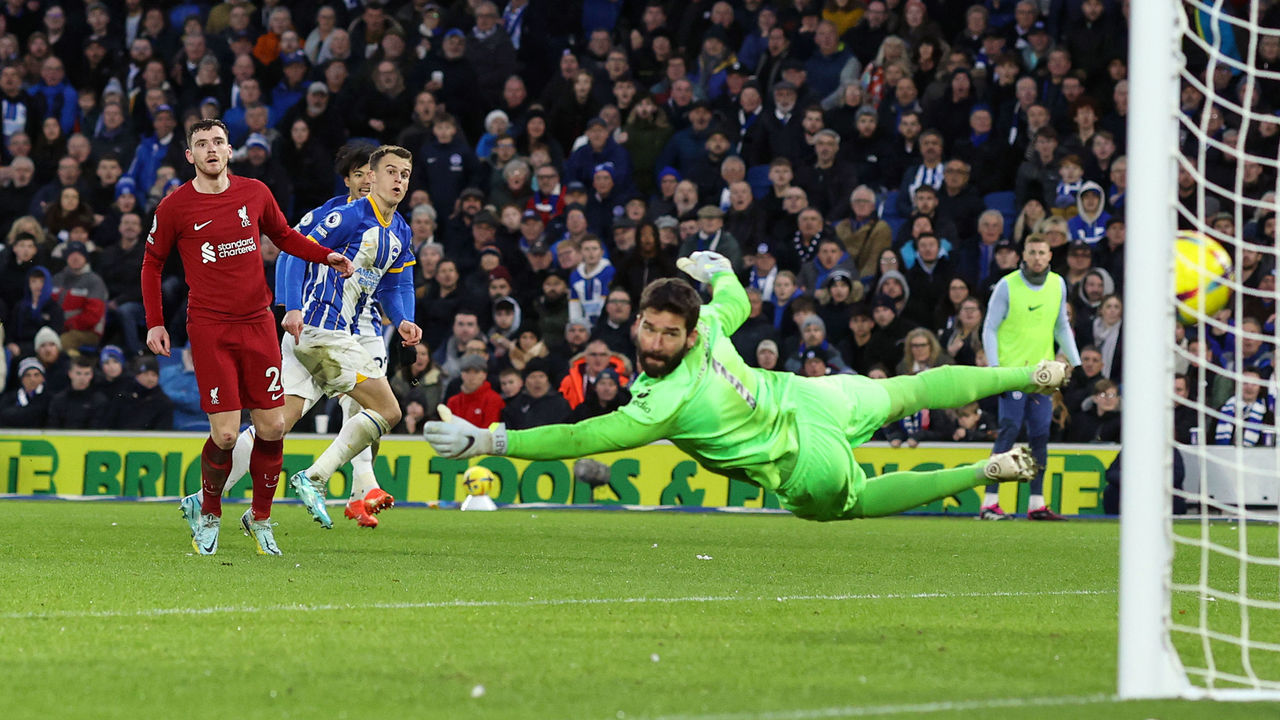 But Brighton didn't have to do all that much to cut through Liverpool. They'd find a player in open space after exchanging just a couple of passes and had the time to do virtually as they pleased when they entered the final third. The absence of any midfield presence only magnified Liverpool's issues at the back, with Fabinho and Thiago hardly offering cover to their already-jittery center-backs.
Saturday's capitulation wasn't just a bad day at the office. It carried further hints and clues that Liverpool – as mighty as they were just a few months ago – are in disarray. Seven points adrift of fourth place, Klopp's side suddenly finds itself in a dogfight for a Champions League berth. And there's little reprieve in sight, with Chelsea, Everton, Manchester United, Newcastle United, and Real Madrid on the horizon.
Quick free-kicks
Guardiola thinks title race is over
It wasn't just United that celebrated Saturday's derby result. Arsenal also had to be delighted with how the game unfolded. The loss gives the Gunners a chance to increase their lead atop the Premier League table to eight points if they win Sunday's north London derby at Tottenham. So, it was probably music to Arsenal supporters' ears after Pep Guardiola's proclamation that the Premier League title race is over after City dropped points for the second time in four league games since the league restarted on Boxing Day. Though it might've been a genuine statement from the Spanish manager, waving the white flag in January could also be Guardiola's way of waking up his troops following two straight losses in all competitions for the first time this season.
Trossard who? Mitoma steps up for Brighton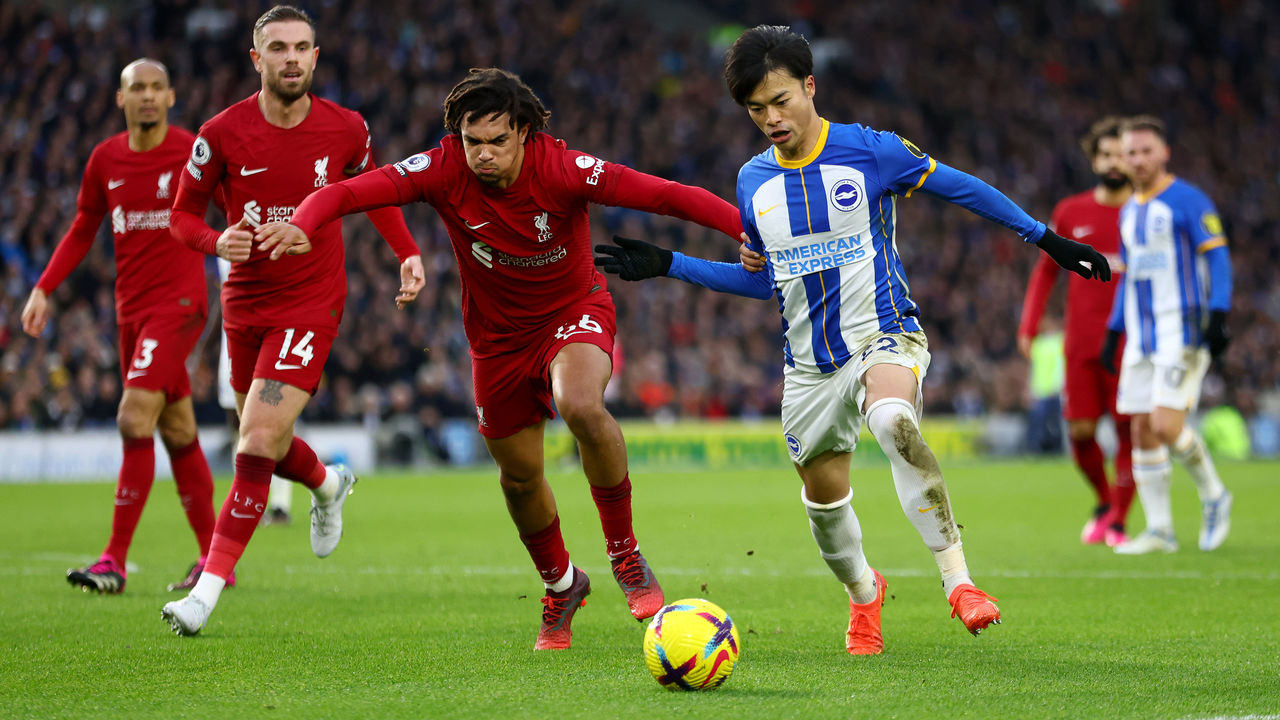 Despite all the drama around Leandro Trossard's expiring contract and seemingly inevitable exit, his omission from Brighton's matchday squad again made no difference at all. Roberto De Zerbi's side easily handled Liverpool, making 20 to 30 passes at a time. While the Reds played poorly, the surging Seagulls upped their game, showing confidence on the ball. Japanese international Kaoru Mitoma continued to strut his stuff in Trossard's place, tormenting Trent Alexander-Arnold with a sequence of penetrating runs that left the Liverpool right-back holding his hands up in frustration. If Trossard does end up leaving Brighton in January, fans can rest easy knowing Brighton have the personnel to continue playing high-octane football.
Fans are doing Everton no favors
Everton's form is undoubtedly a cause for concern. Fans should expect more from a club of its stature. But the scenes that preceded Saturday's 2-1 defeat to Southampton made a tense situation even worse. The club's entire board refrained from attending the match at Goodison Park out of fear for their safety, with fans calling for immediate change at seemingly all costs. Everton chairman Bill Kenwright received emails that he wouldn't leave Liverpool alive. The Athletic's Greg O'Keeffe and David Ornstein reported that a fan had put club CEO Denise Barrett-Baxendale in a headlock. Fans also crowded Everton's team bus as it approached the stadium, setting off a menacing mood on Merseyside that seemed to hover over the players and affect their performance. Afterward, one fan demanded that Yerry Mina, who played no part in Saturday's loss, stay with the club if it's relegated. The environment at Everton is toxic, and it won't get any better if the people who run the club feel unsafe.
Stat of the day
Maybe United have a bright future after all?
Tweet of the day
Cody Gakpo, Liverpool's £37-million signing, might be regretting his move right about now.