Portugal did what Italy couldn't do: beat North Macedonia for a place at the 2022 World Cup.
A Selecao punched their ticket to Qatar with a straightforward 2-0 victory in Tuesday's playoff final, ensuring Cristiano Ronaldo will have at least one more shot at winning the World Cup.
Bruno Fernandes scored both goals for Portugal, which reached its sixth straight World Cup.
Ronaldo, 37, will play in his fifth World Cup and 10th consecutive major tournament, and goes into it as the only player who's scored at least once in nine tournaments in a row.
North Macedonia shocked the world Thursday by beating Italy in Palermo, but a brutal error in the 32nd minute allowed Portugal to take control in Porto. Stefan Ristovski's feeble crossfield pass landed right at Fernandes' feet, and after a quick exchange with Ronaldo, the Portuguese midfielder sent a low drive past goalkeeper Stole Dimitrievski.
The goal forced North Macedonia to abandon its defensive shape and search for a goal. Ultimately, the 67th-ranked nation struggled to mount an offensive against Portugal, and Fernandes buried his second in the 65th minute to wipe out the possibility of an upset.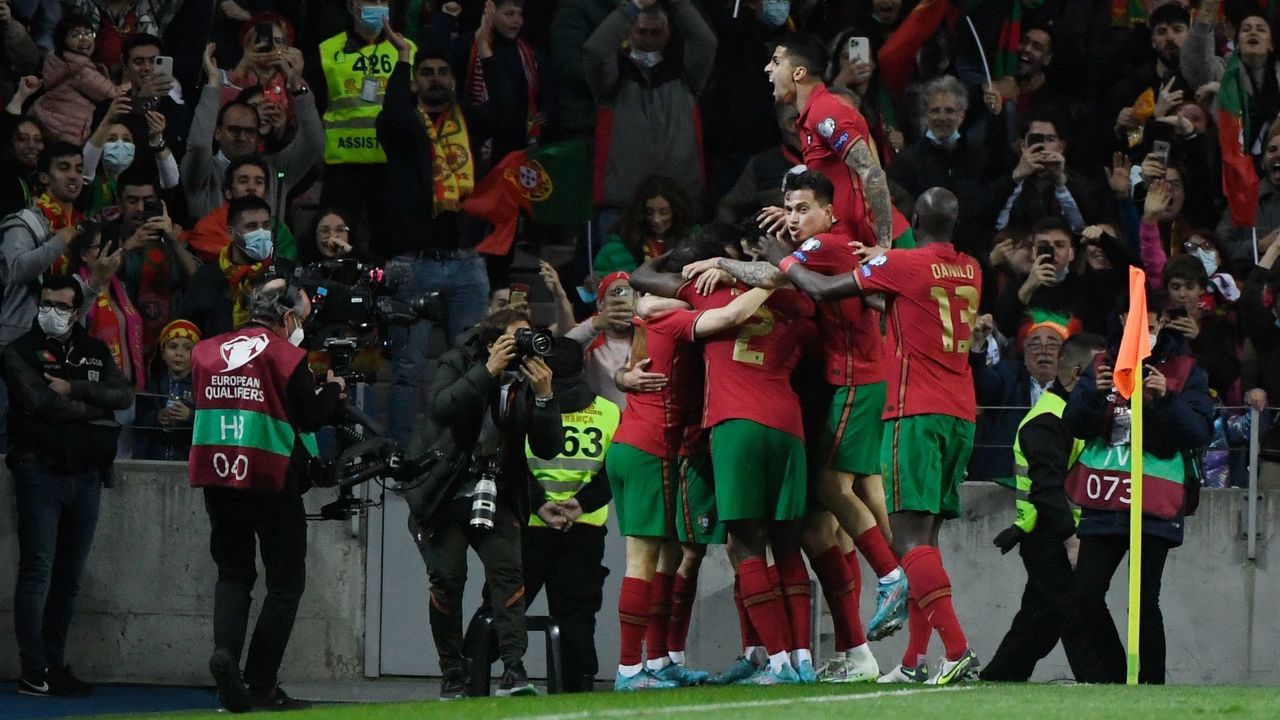 North Macedonia, which became an independent nation in 1991, has never made the World Cup. It made its first tournament appearance at Euro 2020.
Ronaldo, who won Euro 2016 with his country, is searching for the only major trophy missing from his cabinet. Given he'll be 41 by the time the 2026 World Cup kicks off, the tournament in Qatar may be his last.
Portugal has never finished higher than fourth place at the World Cup, dropping out in the round of 16 in 2010 before being eliminated in the group stage in 2014 and again in the round of 16 in 2018.
Portugal dropped into the playoff bracket after finishing second to Serbia in Group A. Fernando Santos' side blew an early 1-0 lead in the group-stage finale against Serbia, conceding twice – including in the 90th minute – to lose 2-1.
It nearly squandered a 2-0 lead in Thursday's semifinal playoff against Turkey when it gave up a penalty in the 85th minute. Turkey's Burak Yilmaz subsequently fired his effort over the crossbar, and Matheus Nunes scored in the 94th minute to secure a 3-1 win.
Head coach Santos welcomed back defenders Pepe and Joao Cancelo on Tuesday, and they made a difference, holding North Macedonia without a shot on target.
Portugal managed just three efforts on goal, but Fernandes' clinical finishing ensured his country's continued participation at the World Cup.