Chelsea salvaged a 1-1 draw against Liverpool on Saturday after playing down a man for the entire second half at Anfield.
Blues defender Reece James was sent off in the third minute of first-half stoppage time for a deliberate handball on the goalline. Referee Anthony Taylor quickly reviewed the footage before pointing to the spot and allowing Mohamed Salah to equalize.
Kai Havertz had given the Blues the lead in the 22nd minute with a looping header off a corner kick.
Chelsea survived Liverpool's second-half onslaught without N'Golo Kante, who exited the match at halftime with a suspected injury.
Liverpool fired 14 shots to Chelsea's two in the final 45 minutes, including six on target.
Chelsea and Liverpool are tied with West Ham and Everton atop the Premier League table on seven points apiece through three matches.
The result leaves Tottenham as the only team that's yet to drop points in the new season. Spurs will play their game in hand on Sunday at home to Watford.
The match turned just before halftime when a goalmouth scramble at Chelsea's end resulted in a penalty. Referee Taylor determined James had committed a handball and denied a clear goal-scoring opportunity, even though the ball initially bounced off the 21-year-old's thigh.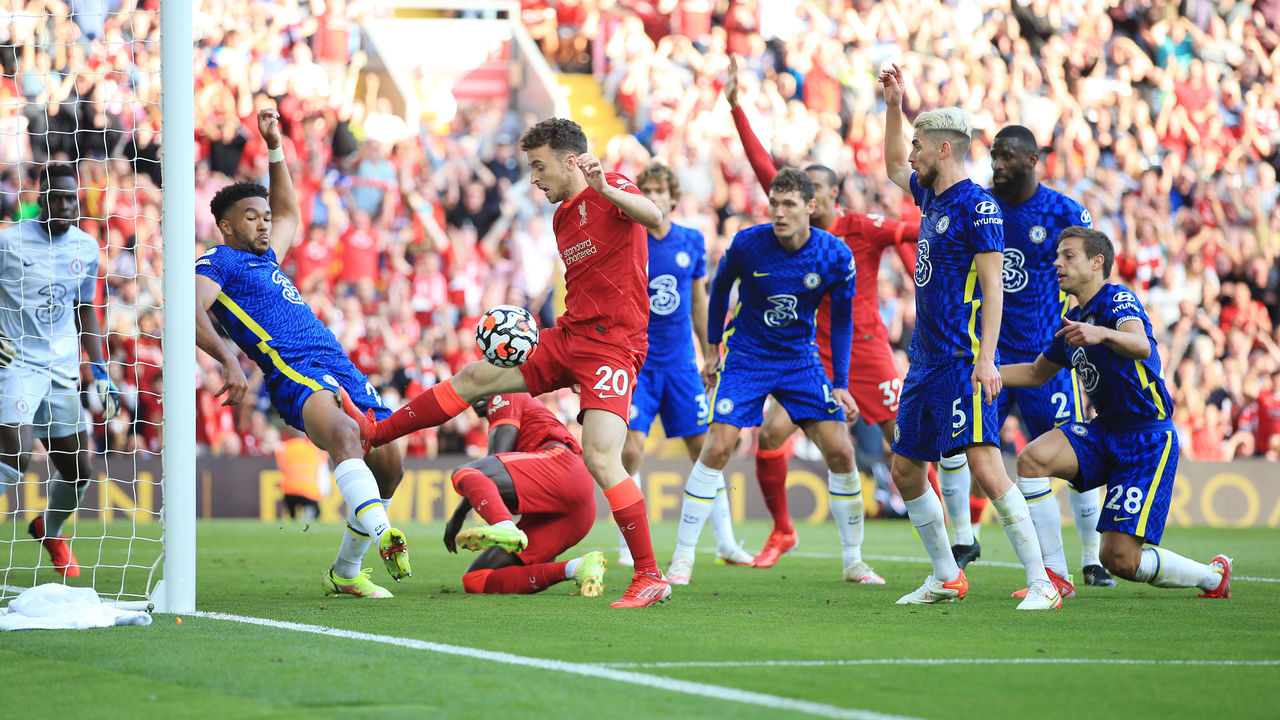 The International Football Association Board states that a player who denies a goal or an obvious goal-scoring opportunity by a handball offense is automatically sent off "wherever the offense occurs."
Taylor confirmed the decision to award a penalty kick and a red card after a glance at the pitchside monitor, which showed a still shot of James handling the ball. The right-back motioned his arm in the direction of the ball after making contact.
"I'm not even sure anymore if it's the rules or not the rules," Chelsea manager Thomas Tuchel told the BBC's Match of the Day. "You have to accept the decision. He maybe would have changed his mind with moving pictures.
"In the end, it maybe would have stayed the same. I don't like early red cards in general because it spoils the game. In the end, it was a tough and hard fight. We showed great resilience and deserved the point."