theScore examines the most important Premier League developments from the the first weekend of 2022, dissecting the biggest talking points after a busy slate of action.
Gabriel not angelic
The squabble between Arsenal's Gabriel Magalhaes and Manchester City's Gabriel Jesus quickly became one of the more fascinating tussles of Saturday's match at Emirates Stadium.
The Gunners defender was determined to make their head-to-head as physical as possible, and he was succeeding. Gabriel worked on Jesus' shoulder, completing two clearances and all of his attempted tackles in the opening half. The understanding at the back was also impressive, as teammates covered Gabriel's position each time Jesus' movement dragged him out wide.
And although Gabriel deservedly got a yellow card for scuffing the penalty spot before Riyad Mahrez's spot-kick, the Arsenal supporters would've lauded him if the Algerian winger had missed. The Gunners have regularly fallen victim to rival teams' dark arts down the years, and Mikel Arteta called for more nastiness from his charges during his first year as Arsenal boss.
But then Gabriel received a second yellow for his mindless block on Jesus just two minutes later. "If you are on a yellow, you have to be smarter," assistant manager Albert Stuivenberg – who took charge of the game after Arteta's positive COVID-19 test – warned after the match.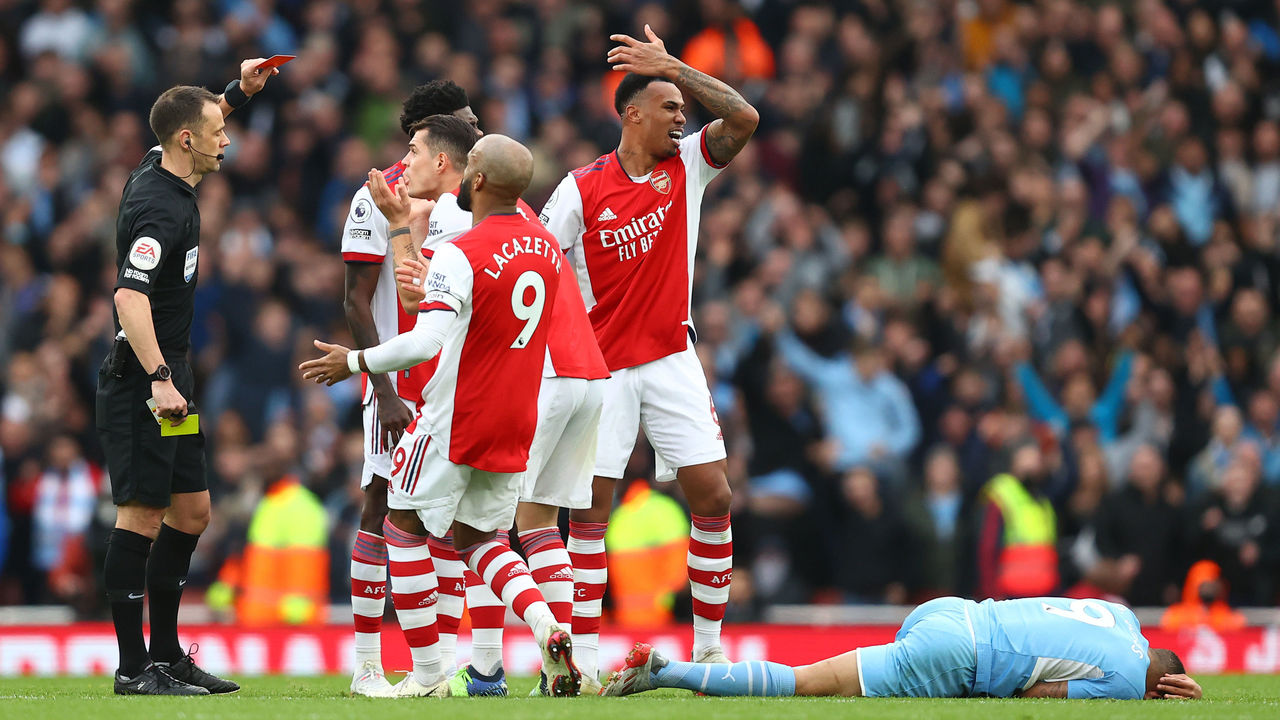 The Gunners were dangerous going forward and had denied City a shot on target until Mahrez's converted penalty. The home fans directed much of their anger at referee Stuart Attwell's performance, when in fact, Gabriel's quickfire yellows and Granit Xhaka's shirt tug to concede the spot-kick were the faults that turned a 1-0 victory into a 2-1 defeat.
A painful end to a productive run
Rodri's 93rd-minute winner was cruel on Arsenal and ended a streak of five victories across all competitions for the Gunners.
However, Arsenal should be optimistic about their bid for Champions League qualification. Thomas Partey had one of his best matches for the Gunners against City, while last summer's transfer window can be deemed a huge success. And Arsenal have turned Pierre-Emerick Aubameyang's fall from grace into an advantage: They've formed one of the most exciting attacks in European football.
Alexandre Lacazette has taken Aubameyang's senior role in Arsenal's attack, and it's the Frenchman's willingness to play with his back to goal and movement that has let the youngsters around him blossom.
Gabriel Martinelli may dwell on his gilt-edged chance to restore Arsenal's lead before being reduced to 10 men, but his running behind Joao Cancelo was troublesome for City, and he hit three shots narrowly wide of Ederson's post. Bukayo Saka scored his side's deserved opener with a clean finish, and tidy playmaker Martin Odegaard intelligently cut off passing lanes to Rodri when City's defense had the ball.
Emile Smith Rowe, who replaced Lacazette in the second half, is the unlucky odd man out. The 21-year-old is the Gunners' top scorer with nine goals but is currently finding it difficult to usurp a member of Arteta's tireless frontline.
Tottenham's flying wing-backs
When Tottenham Hotspur hired Antonio Conte, much of the focus surrounded the excitable Italian manager's ability to reignite a stuttering Harry Kane. Tottenham, as currently constructed, can't thrive without their talisman getting back to some version of his best self, so the emphasis on the striker was understandable.
But if his previous spells at Inter Milan and Chelsea, among others, proved anything, it's that we should have been paying more attention to the wing-backs, who stand to gain more than anyone else with Conte at the helm.
That was once again the case in Saturday's last-gasp win over Watford, with Emerson Royal and Sergio Reguilon playing a critical role and helping to take some of the previously overwhelming attacking burden off the shoulders of Kane and Son Heung-min. Emerson, in particular, delivered a standout performance at Vicarage Road.
Tottenham are undefeated in the league since Conte's arrival, winning five of their eight matches. With games in hand against fellow Champions League hopefuls Arsenal and West Ham United, Spurs are suddenly in prime position to assume a top-four spot by the end of the month, and their flying wing-backs are a big reason for the recent success.
Their next league match? The north London derby on Jan. 16.
Release Olise
A back injury delayed Michael Olise's Crystal Palace debut until his cameo in the 3-0 win over Tottenham in September, but he's started just two matches since. Still, with only 314 minutes under his belt after Saturday's 3-2 defeat at West Ham United, he's already produced two goals and three assists for his new club.
Now, with Wilfried Zaha, Jordan Ayew, and potentially Jeffrey Schlupp set to depart for the Africa Cup of Nations, Olise should expect to get more opportunities to play under Patrick Vieira.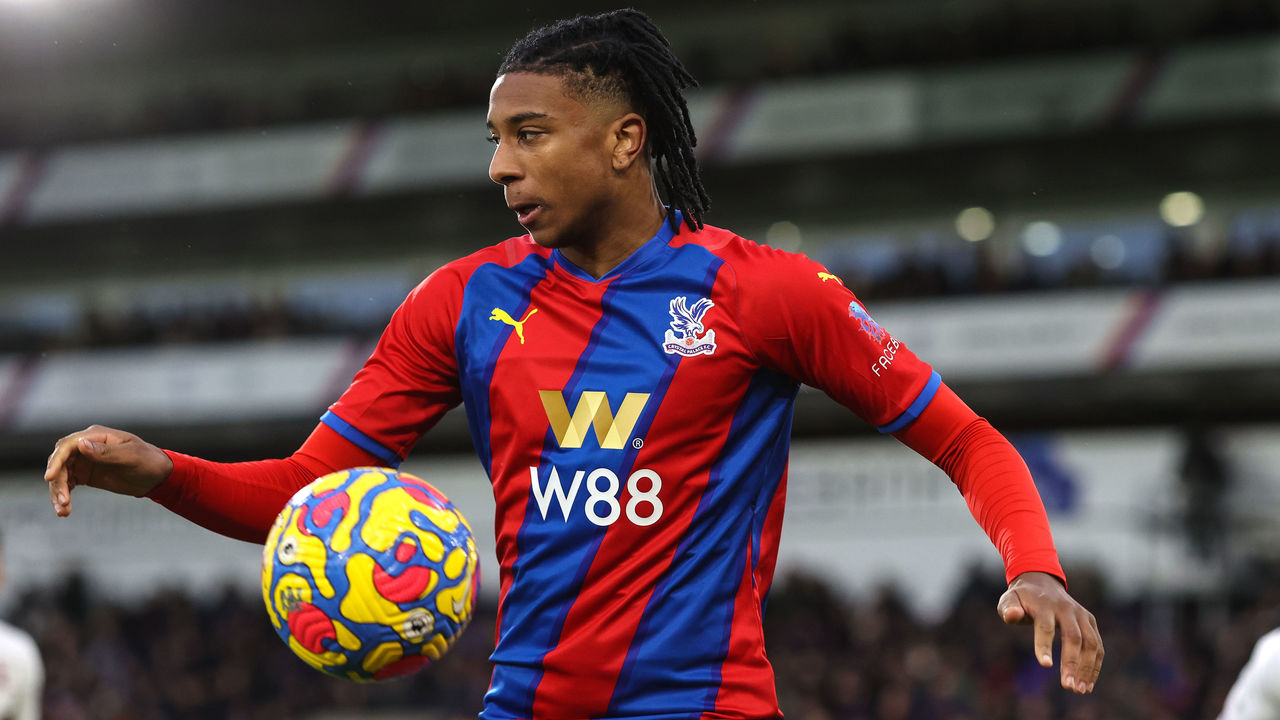 Technically, Olise is already Premier League grade, and his physicality is already well developed at 20. But one of the few criticisms from his time at Reading was that he sometimes deviated from his manager's tactical blueprint, deciding to take matters into his own hands rather than follow the rest of the team's lead.
"There'd be times where we were 2-0 up, even in the Championship last year, with five minutes to go, and he's trying to get the ball off the 'keeper behind the center-backs," former Reading teammate Tom McIntyre told The Athletic's Matt Woosnam in October, adding, "We've all stepped up to do a route-one ball.
"I would stand there and think, 'This geezer probably thinks we're not very good at football,'" McIntyre said.
Palace's next two matches could be a true test of Olise's maturity: Vieira's men face an FA Cup clash at London foes Millwall next Saturday before the following weekend's spat with rivals Brighton & Hove Albion.
No reason for concern at Villa
Aston Villa dominated much of the game against Brentford but failed to create any clear chances aside from Emiliano Buendia's stunning spin, drag back, and pass to tee up Danny Ings' 16th-minute opener.
It was a 2-1 defeat that seemed to say more about Villa's absentees rather than those who played.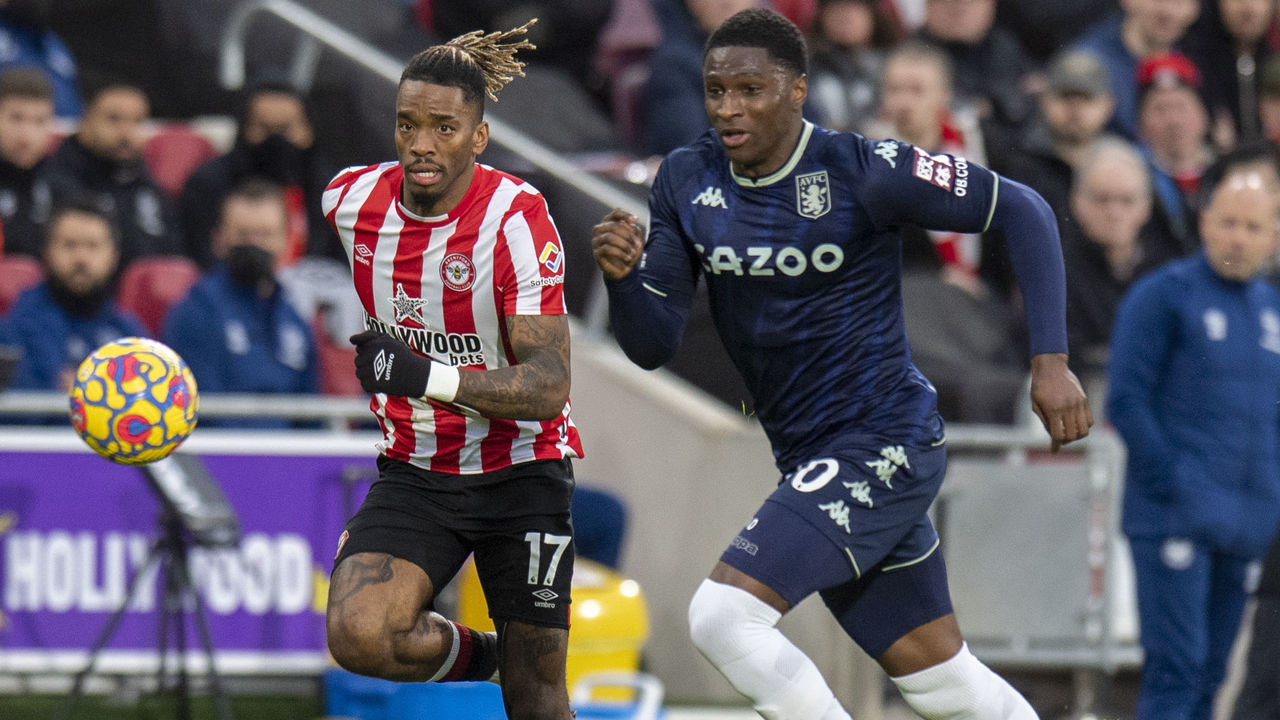 Bit-part defender Kortney Hause already had well-known weaknesses before the Bees exposed his questionable positioning and poor passing in the capital, and the performance served as a reminder of suspended captain Tyrone Mings' importance to the side. Douglas Luiz has quality, but the defense hasn't been as well protected since Marvelous Nakamba suffered an injury in December. And perhaps Buendia would've been able to unfurl some more magic if Ollie Watkins, an excellent link-up man in attack, was available to provide more movement ahead of the Argentine playmaker.
Consecutive defeats to Chelsea and Brentford shouldn't be a huge concern after an overall positive start to Steven Gerrard's managerial reign. The organization can make small tweaks – signing an upgrade for Matt Targett at left-back appears inevitable in January – but a fitter contingent of senior players and the talent emerging from 2021's FA Youth Cup triumph give Gerrard plenty to work with at Villa Park.
Benitez on the brink
Everton are extremely lucky that there are several other very bad teams in the Premier League this season. Otherwise, the Toffees would find themselves firmly entrenched in a true relegation battle.
Sunday's 3-2 defeat to Brighton & Hove Albion heaped more pressure on Rafa Benitez. The Spaniard was an unpopular appointment, to begin with – thanks to his strong Liverpool ties – and Everton's pitiful campaign has only exacerbated the fans' disgruntlement. The loss at Goodison Park leaves the Toffees sitting 15th in the table, and supporters have made their displeasure clear on multiple occasions throughout the season thus far.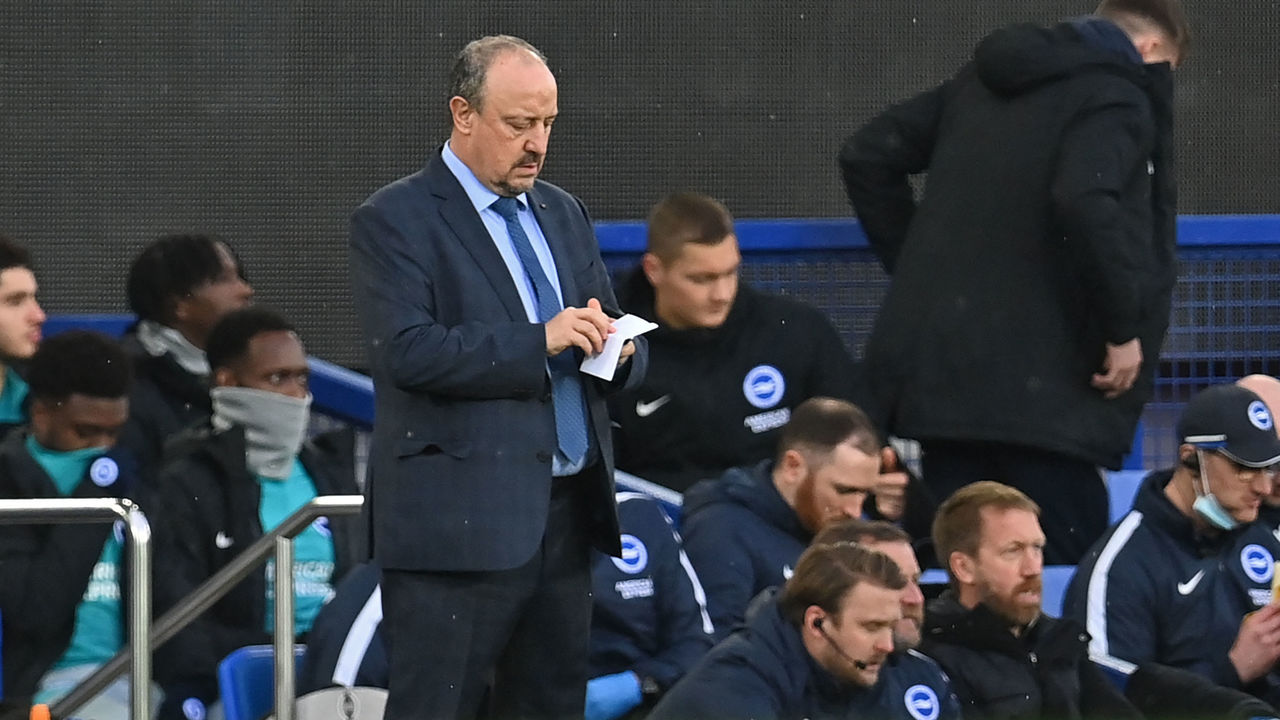 Benitez has always been renowned for his ability to solidify his squads defensively. The football may not be the most invigorating, but you can live with that, to an extent, if you're stout at the back. That's simply not the case right now, though. Everton keep making simple and maddening defensive errors en route to conceding 32 goals – only five teams have allowed more.
Outside of youngster Anthony Gordon, who scored twice on Sunday, there's little to be encouraged about right now. The Toffees look disjointed (using several players out of position will do that to you) and feeble. Benitez won't make it to the end of the campaign if things don't change drastically – and quickly.
Dyche is a manager, not a magician
This could be Burnley's most miserable iteration through their whole second spell in the Premier League.
Chris Wood, their best striker, can't score. James Tarkowski, their best defender, was poor in Sunday's 3-1 defeat to Leeds United, and he often relies on fellow center-back Ben Mee to bail him out. Maxwel Cornet, their exciting Ivorian forward who scored a free-kick against Leeds, is now unavailable while he competes at the Africa Cup of Nations.
And Sean Dyche, their battle-hardened bench boss, can't be hopeful for the future under an ownership group that has reportedly loaded the club with debt. A transformative transfer window is unlikely, and Dyche worryingly questioned the commitment of his current crop after the Leeds loss.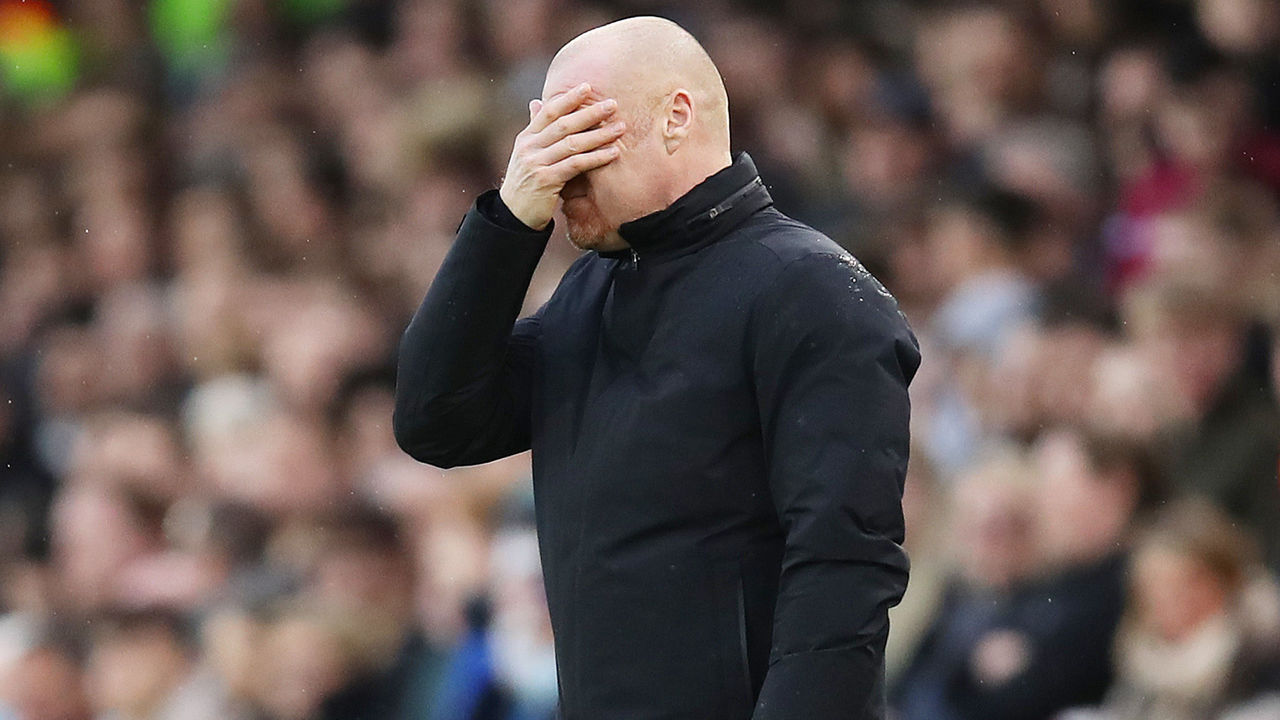 "This season, we have tried to offer some changes in the way we play, using the ball better, but you can't take away the hunger and desire," Dyche said, according to the Burnley Express' Chris Boden. "They had the edge against us with that desire."
Burnley's precarious financial state means relegation could be ruinous, while survival would simply begin the cycle all over again next campaign. Dyche may be able to pull Burnley away from the bottom three once more, but lifting them from their ever-worsening malaise seems beyond any manager's capabilities.
Did Tuchel make Lukaku situation worse?
Thomas Tuchel could've made his point in a way that didn't hinder his club.
The Chelsea boss could've tried to diffuse the situation with Romelu Lukaku following his controversial interview with Sky Sport Italia and then given the striker a chance to reaffirm his commitment to the team with a strong showing against Liverpool. Lukaku's punishment could've been a place on the bench or a fine rather than being left out of the squad altogether.
"The thing got too big, the thing got too noisy so close to the match," Tuchel explained to Sky Sports before the contest. "So, I decided to protect the preparation of the match, and that's why he's out."
Tuchel made the Lukaku unrest bigger than it already was. Additionally, delaying his decision on whether to include Lukaku against the Reds surely harmed the preparation he was so keen to protect.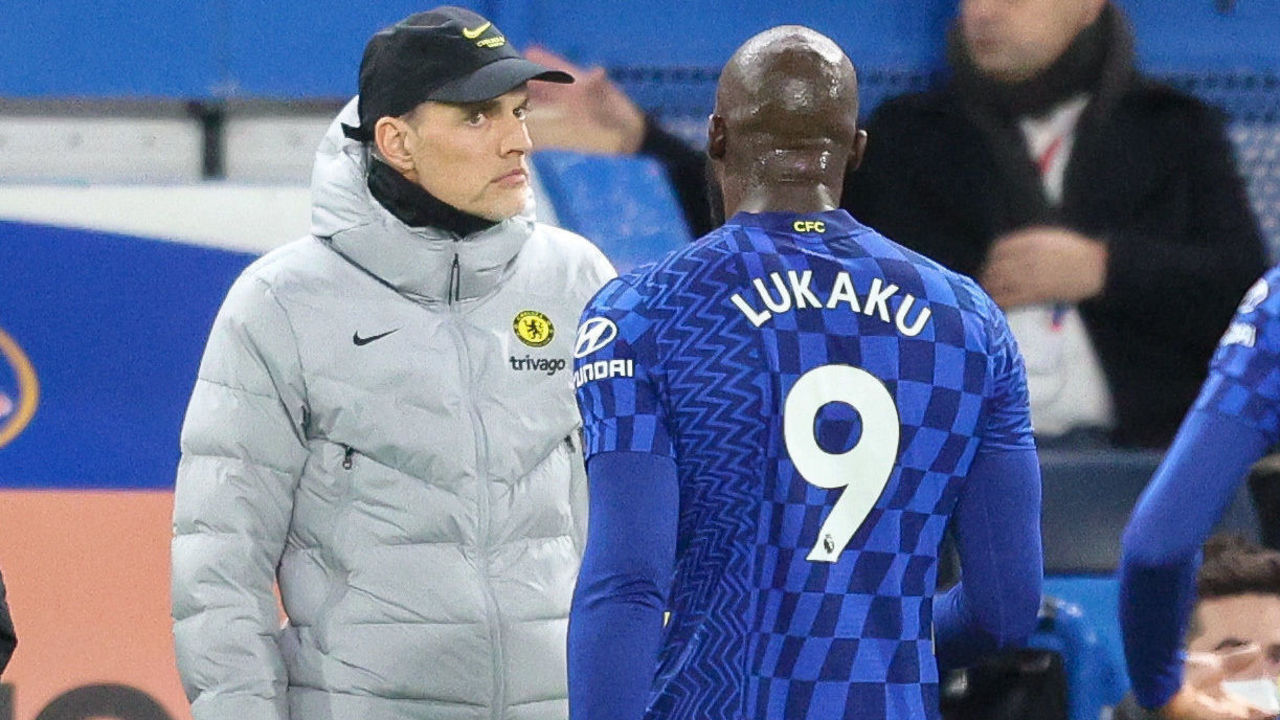 The bench boss may have been thinking of the long-term benefits that disciplining Lukaku would have on his control over his side, but leaving out your best striker for a massive matchup is a dangerous game to play when you're in charge of Chelsea – a club renowned for short-termism.
Say goodnight to the title race
Sunday's pulsating clash between Chelsea and Liverpool was brilliant viewing for neutrals. Each side played at breakneck speed, for the most part, with both taking risks.
Everything comes at a price, though, and the cost of getting to witness such a thrilling encounter was almost certainly the end of the title race. As enjoyable as the 2-2 draw at Stamford Bridge was for neutrals, it was even better for Manchester City, who are now sitting pretty with a 10-point lead atop the table after their two nearest title competitors canceled each other out.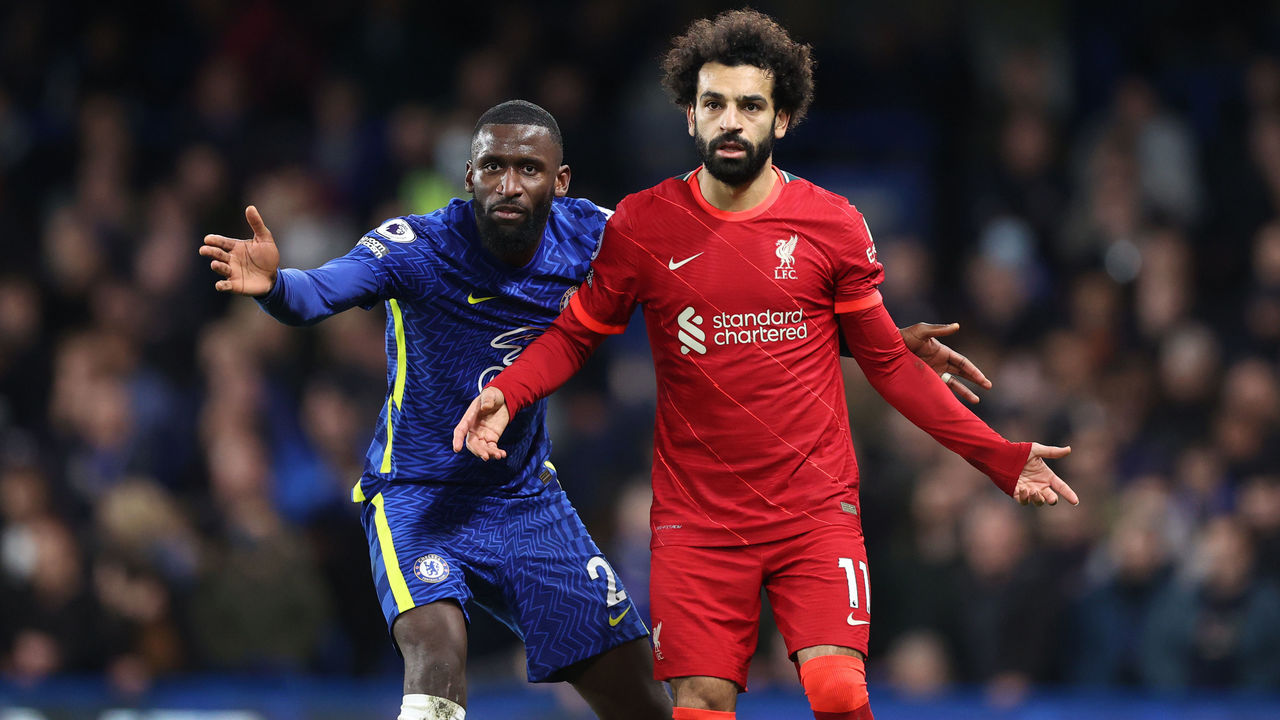 Assuming Liverpool win their game in hand, the COVID-hit Reds will leapfrog the Blues for second place and cut the gap with City to eight points. From there, they'd need to be almost flawless the rest of the way and pray to various deities that City fall off a cliff – considering Pep Guardiola's juggernaut is in the midst of an 11-match league winning streak, that seems unlikely.
Just a few short weeks ago, it seemed like we would have an epic three-team race that would go down to the wire this campaign. How quickly things change.
Silly season is here, friends
The transfer window is officially open, meaning we get to find out which Premier League clubs have prepared and done the necessary legwork in the buildup to January and which ones are just going to wing it.
Being an uber-wealthy Premier League team obviously has its advantages in the transfer market, but as witnessed during every window, it also creates more expensive mistakes. Who will fall victim this month?
Newcastle – with newfound riches via their Saudi-backed ownership group – and Everton are two prime candidates to spend indiscriminately, the Magpies are mired in the relegation zone and already linked to a handful of deals, and the Toffees are wandering aimlessly right now.
The former's first big move may already be nearing completion.
Silly season is here. Enjoy the madness.