theScore examines the most important Premier League developments from the weekend, dissecting the biggest talking points after a busy slate of action.
Ronaldo makes instant impact
We shouldn't have expected anything less, really.
Cristiano Ronaldo's stunning return to Manchester United dominated headlines since the Portuguese star completed his move back from Juventus. The ill-timed international break forced everyone to wait just a little bit longer to see him in action at Old Trafford once again, but it was worth the delay for Red Devils supporters.
The 36-year-old is no longer the all-conquering attacking force he once was – that's inevitable with age – but he remains an elite goal scorer, as he proved in the 4-1 win over Newcastle United on Saturday. Ronaldo displayed his scoring instincts while pouncing on a rebound for the opening goal, and then his clinical finishing inside the penalty area for his second tally.
Playing a more central role than he did at Juventus, where he continued to drift out wide to the left-wing, Ronaldo provided an ideal focal point for a United attack that is suddenly overloaded with talent and still has the luxury of recovering Marcus Rashford from injury.
Should Sancho play on the right?
One question that did emerge during United's aforementioned victory surrounded manager Ole Gunnar Solskjaer's usage of summer signing Jadon Sancho. The Englishman spent the bulk of the contest on the left side, cutting in and linking up with Bruno Fernandes and Ronaldo.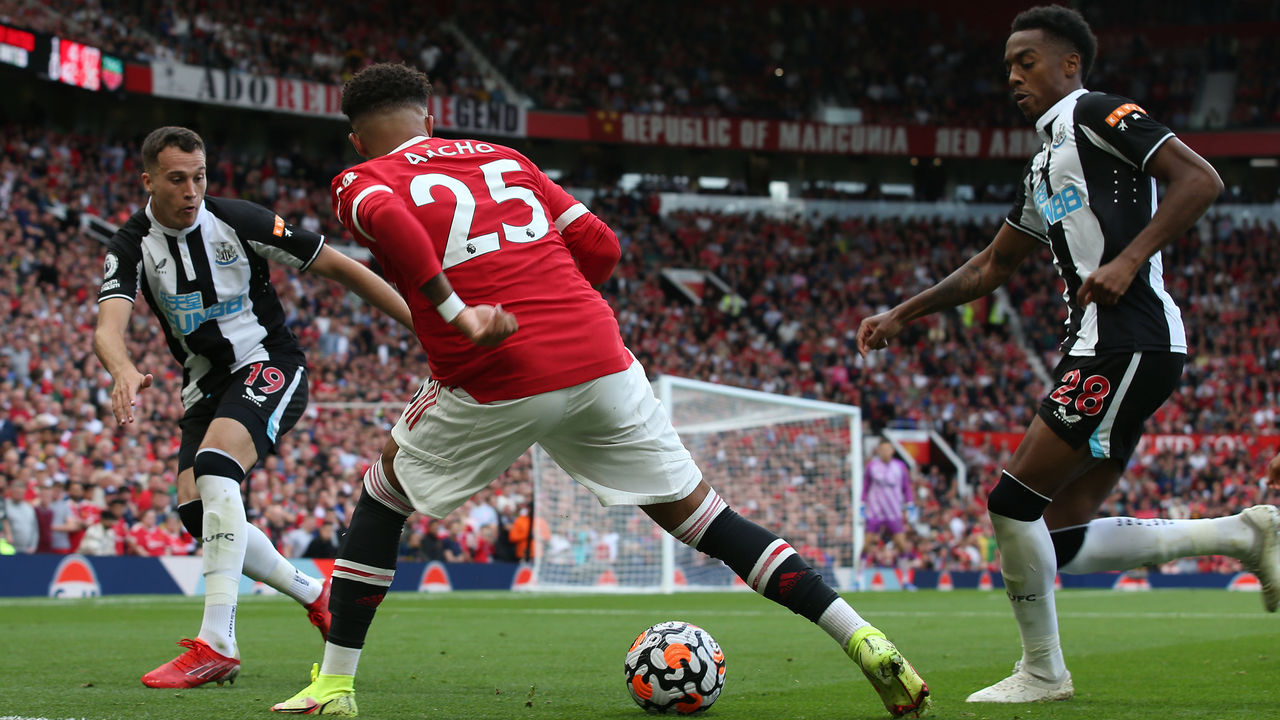 Along with the rampaging Luke Shaw, that move created big overloads and passing opportunities, an obvious positive, but it also left Mason Greenwood and Aaron Wan-Bissaka with acres of space on the opposite flank, as Newcastle committed the bulk of their defensive resources to slowing down progress on United's left-wing.
Flipping Sancho and Greenwood means Solskjaer would lose his beloved inverted wingers – a favorite of basically every manager alive right now – but it would surely help balance United's attack and put Sancho, one of the elite dribblers in world football, in extremely advantageous one-on-one situations where he can cause plenty of havoc.
It didn't matter against an overmatched Newcastle side, but against better teams, it's a question that will pop up again if Solskjaer persists with his current setup.
Finally some respite for Arteta
It was only Norwich City, yes, but after such a brutal start to the campaign for Arsenal, you take any positives you can get if you're the under-fire Mikel Arteta.
With wide attackers Nicolas Pepe and Bukayo Saka flanking crafty passer Martin Odegaard, there was a balance about the Gunners that has been sorely lacking this season. Pierre-Emerick Aubameyang was the primary benefactor, getting the chance to play in his preferred role up front with proper support from the aforementioned trio behind him.
It all culminated in Arsenal's most impressive outing of the campaign: The Gunners, despite only recording a 1-0 win, had 30 shot attempts on the day – their most in a league match since 2017. Slow progress is still progress, and Arteta will be cautiously optimistic that the club has turned a corner.
Positives to take for Aston Villa
Saturday's 3-0 defeat to Chelsea was a classic case of the final score not being fully representative of the action on the pitch for Aston Villa.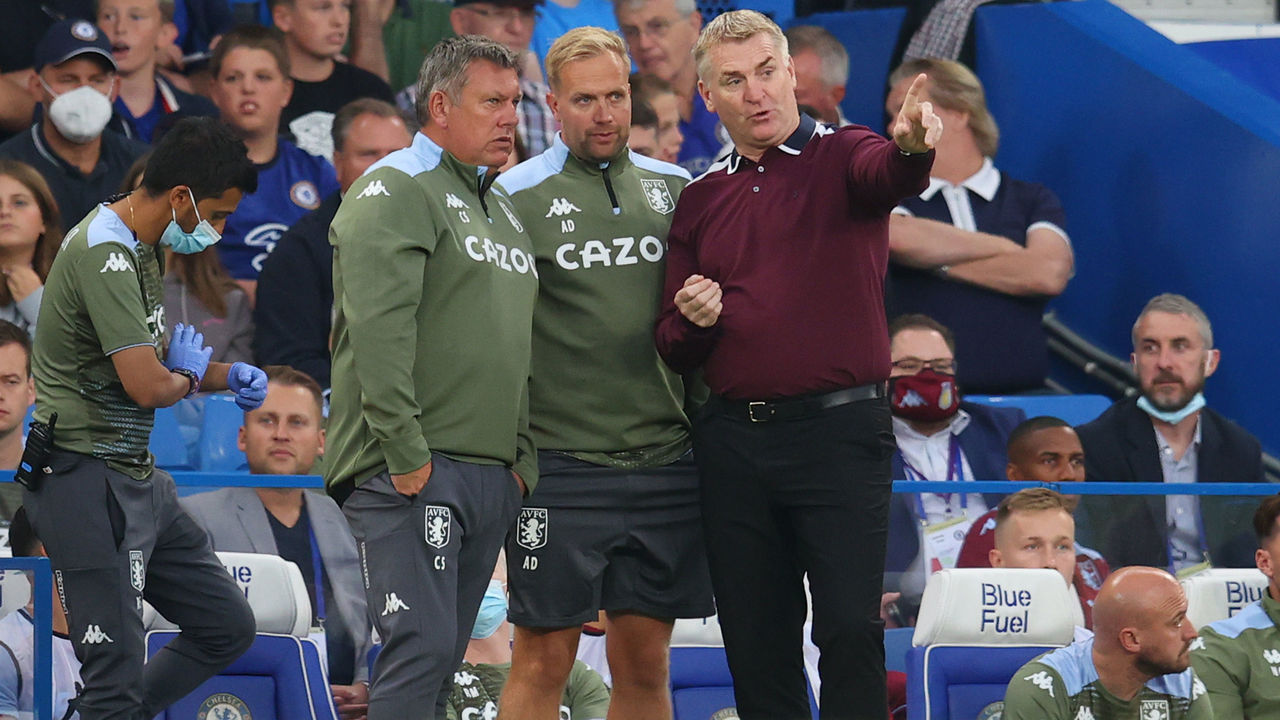 Dean Smith's team went to Stamford Bridge and outshot the title challengers, arguably created more clear-cut chances, and ultimately forced Edouard Mendy into six saves, the joint-most he's had to make in a Premier League game since joining Chelsea. The shot-stopper was the Blues' best player in the opening half of the contest, likely leaving Ollie Watkins particularly bewildered by his inability to find the net.
Villa still need to eliminate the crippling defensive errors that again reared their head, but there are signs that the Watkins and Danny Ings partnership up front, along with an enterprising midfield, will bear fruit for Aston Villa going forward this season.
Solid debuts … for the most part
Ronaldo gobbled up all the attention – doesn't he always? – but this weekend saw several impressive debuts across the league.
Odsonne Edouard delivered a brace to help Crystal Palace sink Tottenham Hotspur and give Patrick Vieira his first victory with the club. Meanwhile, Marc Cucurella and Takehiro Tomiyasu helped their sides Brighton & Hove Albion and Arsenal, respectively, record 1-0 wins.
On the flip side, though, Saul Niguez endured a tricky start to his Chelsea career, being hauled off at half-time against Aston Villa after looking a little overwhelmed and off the pace.
"It was a hard decision, but I had the feeling he struggled," Chelsea boss Thomas Tuchel admitted. "There were some big mistakes, passing mistakes, easy ball losses, which is very unusual for him. He struggled with the intensity. You could see he isn't fully adapted."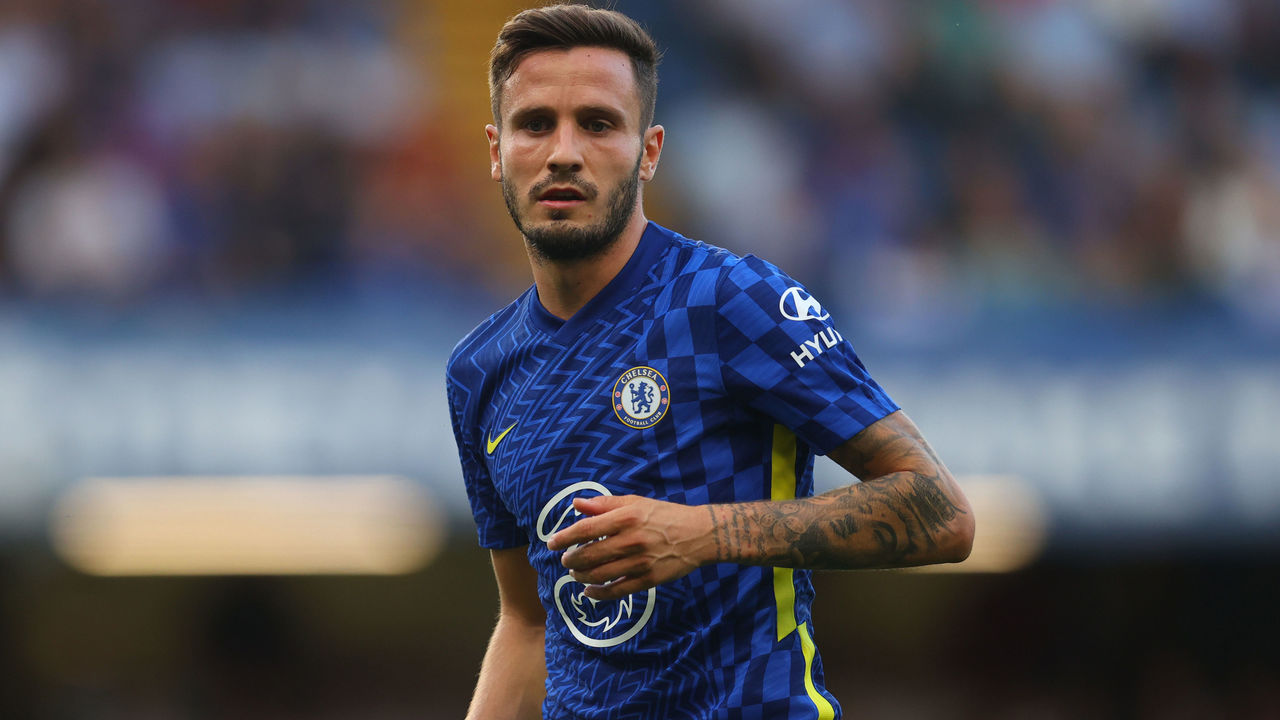 The German manager, who took responsibility for thrusting Saul right into the mix without enough preparation time, added, "I put him into a very difficult match after the international break, and it was hard to adapt the physicality in general and to the intensity and high pressing of Aston Villa. Also, it was hard for him to adapt to our system and principles."
The Spaniard is too talented not to return to form, though, so this will likely just be a minor blip for the Atletico Madrid loanee.
Vintage Bernardo ready to fight for place in Pep's team
As his compatriot was grabbing national headlines at Old Trafford, Bernardo Silva produced a masterclass performance for Manchester City that was arguably just as important as what his Portuguese teammate Ronaldo accomplished.
Despite being deployed in a new role on the left side compared to his usual position on the right flank, Silva adapted flawlessly and went on to be named Man of the Match. Silva teamed up with Jack Grealish and Joao Cancelo on the left to produce some wonderful link-up play before capping off his day with a second-half winner.
It was a vintage display from Silva – one that Manchester City fans might appreciate a little more these days after it appeared that the gifted midfielder was set to depart during the summer transfer window.
While Silva was understood to be ready to leave in the summer, the 27-year-old certainly didn't show any signs that he was unsettled at Leicester's King Power Stadium. Instead, he looked like a player determined to fight his way into Pep Guardiola's team during a campaign in which competition for minutes will be as intense as ever at the Etihad Stadium.
Tottenham's midfield conundrum
The whole Argentina debacle during the international break robbed Nuno Espirito Santo of the chance to use Giovani Lo Celso against Crystal Palace. That was far from the only reason for the 3-0 defeat, but it speaks to an ongoing issue that the Tottenham boss needs to address if Spurs are to make serious strides this year: What is his best midfield?
The continued freezing out of the uber-skilled Tanguy Ndombele has become an elephant in the room. The Frenchman is, frankly, a much better player than either Oliver Skipp or Harry Winks, but he is still waiting for his first league minutes of the season. At this point, they may never arrive.
The offshoot of the midfield issues is that star striker Harry Kane became increasingly isolated up front, and without the injured Heung-Min Son to provide support, the Englishman endured a frustrating outing.
Nuno figuring out a way to provide consistent support for Kane – or not – will define his first campaign with the club.
Wolves woes could be in rearview mirror
It wasn't pretty, but an away win over newly promoted Watford could be just what Wolverhampton Wanderers needed to kickstart their season. After a winless and scoreless start to the campaign, Wolves finally got off the mark on Matchday 4 to secure their first victory at Vicarage Road Stadium.
While the opener came courtesy of a Watford own goal, new arrival Hee-Chan Hwang enjoyed a dream start to life on the Wanderers with a debut goal that sealed three points for the visitors. It was a scrappy goal for the South Korean international, but hardly anyone will complain, given the team has squandered countless scoring opportunities so far.
Along with providing attacking depth for Wolves, Hwang should also help take some pressure off Raul Jimenez, who hasn't looked as sharp in front of goal as he continues to refind his form after recently returning to action from a serious head injury.
Now that the all-important first win is out of the way, there's real potential for the Wanderers to shoot up the table thanks to their relatively comfortable schedule over the weeks to come. Bruno Lage's men will take on Brentford next before games against Southampton, Newcastle, Aston Villa, and Leeds United.
Rodrigo's days limited in Bielsa's XI
Rodrigo is an uncomfortable fit at Leeds. He's never going to establish himself as the main striker while Patrick Bamford's both a reliable goal-scorer and a keen follower of Marcelo Bielsa's methods. And there are few opportunities for the Spaniard to be an effective withdrawn forward when the Whites' attacks rely so heavily on the wing play of Raphinha, Jack Harrison, and the full-backs.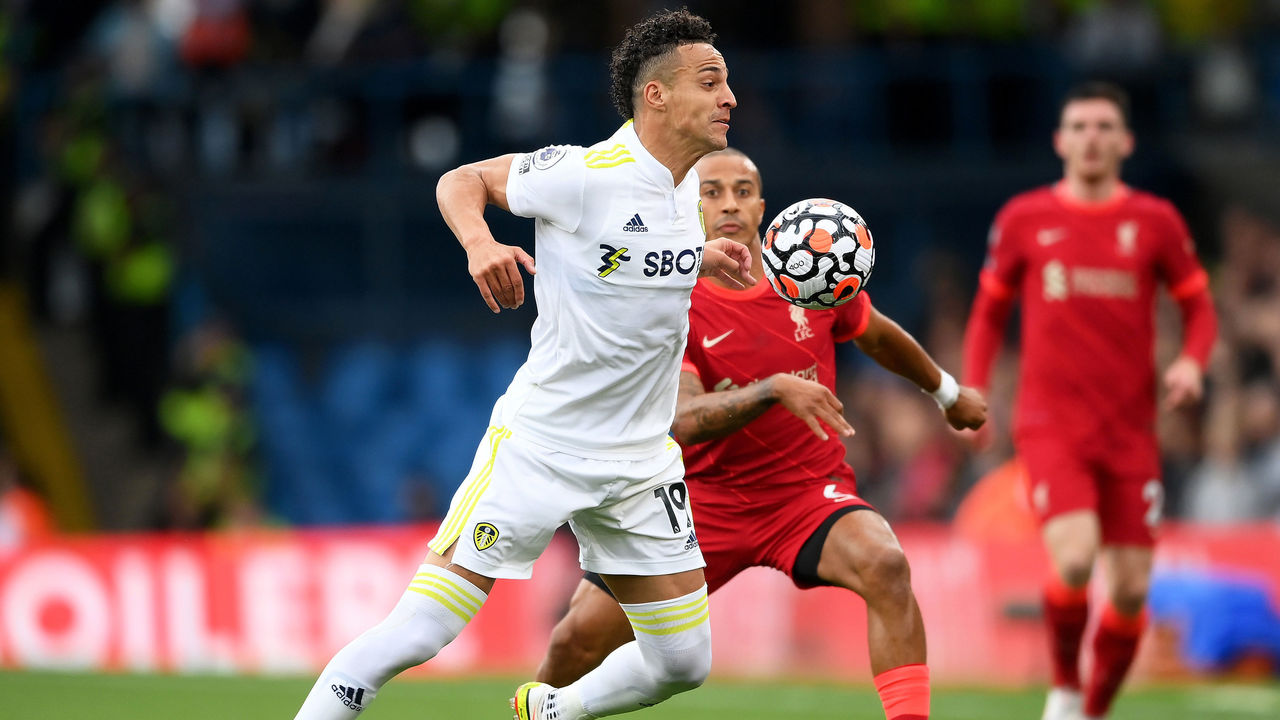 The 30-year-old's also done little to suggest he deserves a place in the lineup over three Premier League starts in the season's opening weeks.
Rodrigo had a difficult first half in Sunday's 3-0 home loss to Liverpool. He should've put Leeds ahead inside the opening 10 minutes when Raphinha cut the ball to him, but with both corners of the net at his mercy and time to compose himself, he contrived to fire a shot right down Alisson's throat. Rodrigo's pressing lacked bite, too, with the attacker making half-hearted attempts to close down Fabinho and, most critically, Joel Matip moments before Mohamed Salah's opener.
Bielsa substituted Rodrigo at the interval.
Although new signing Daniel James tended to play out wide for Manchester United, he's featured in central roles for Swansea City and Wales. James' pace and work rate could be a huge asset for Bielsa in the middle behind Bamford, and he could swap positions with Raphinha and Harrison to unsettle defenses during matches.
A cruel setback to a burgeoning career
The first few weeks of what promised to be the campaign where Harvey Elliott nailed down a Liverpool starting berth and a place in the England squad is likely over after the teenager suffered a horrific injury at Elland Road.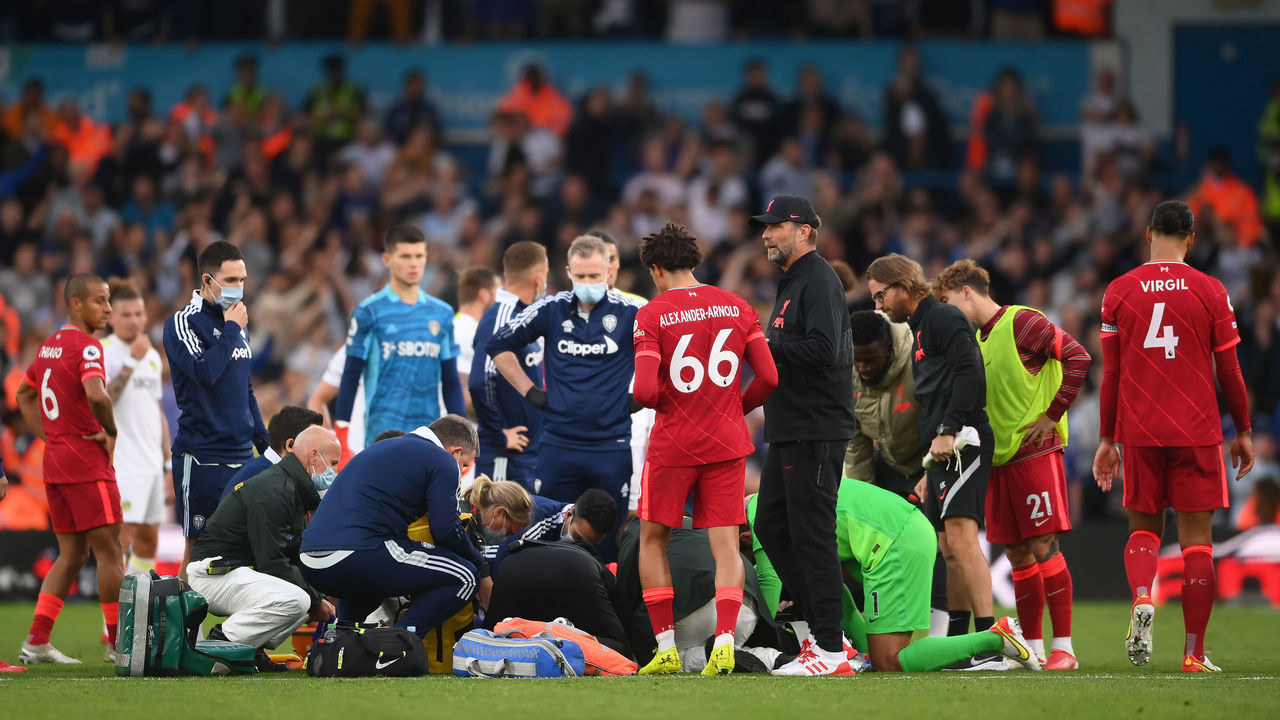 There was no malice in Pascal Struijk's challenge, and one could argue that a red card was harsh – referee Craig Dawson was letting play continue before the players hoofed the ball out of bounds – but an awkward collision culminated in the young midfielder clutching a seriously broken limb.
Elliott's been excellent in the first four Premier League starts of his career. Rather than adopting the wide attacking role in which he thrived while on loan at Blackburn Rovers last season, the Fulham academy product has battled and created with equal success to the right of Jurgen Klopp's three-man midfield. Elliott's combinations with Salah and Trent Alexander-Arnold were getting better and better.
Despite only being featured regularly since the start of this term, Elliott's absence leaves Klopp with a conundrum in midfield. The 18-year-old was the perfect replacement for Georginio Wijnaldum.