Manchester United bowed out of the Europa League at the semifinal stage on Sunday in Cologne as Sevilla came from behind to snatch a 2-1 victory.
Suso and Luuk de Jong scored for Julen Lopetegui's charges as record five-time winners Sevilla cemented a resolute team performance. They now progress to the final of the continent's second tournament for the fourth time in seven years.
For United, the defeat wraps up a trophy-less campaign that witnessed the Red Devils get eliminated in the semifinals of the FA Cup, League Cup, and Europa League.
Here's a look at three reasons why United's pursuit of a second Europa League crown in four years came up short:
Reguilon puts on a show in the shop window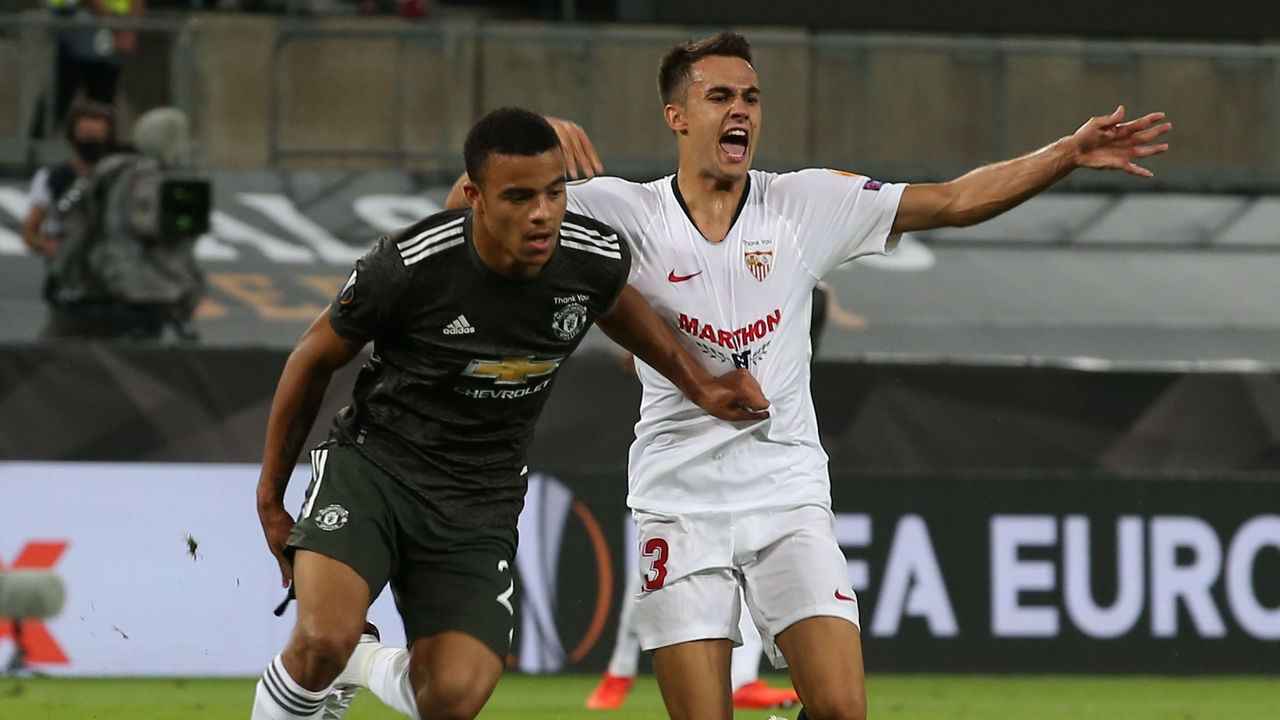 There will be several sides in the market for a left-back who fondly observed Sergio Reguilon's showing at the RheinEnergie Stadion in Cologne.
On loan at Sevilla from Real Madrid and unlikely to unseat Ferland Mendy in the Spanish capital, Reguilon is set to find a new home for next season following a stellar short-term stay at Sanchez Pizjuan. The 23-year-old was considered among La Liga's best full-backs.
Reguilon's entire skillset was on display against United. Searing overlapping runs exposed cracks in the Red Devils' shape, and Sevilla clawed back courtesy of Suso's equalizer when Reguilon made a lung-bursting run and pass across the face of goal that caught United left-back Brandon Williams out of position.
To say it was Reguilon's best performance of the season would be a stretch, and the Spaniard's high-risk passing can manufacture lower-percentage returns. However, his defensive work in monitoring Mason Greenwood proved a nuisance.
Manchester City and Chelsea have been strongly linked to the £25-million rated Reguilon, and the latter would be wise to pursue this option rather than a more expensive advance for Leicester City's Ben Chilwell.
United rue wasted opportunities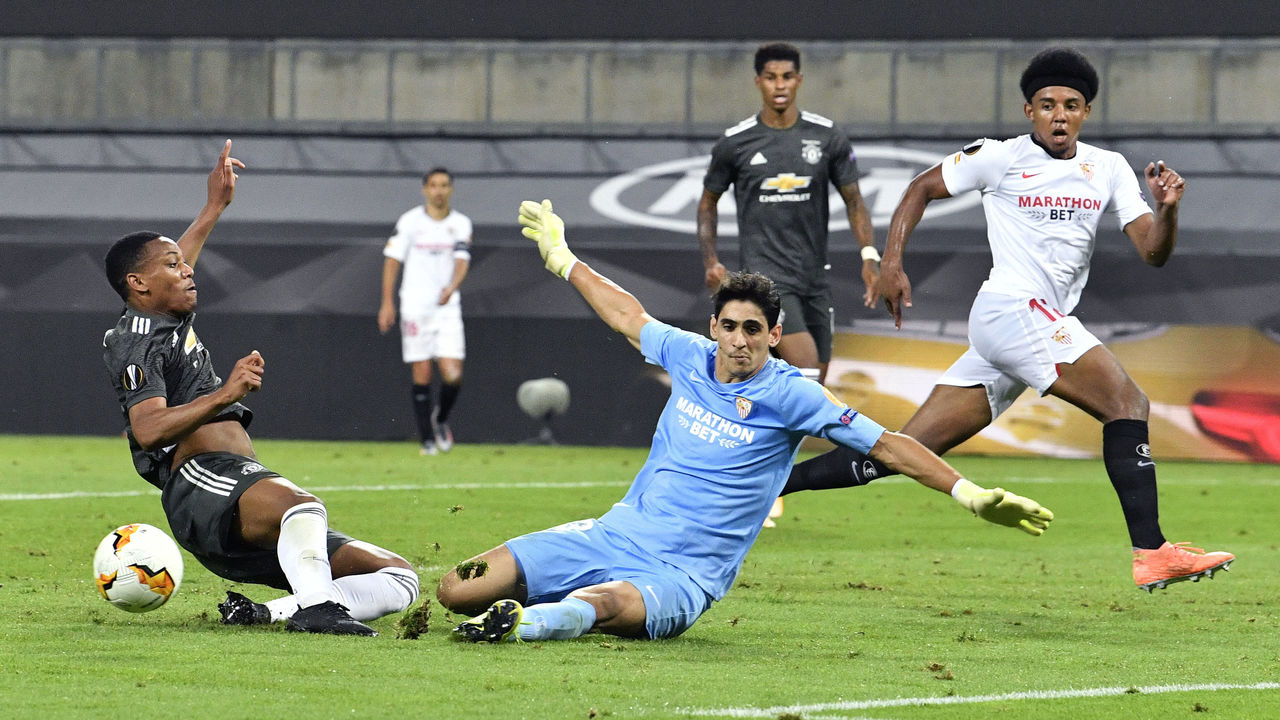 Reguilon was excellent, as was master technician Ever Banega, and several other Sevilla players, but United had several opportunities to put this match away.
Ole Gunnar Solskjaer's team outshot their opponents 20-7, with seven of those efforts hitting the target. Many of those shots came in a frenzied 10-minute spell following the interval.
Full credit to Sevilla shot-stopper Bono, who was magnificent. He denied Greenwood from close range before coming to the rescue again to stop Anthony Martial at the far post. United were then thwarted seconds later by a last-ditch tackle from Fernando and Bruno Fernandes' thunderous effort was blocked.
Martial could have scored at least twice during that spree and United would have been good value for a 3-1 advantage. Bono was great, but you wouldn't call any of his saves exceptional. The Red Devils' attackers lacked precision and weren't clinical in front of goal.
That proved costly, as Sevilla gained reprieve and grew into the match while United appeared knackered and forlorn.
Rashford could use a break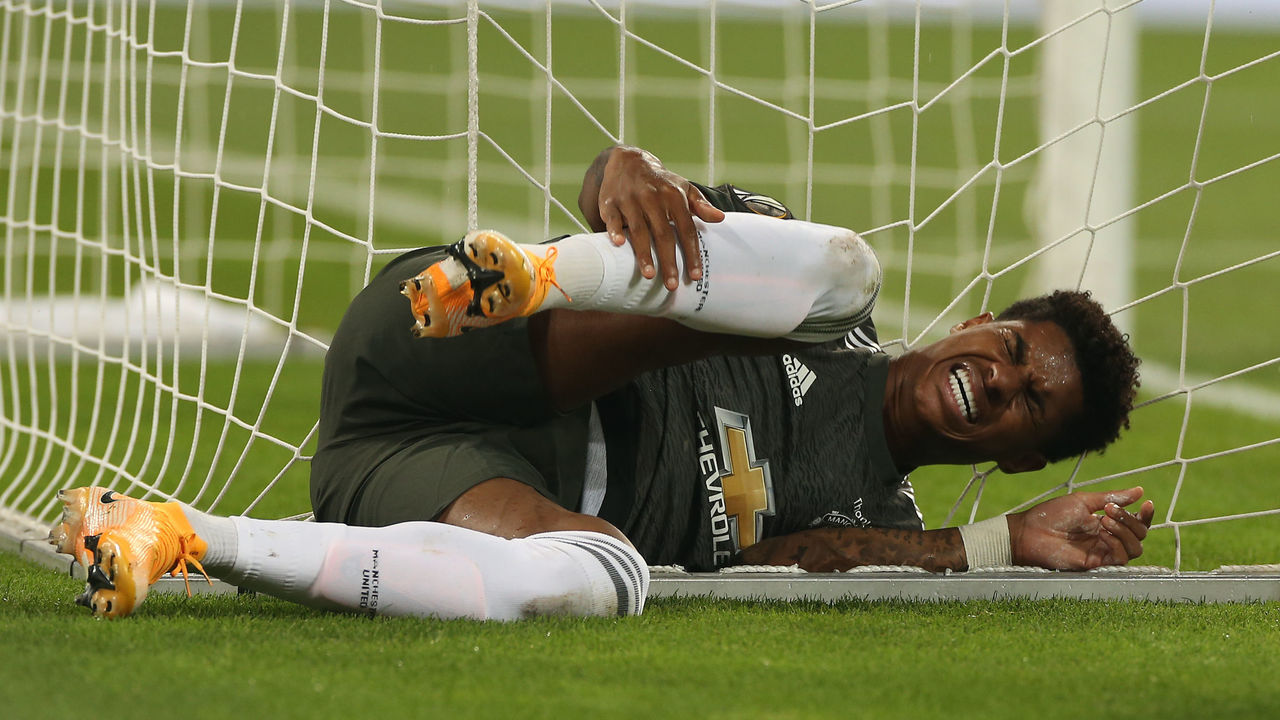 Speaking of missed opportunities for United, Marcus Rashford blew a chance in first-half injury time emblematic of the England international's post-restart form.
Paul Pogba's pinpoint diagonal ball found Rashford surging down the left, and the 22-year-old was in on goal and in acres of space with only Diego Carlos to beat. Rashford misplaced his touch, gifting the Sevilla central defender possession.
It was almost comical how easily Rashford snuffed out his own goal-scoring attempt.
United's formidable run since the resumption of play has taken some of the attention from Rashford. Still, there's no avoiding the fact that consequences linger from the double stress fractures in his back suffered in January against the Wolves. Carlos' bone-rattling tackle resulting in Fernandes' goal from the penalty spot couldn't have helped, either.
Before coming off late, Rashford registered 63% passing completion and did not manage to record a single shot after his effort that resulted in the challenge from Carlos was waved off due to the prior whistle.
Rashford needs a break, and United requires depth in attack to provide cover for him when he needs one. The 2020-21 Premier League season kicks off in less than a month.