With the Euro 2020 final between Italy and England on the horizon, we're examining the key factors that will help determine whether football is heading home on Sunday, or if it's going back to Rome.
Can Italy handle Kane's movement?
One of the most intriguing tactical wrinkles from Italy's semifinal victory over Spain was Luis Enrique's surprise usage of Dani Olmo in a false nine role; Spain using a non-traditional center forward isn't new, but few expected to see it against the Azzurri, especially after the manager's staunch defense of Alvaro Morata all tournament long. It was interesting, primarily, because of the way Italy's veteran defenders struggled to react to it. Olmo was able to drag Giorgio Chiellini and Leonardo Bonucci out of position and create big gaps for his fellow forwards to run into. It didn't result in a goal, but it's a tactic that could serve England well in the final.
English fulcrum Harry Kane is by no means a false nine, but he's proven countless times – for both club and country – that he's extremely comfortable dropping deep and facilitating the attack with his outstanding passing range. Chiellini is well aware, too, dubbing the matchup with the Tottenham star "extremely tough."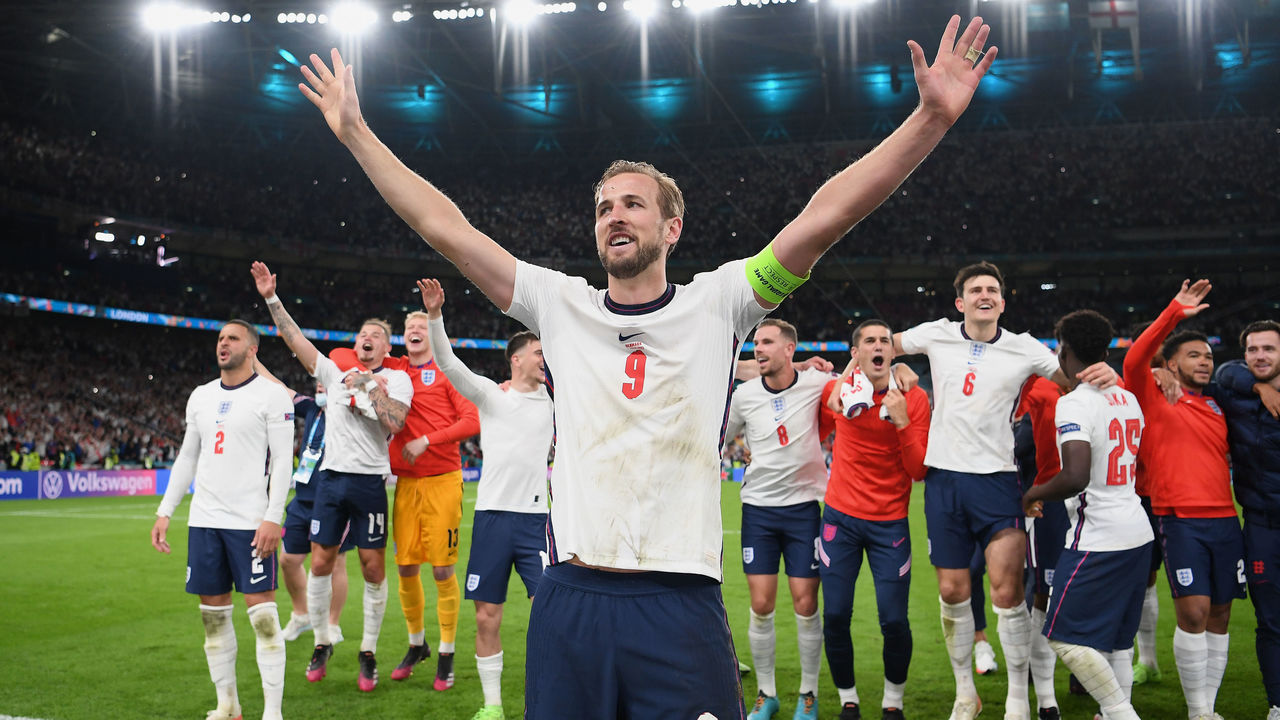 "I have always liked (Kane) a lot. I still remember one of his first matches with England, when we played against them in Turin," the Italian captain said. "Even then he made a huge impression on me. … He knows how to play deep and how to play a defense-splitting pass for a teammate."
If Kane can find pockets of space behind Italy's midfield and in front of the defense, then he could do some serious damage setting up chances for Raheem Sterling, who has been the Three Lions' most consistent scoring threat throughout the competition.
Who will dominate the midfield?
The vaunted Italian midfield trio of Jorginho, Marco Verratti, and Nicolo Barella will be looking to dictate the tempo on Sunday after chasing shadows for much of the semifinal win over Spain. In theory, they should have more time on the ball in the showpiece match at Wembley; England will likely be content to sit in its solid defensive structure and allow the Azzurri to exchange short passes in unthreatening areas.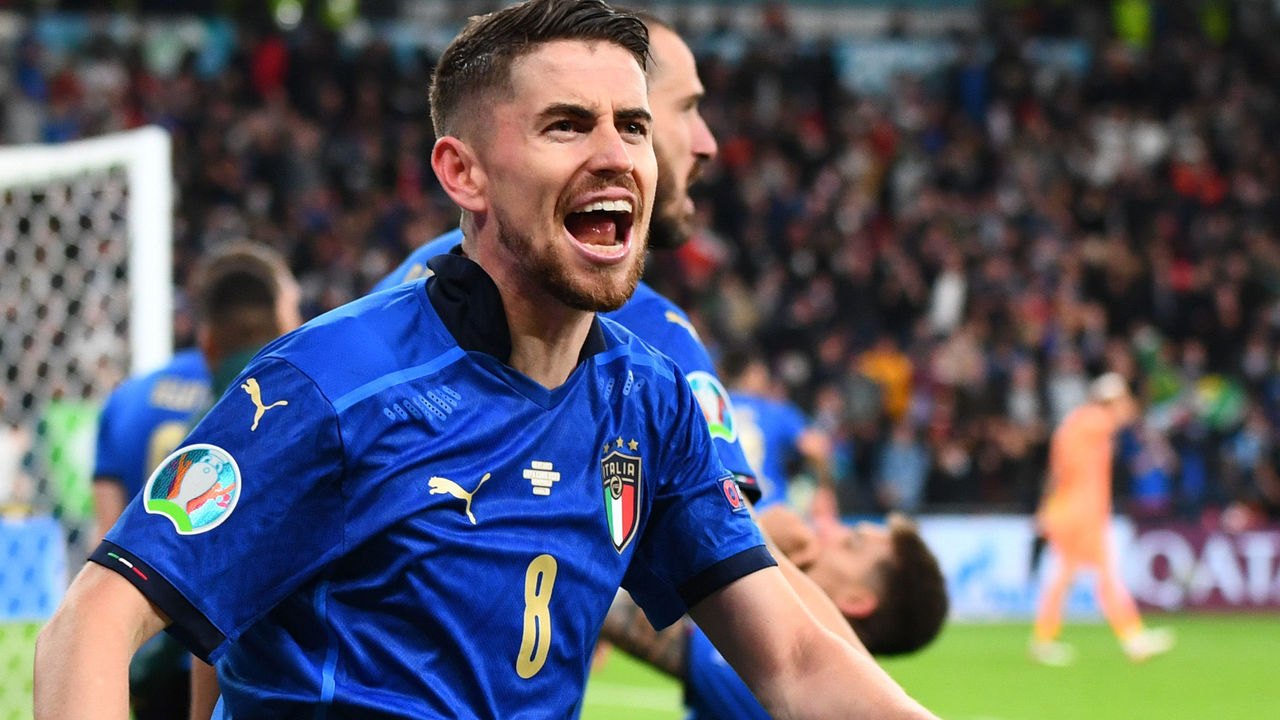 For Italy to avoid simply having sterile possession, Barella's darting runs into the penalty area – a trademark of his game – will be of the utmost importance. That's the type of movement that can unsettle a sturdy English backline that hasn't conceded a goal from open play in the tournament. Declan Rice and Kalvin Phillips will need to be cognizant of the Inter Milan star's positioning at all times, and communication with the center-backs when Barella does spring forward has to be quick.
England also has the option to be more proactive and cut off progression through the midfield before it can even begin. Mason Mount may be tasked with denying supply into club teammate Jorginho to make sure England isn't overrun in the center of the pitch. Doing so would force Bonucci and Chiellini to bypass Jorginho and force passes into tight areas, or hit long balls over the top for Ciro Immobile to chase down. If that's how the contest plays out, England will be extremely content.
How adventurous will Southgate be?
This is one of the most critical questions heading into every England match. Gareth Southgate has found the perfect balance at every turn thus far, making the necessary tactical tweaks to outplay and outwit the opposition. His base system always remains intact – a mid-to-low defensive block that relies primarily on Kane and the wide forwards to create chances in transition – but he's been able to make slight, decisive adjustments along the way. What does he have in store for Roberto Mancini and Italy?
Reverting to three central defenders and utilizing wing-backs – as he did against Germany – seems unlikely for the final, mainly because it would only heighten the numerical advantage that Italy is already likely to enjoy in midfield. Some version of the 4-3-3 / 4-2-3-1 hybrid that England used against Denmark figures to be the approach on Sunday, with Mount being a vital defensive contributor, as outlined above.
The other key question, as always, is who plays on the right wing. Bukayo Saka has done nothing to warrant being dropped from the lineup, but without having to track and worry about the injured Leonardo Spinazzola down that flank, maybe Southgate can afford to be a little more adventurous and start one of Jadon Sancho, Jack Grealish, or Phil Foden. At the very least, he has game-changing options on the bench, and at the end of a long tournament when everyone is a little weary, that could make all the difference.
Can Immobile offer … anything?
Reaching the final of any major tournament is an accomplishment in its own right. Doing so in spite of your primary goalscorer is even more impressive. Immobile, so prolific at club level with Lazio, has always had detractors when it comes to the national team, and they may feel vindicated following a pair of shocking performances against Belgium and Spain. His showing in the quarterfinals was particularly woeful.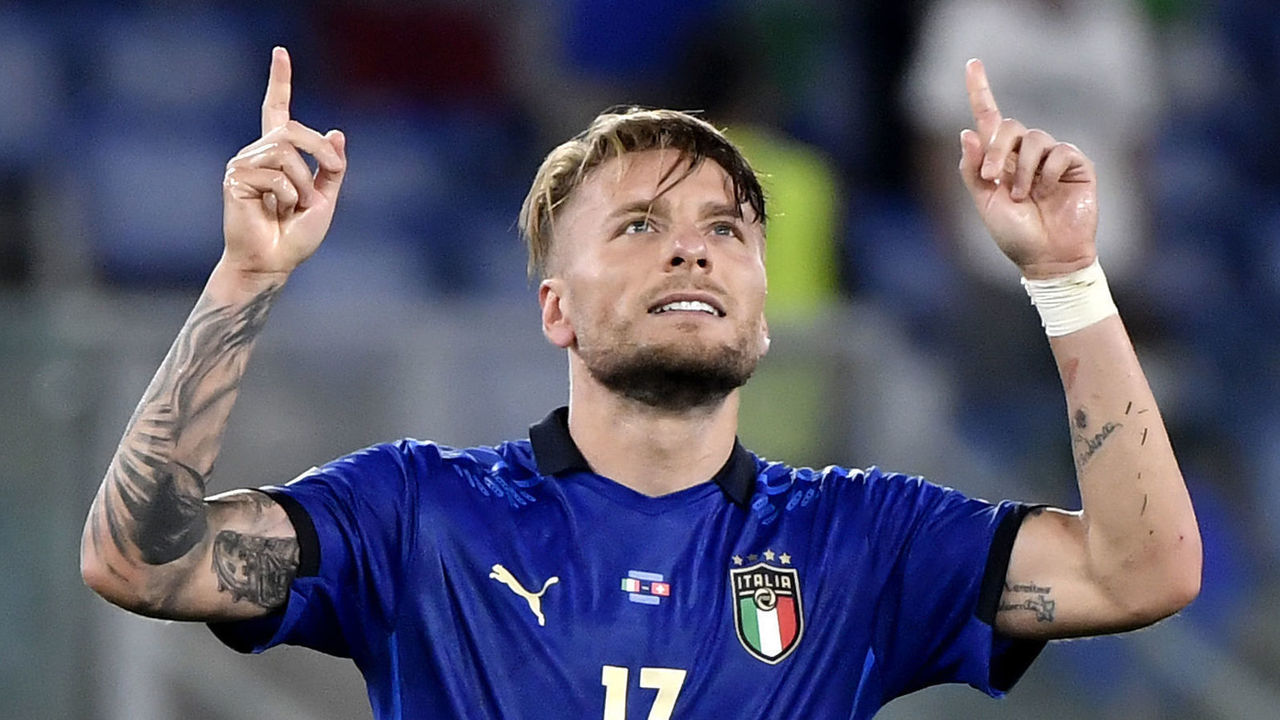 Despite what his name suggests, Immobile always works hard, constantly hassling and harrying defenders; his willingness to run into the channels and chase down long balls played a key role in creating Federico Chiesa's goal against Spain. But, after scoring twice in the group stage, that one sequence has been the extent of his impact in the knockout matches. His most notable involvement from Italy's recent wins was feigning injury before immediately popping off the ground to celebrate Barella's goal against Belgium. It was absolutely hilarious, but his lack of actual attacking involvement is a serious issue.
Immobile struggled to hold the ball up against Spain, meaning when the Azzurri did finally gain possession, it often ended with a pass that ricocheted off his foot and wound up right back with the opposition. Without Spinazzola in the lineup, Italy needs to progress the ball through the middle to make headway, and having someone who can often look like he's wearing cinder blocks for boots is an obvious impediment. Of course, it's absolutely possible that the 31-year-old has a career-defining moment Sunday at Wembley and silences his critics. Given the lack of suitable replacements – backup No. 9 Andrea Belotti is a gritty workhorse but not exactly a prolific threat – Mancini and Italy will be desperate for Immobile to deliver on the big stage.