One year later, Euro 2020 is finally underway. At the end of every matchday, we'll be dissecting the biggest talking points from all the action. Below, we look back on Friday's games.
Pickford spotless in stalemate with Scotland
First-choice England 'keeper Jordan Pickford has a not-unwarranted reputation as the team's weakest link, largely thanks to numerous blunders at both the club and international level.
Against Scotland, Pickford was one of England's sharpest contributors. The Everton No. 1 arguably made the save of the tournament on the half-hour mark when he dove to prevent Stephen O'Donnell's deft volley from bounding into the far bottom corner. How Pickford spotted the pinpoint effort through tower blocks of legs before diving to his right is some wonder.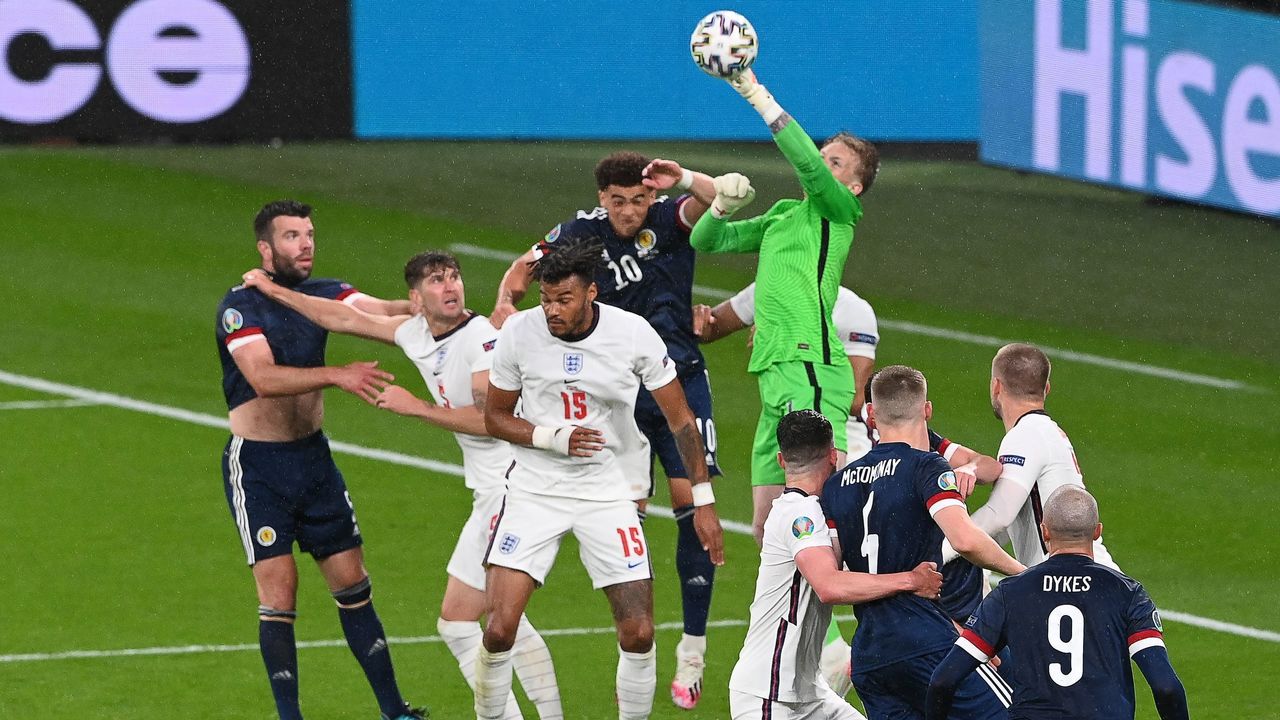 Pickford also looked confident when he got a commanding glove to an incisive Billy Gilmour cross as Scotland was in the ascension minutes before the interval, and he replicated that with a similar clearance on a probing corner in the 64th minute amid a period of pressure for the hosts.
Pickford's distribution was also spot on, with the best of the lot a bending 60-yard ball that found Raheem Sterling in stride.
Major tournaments have a habit of turning Robin Olsens into Lev Yashins, so why not let Pickford have a turn? A stretch of assured performances from the Three Lions 'keeper certainly can't hurt their chances.
Scotland more than just a 'brave' side
Praise often takes the shape of a backhanded compliment whenever Scotland – or any other British side outside of England – manages to get a result against a better and bigger side. It's always about Scotland's bravery, its never-say-die attitude, and its blood, sweat, and tears, even in defeat.
But the national team displayed more than just guts in Friday's goalless draw against England. With calmness and confidence in midfield, encouraging buildup play, and a number of legitimate scoring chances and convincing passing sequences, the Scottish outplayed their English rivals and deserved more than the point they received.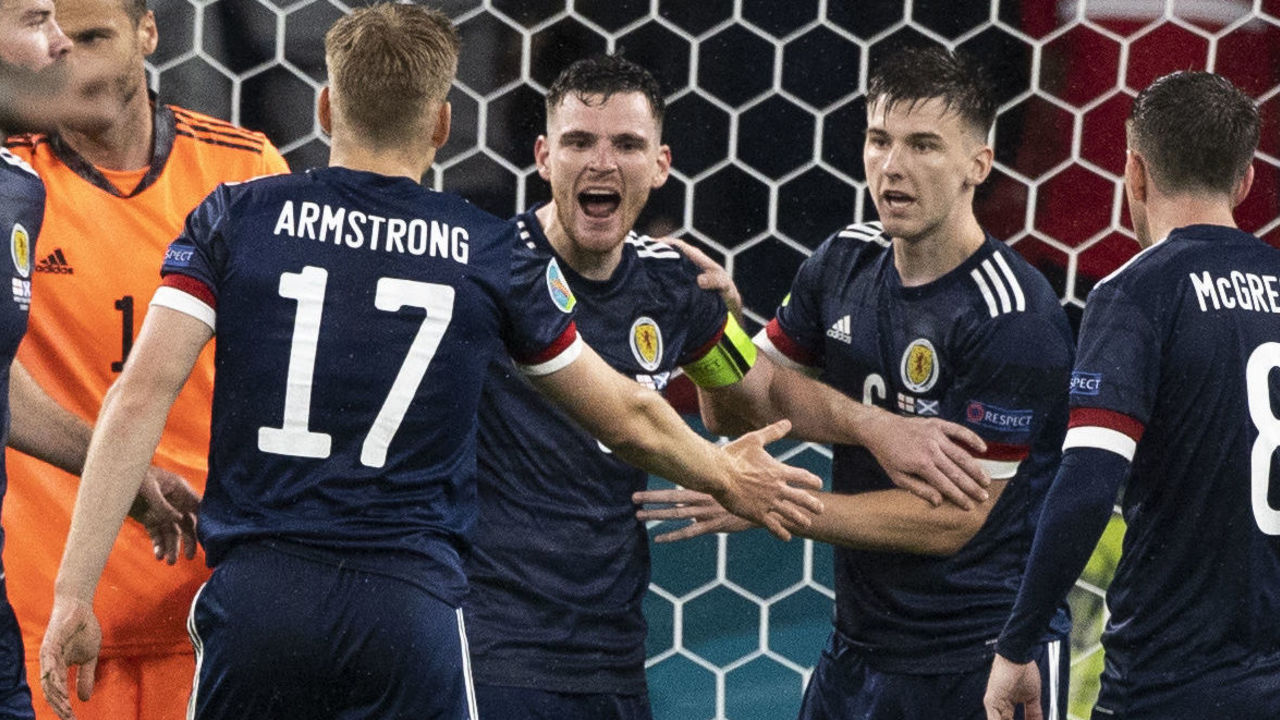 Twenty-year-old Gilmour, making his first start for Scotland at the senior level, showed more enterprise and personality than any of England's midfielders, and his relentless energy caused his opponents significant issues. Che Adams' holdup play as one of Scotland's two target men allowed his teammates enough time to join the attack, and on the wings, O'Donnell and Andy Robertson pushed forward with intent. Goalkeeper David Marshall, usually one of Scotland's busiest players, had just a single save to make, such were England's struggles to turn possession into anything meaningful.
Head coach Steve Clarke made the necessary adjustments after Scotland's opening loss to the Czech Republic, bringing in Gilmour and Adams, and with better finishing, the Tartan Army would've celebrated a historic win. At the very least, they can take solace in an incredible, well-drilled performance predicated on more than the usual cliches.
Kane looks a shadow of his former self
If Pickford's been a pleasant surprise for England, Harry Kane's two performances in Group D have been the complete opposite.
Euro 2020 was supposed to be Kane's time in the shop window amid links with England's biggest clubs. Instead, it's been a reminder that the Tottenham star has played a lot of football amid countless ankle injuries. In the 0-0 draw with Scotland, the 27-year-old's movements were glacial.
Major spoiler alert here, but Gareth Southgate's game management is not his strong suit. However, that doesn't mean the decision to take off his best attacking player on the day (Phil Foden) shortly after the hour mark and not Kane – or even Raheem Sterling, who was also poor – was any easier to digest.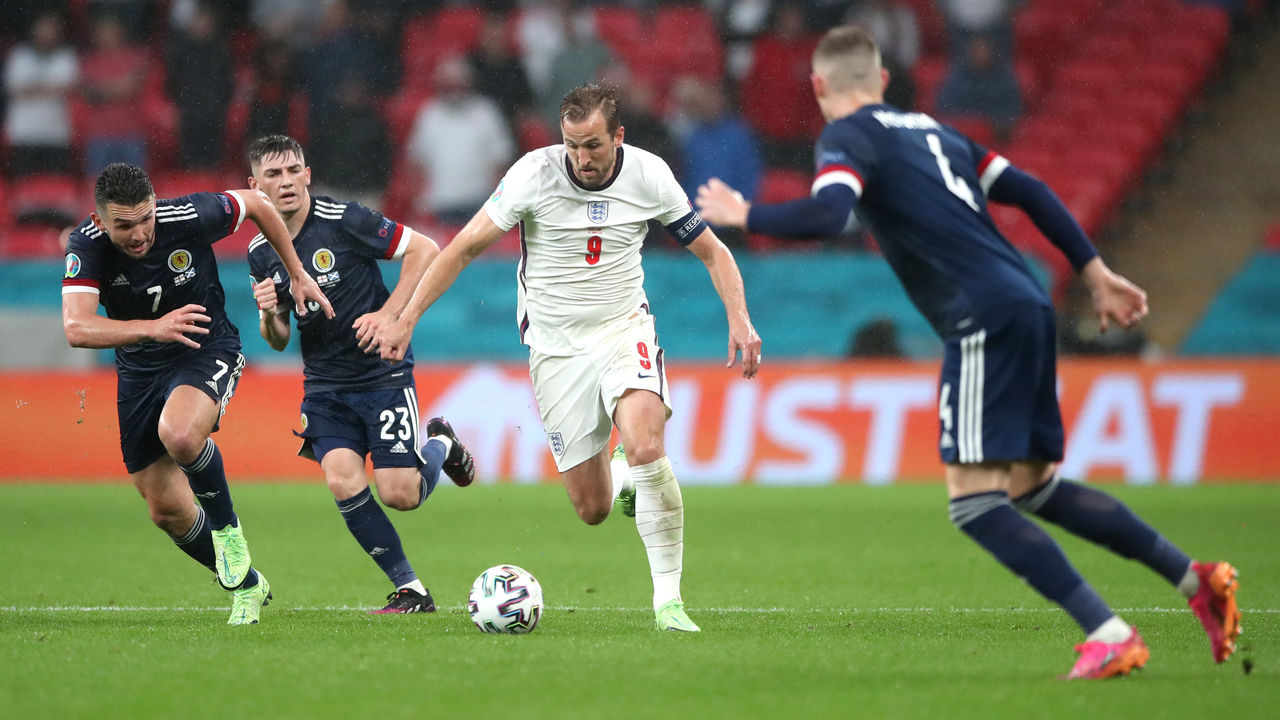 By the time he was hauled off in the 74th minute for Marcus Rashford, Kane had completed seven passes and registered two shots, both of which failed to find the target. Over 156 minutes played against Croatia and Scotland, Kane has completed 17 passes and manufactured just three efforts off target. Woeful stuff for a player who looks in need of a break.
It'd be a shame to waste all of England's vibrant and energetic attackers on an out-of-form striker whose qualities are better suited for a system that manufactures more service for a center forward. Perhaps Southgate might give Dominic Calvert-Lewin a chance. Probably not.
Kulusevski's absence looms large for Sweden
Sweden are all but certain to progress to the round of 16 after a narrow 1-0 win over Slovakia. It wasn't an easy watch, especially during a first half that was a clash of ponderous defensive-minded schemes. It was arguably the worst match of the tournament thus far.
The victory was the Swedes' sixth clean sheet in seven competitive matches this year, but it's difficult to see them being a test for any opposition during the knockout stage unless the nation can generate better attacking chances.
Sweden's attack is essentially Alexander Isak or nothing at all. Isak completed the most passes in the final third (23), most touches in the opposition's box (eight), most take-ons (six), and he registered the most shots (four) on Friday in St. Petersburg. His take-on total was reflective of a striker dropping too deep due to a lack of creativity in the midfield behind him.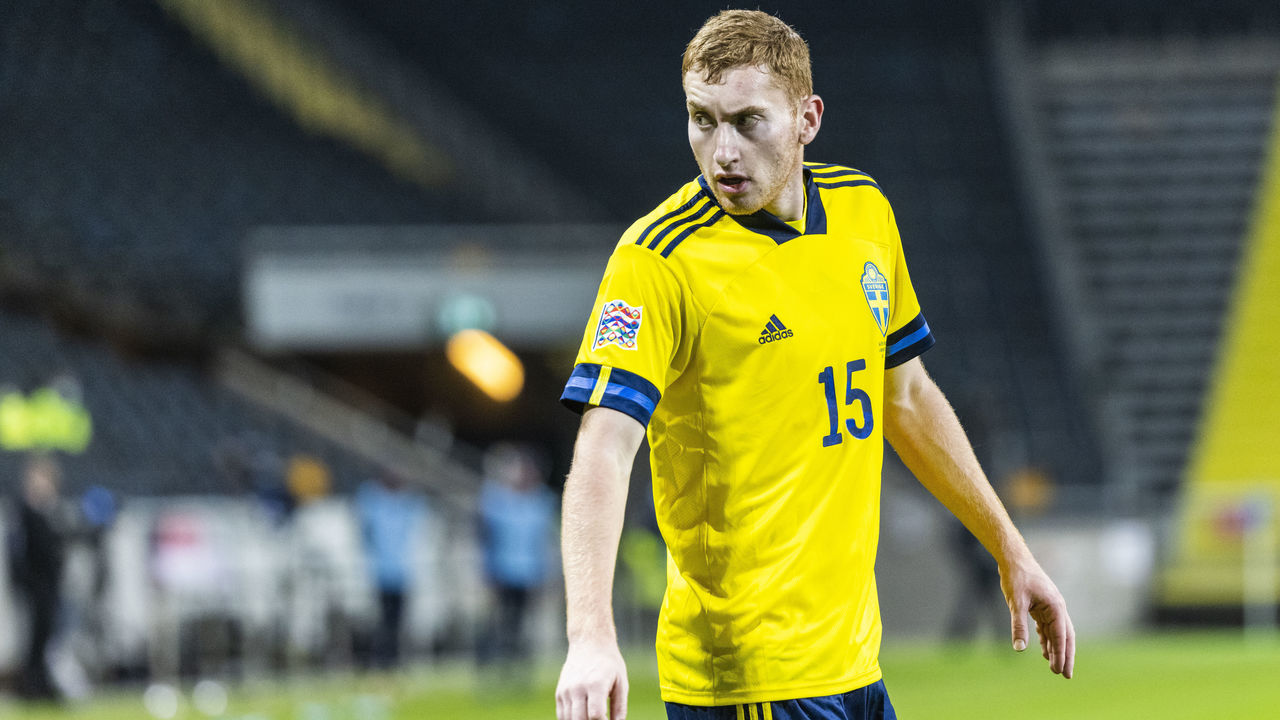 Dejan Kulusevski could be the solution. Kulusevski missed Sweden's opener after contracting COVID-19 and was an unused substitute against Slovakia. The Juventus stud is capable of playing on the wing or in a more central role, and the 21-year-old is a talented dribbler who's adept at making progressive runs into dangerous attacking positions.
Those qualities have been desperately missed throughout Sweden's opening two matches, and Janne Andersson would be wise to start Kulesevski in the group closer against Poland and beyond.
Perisic shines as Croatia's major tournament specialist
There's a certain inevitability to Ivan Perisic's trademark goal. Like the left-sided version of Arjen Robben, Perisic marauds down the flank before manufacturing enough space to cut inside and release a right-footed effort on target.
Unsurprisingly, Perisic did exactly that in a 1-1 draw with the Czech Republic to boost Croatia's chances of progressing from Group D. The Inter Milan winger only seems to score massive goals for Croatia. Some wither under the spotlight, but Perisic does the opposite.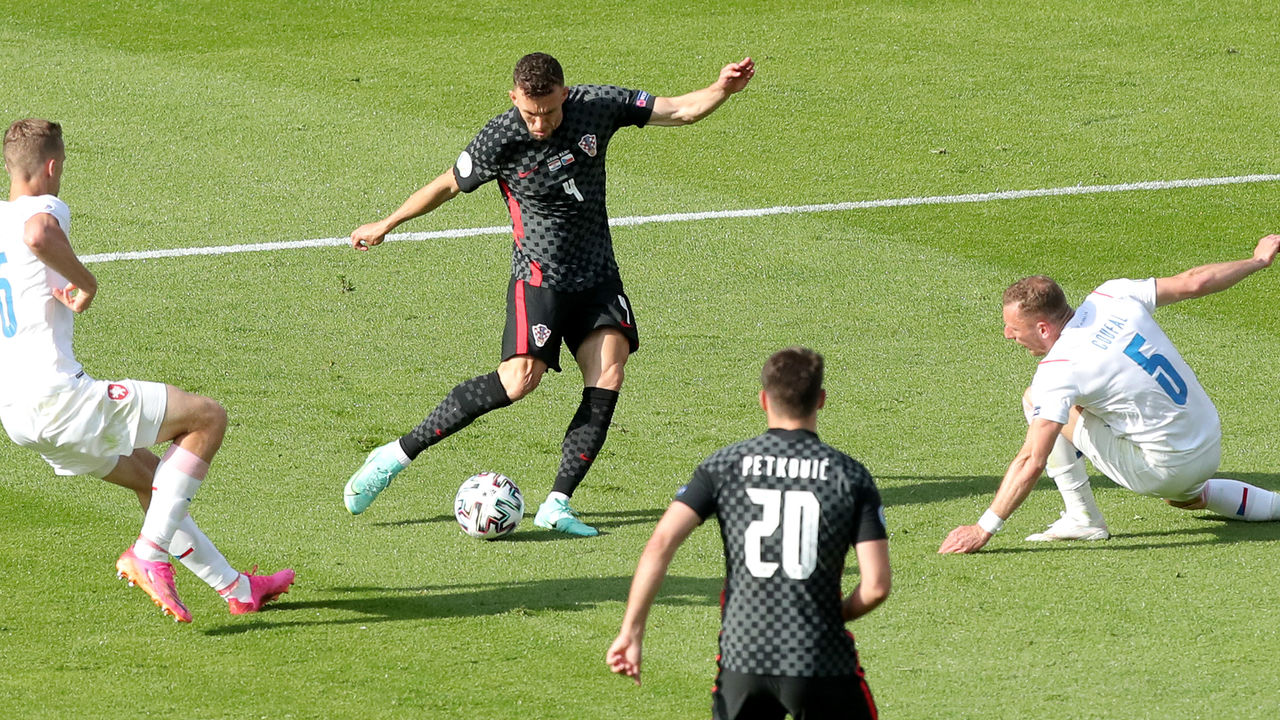 Perisic is now one of three European players to score a goal in four successive major tournaments, joining Cristiano Ronaldo and Romelu Lukaku. And he's just one of two players to either score or provide an assist in each of the last five major tournaments (Ronaldo is the other).
There's no escaping that this Croatia side seems like a spent force when compared to the team that progressed to the 2018 World Cup final, but don't tell Perisic that. His work both in attack and when tracking back to provide cover for his past-their-prime countrymen was the difference on Friday.