theScore examines the most important developments and discusses the biggest talking points from Saturday's busy slate of Premier League action.
Liverpool manage jet lag in measured win
After an intense couple of weeks of international football, Liverpool manager Jurgen Klopp didn't expect a masterclass of a performance from his players. Whether they were ready or not, Klopp knew the show would go on.
Just days after representing their countries in World Cup qualifiers that ended in both joy and heartbreak, Diogo Jota and Mohamed Salah started in Saturday's match against Watford and put in respectable performances. Jota's header gave Liverpool a slender 1-0 lead that came under threat on multiple occasions and kept the nerves jangling at Anfield.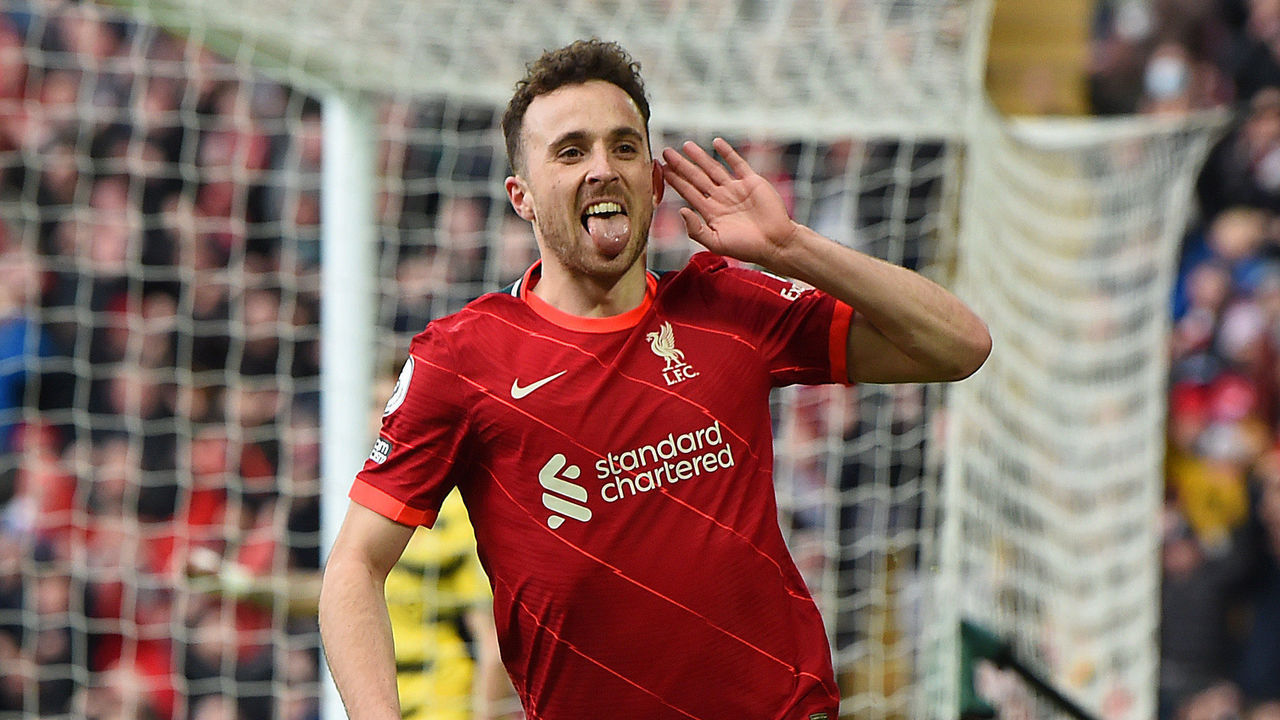 Fabinho's late penalty kick ultimately brought relief, easing fears Watford would end their run of form once again. After all, the Hornets were the ones who broke Liverpool's 18-match unbeaten run in the Premier League in March 2020, and they entered Saturday's fixture in survival mode.
But the Reds managed to pull off their 10th straight Premier League win to temporarily dislodge Manchester City from their perch after 119 days in the driver's seat. Pep Guardiola's side regained the lead with a routine victory over Burnley later in the day, but the threat to its reign became clear ahead of next weekend's season-defining clash at home to Liverpool.
Eriksen brings stability to Brentford
Brentford looked destined to be relegated not one month ago – they lost nine of 11 league matches from the end of December and scored just six times over that soul-sucking span – but everything changed when Christian Eriksen made his debut for the club Feb. 26.
Since emerging as a late substitute in the 2-0 defeat to Newcastle United, Eriksen has led Brentford to three wins in four matches, including triumphs over relegation rivals Norwich City and Burnley and Saturday's 4-1 upset over Chelsea. Eriksen scored his first goal for the club in the shocker at Stamford Bridge, adding to the two he scored for Denmark over the international break.
His creativity from set pieces has made Brentford a threat from all angles, and like clockwork, goals are now coming from multiple areas of the pitch.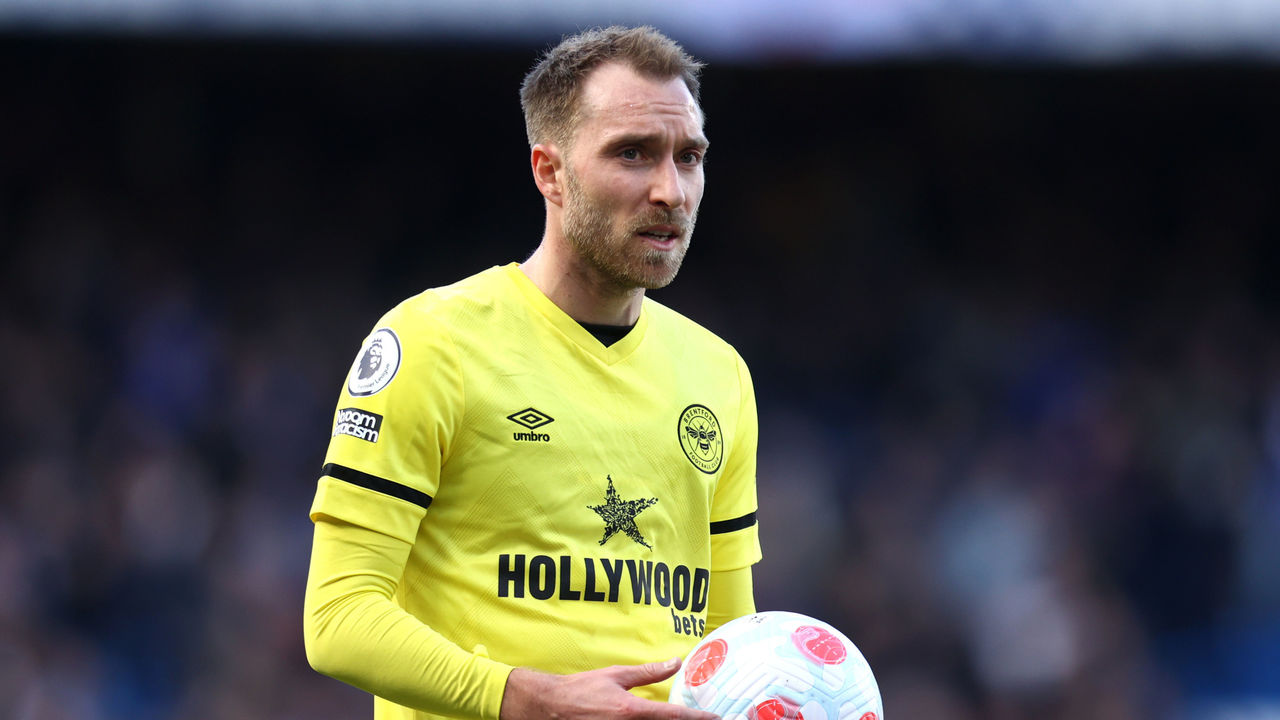 "Every team has 11 players … but sometimes you need some key players that can actually lift the other players both by playing (well) and with their personality, and Christian does that," Brentford boss Thomas Frank told BBC Sport. "He is a very good player, and we're pleased he is playing for us."
No one knew if Eriksen could recover from cardiac arrest, let alone play at such a high standard again, but he's answered both questions unequivocally over the last month of action. The 30-year-old has located the goal with efficiency, showing little rust, and demonstrated the excellent passing range that established him as one of the game's preeminent midfielders.
Thanks to Eriksen's contributions and the atmosphere in the team, Brentford should now have enough in them to stave off relegation. They're deserving of a place, too: Frank's side has played an aggressive style of football while compiling an impressive 5-2-9 record against teams currently in the top 10.
Chelsea can't afford more bad news
Before watching their team capitulate in the second half, a number of Chelsea supporters protested the Ricketts family's bid to take over the club, citing patriarch Joe Ricketts' history of discriminatory behavior toward Muslims as a nonstarter. A telling 77% of fans oppose the bid, according to the Chelsea Supporters' Trust, but the Ricketts still remain on the club's shortlist of suitors.
Up until Saturday's worrying defeat, Chelsea managed to block out the noise around the team, winning the six games that followed the U.K.'s crippling sanctions against owner Roman Abramovich.
"Nobody saw it coming," manager Thomas Tuchel told BBC Sport. "For sure not after we were 1-0 ahead. It was very untypical of us. But we stopped defending. We were not aware enough of the danger, we were sloppy with the defending and got punished."
Every team can have a bad game, but a team as defensively sound as Chelsea rarely shows such carelessness at home. It's a concern, especially with defenders Andreas Christensen and Antonio Rudiger likely to leave in the summer. The west London side needs a positive result at home in the Champions League quarterfinal first leg against Real Madrid to keep the season – and the narrative – from spiraling out of control.
Ward-Prowse closing in on Becks
Another day, another stunning free-kick from James Ward-Prowse.
The Southampton midfielder produced his latest piece of magic Saturday in the Saints' 1-1 draw with Leeds United, scoring a goal that moved him closer to catching one of his heroes.
The 27-year-old now has 13 direct free-kick goals in his Premier League career, five short of the league's all-time record held by set-piece wizard David Beckham. If anything, the gap is an indication of just how brilliant Beckham was from dead-ball situations; discourse around the former England star so often focused – and still does – on his many off-field enterprises, but Beckham probably doesn't get enough credit for his actual footballing talents.
"To beat someone like that I think would be incredibly impressive, but the funny thing is Beckham obviously went on to play in other countries and I've had a long time in the Premier League," Ward-Prowse said in March of the pursuit. "I think it speaks a lot about his quality."
Not including the 1994-95 campaign when, as a teenager, he made four league appearances, Beckham needed just eight full seasons to procure his 18 tallies. Ward-Prowse is in the midst of his 10th year in England's top flight.
"I'd love to meet him one day and have a coffee and a chat and just pick his brains," the Southampton captain added. "Hopefully if I can reach the record then, hopefully, he may reach out. We'll see."
Assuming he remains in England and, crucially, continues to stay healthy, Ward-Prowse should have time to equal the mark and enjoy a memorable cuppa.
Fred is thriving. Yes, for real
Manchester United dropped yet more points on Saturday, a 1-1 draw with Leicester City the latest in a string of poor results that has the Red Devils' top-four hopes dwindling with each passing week.
United looked largely anemic in attack, had moments of truly maddening defending, and required a spectacular David De Gea save and some VAR intervention to earn their point at Old Trafford. Overall, it wasn't great. Again.
And yet, despite all the issues at the club, one bright spot continues to be Fred, the once ridiculed midfielder who has looked reborn under Ralf Rangnick. The Brazilian scored on Saturday and could have had an assist, too, after playing Bruno Fernandes through in the first half.
Playing higher up the field and being tasked with progressing the ball and making late runs into the penalty area has allowed Fred to excel. Under Ole Gunnar Solskjaer, he was often stuck in a double pivot and unable to showcase his talents.
In Rangnick's high-tempo system, the energetic Fred, a Tasmanian devil who's in constant motion on the pitch, thrives. If only we could say the same about his many underperforming teammates.