theScore examines the most important developments and biggest talking points from Saturday's eventful slate of action in England's top flight.
That's why Cancelo gets KDB-esque privileges
Manuel Akanji at right-back wasn't the neatest fit. He's been a revelation for Manchester City in the center, but his unruffled style and physicality aren't well-suited to the side of a back-four. Deploying Akanji in that position also meant Joao Cancelo continued to operate as a right-sided left-back rather than on his natural flank.
Within 20 minutes, it became clear why Pep Guardiola decided this was the way City would attack Southampton in Saturday's 4-0 win.
The protection of three center-halves across the rest of the back-four – Nathan Ake, Ruben Dias, and Akanji – boosted Cancelo's creative freedom to a level only Kevin De Bruyne can rival in Guardiola's squad. Cancelo still followed tactical instructions as he balanced right-winger Riyad Mahrez's width by staying wide on the left in a lopsided formation. But when he had the ball, he had a license to gamble.
Cancelo's first-half touches vs. Southampton:
Few City players would have the audacity (or don't have Guardiola's consent) to attempt a cross like Cancelo did in the 13th minute. He could've shifted back, freeing himself of Kyle Walker-Peters and opening up an easy pass to an unmarked De Bruyne at the edge of the box. Instead, Cancelo struck the ball with the outside of his right foot for a near-impossible delivery toward Riyad Mahrez. And, of course, it swerved to its intended target near the back post: Mahrez's skied effort denied one of the best goals of the season.
His strike to open the scoring summed up his day's work. Cancelo received the ball in a wide area but then took it upon himself to pick at Southampton's seams. He had chances to pass and allow City to patiently create a chance, but he opted to surge upfield, twist James Ward-Prowse in knots, and finish past Gavin Bazunu with his left foot.
The Premier League is awash with quality full-backs, but they often stay wide or move inside. Cancelo – who also teed up Erling Haaland for his goal – does it all.
Newcastle's improvement unmistakeable since takeover
There's yet to be a parade celebrating Newcastle United collecting a Premier League title. Nor has there been a League Cup or FA Cup trophy to lift. There hasn't even been a chance for fans to make the long trip south to watch their beloved club feature in a cup final at Wembley Stadium.
Many expected instant success following the transformative and controversial Saudi Arabia-backed takeover on Oct. 7, 2021. But despite the lack of silverware, there's plenty to be excited about since Magpies fans awoke to the news that their team was on the brink of a seismic change.
The product on the pitch is vastly improved, with several new players introduced to revamp the relegation-threatened squad that manager Eddie Howe took over just weeks after Newcastle's new-found wealth was confirmed. But, while many expected lucrative transfers straight away, Newcastle have taken their time to develop the squad with shrewd signings. The club also allowed players from the previous regime to grow without concerns about being replaced.
12 months before takeover
| Games | Points | Points per game |
| --- | --- | --- |
| 41 | 41 | 1 |
12 months after takeover
| Games | Points | Points per game |
| --- | --- | --- |
| 40 | 60 | 1.5 |
Bruno Guimaraes, one of the most impactful arrivals since joining from Lyon in 2021 in a deal worth up to £40 million, helped further transform Newcastle into a top-10 team Saturday after scoring a brace in a 5-1 win against Brentford. Meanwhile, the in-form Miguel Almiron, who arrived before the takeover, proved why he's worthy of a weekly starting place with his fourth goal in nine Premier League appearances.
The current approach has helped push the club into the top half of the table. However, a similarly intelligent course of action, with perhaps more money to spend, in the transfer windows ahead may help Newcastle's bid to solidify a place among the Premier League's elite. It might even turn the big six into the big seven.
O'Neil's stock rises while Rodgers falls further
Beating Leicester City isn't the feat it used to be. The fate of Brendan Rodgers' side appears entirely dependent on the form of James Maddison – the only player with the confidence or capacity to produce something unexpected – so Bournemouth crowded him out on the south coast.
It's what every team should do.
But while Adam Smith worked to frustrate Maddison, Bournemouth caretaker manager Gary O'Neil still ensured he had enough players capable of wiping out Patson Daka's early goal to secure a 2-1 comeback victory.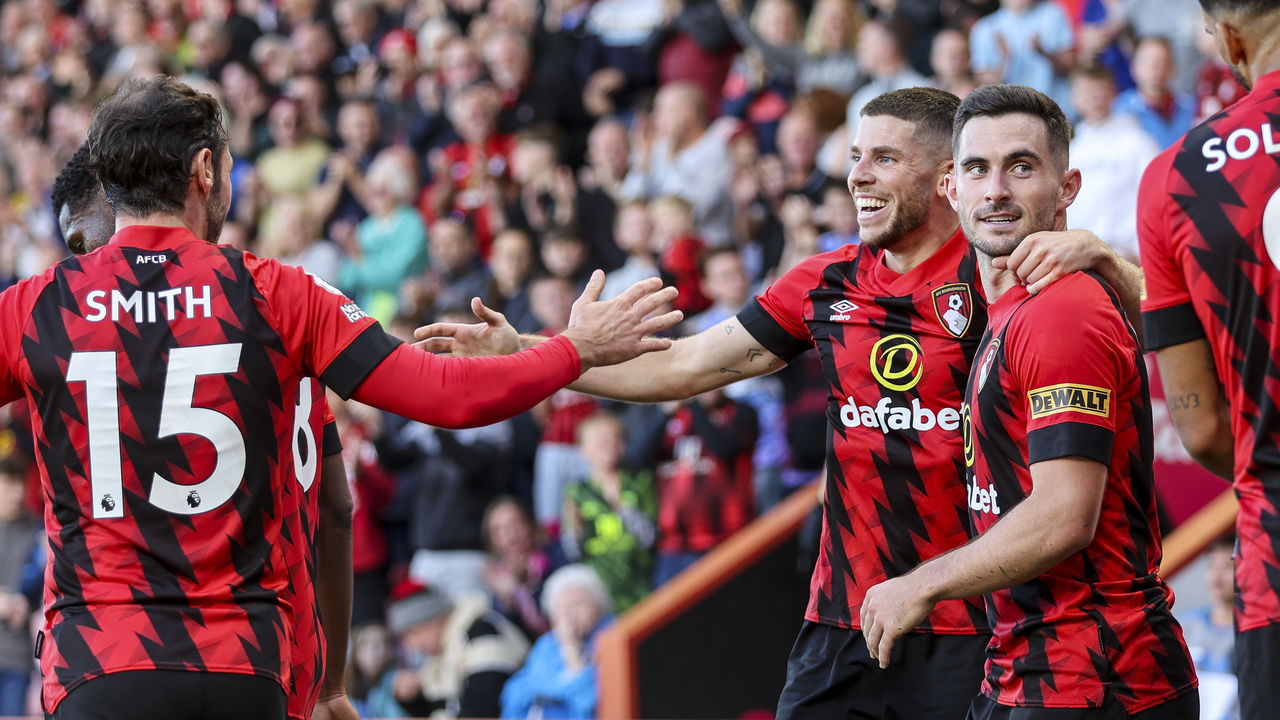 Lewis Cook resisted the Foxes' press but was more involved in attacks than in recent weeks. He logged two key passes and made intelligent, late runs to create space for his teammates. Philip Billing established himself in English football as a defensive midfielder alongside Jonathan Hogg at Huddersfield Town. However, at Dean Court, Billing kept close to Cherries striker Dominic Solanke, drawing four fouls and crucially smashing the ball home to kick-start Bournemouth's turnaround.
For the most part, Bournemouth's fixtures during O'Neil's five-match tenure have been kind. But his return of nine points surely makes the former midfielder securing the full-time gig almost a formality. And O'Neil has done it while Vegas Golden Knights owner Bill Foley, who attended Saturday's fixture, closes in on a takeover of the club.
Mount begins to show quality
Rarely do Chelsea ever promote an academy graduate to the first team. It's even rarer for the club to keep them there.
That's not to say that Mason Mount, one of the fortunate few who've made it stick at Stamford Bridge, has had an easy ride. Fans have been quick to turn on Mount. Many more held the 23-year-old partially responsible for the club's poor start to the season.
But the mood's changed since Graham Potter took the reins in September. Mount's back in the starting lineup and contributing again in the final third. He starred in Saturday's 3-0 win over Wolverhampton Wanderers, setting up two of the goals in a virtuoso performance that reminded fans and critics of the quality in his locker.
Mount thrived in the free-roaming role Potter afforded him Saturday. He linked up with teammates on the edge of the 18-yard box and sent in the cross that Kai Havertz converted in first-half stoppage time.
Potter has extracted the best from Mount precisely because he trusts him with the ball. He's not asked to defend nearly as much as he would under Tuchel, and he rarely plays the full 90 minutes. He can now give more of himself in a shorter period – at least until he becomes an undisputed starter. Potter seems to have established individual programs based on each player's strengths and weaknesses. Mount is one of the players who's benefited from the manager's personal touch.
Other academy graduates are getting the same boost. Ruben Loftus-Cheek started ahead of Jorginho on Tuesday against AC Milan, and Conor Gallagher earned his third start of the season Saturday. Trevoh Chalobah also proved himself as a viable option in defense, remaining unbeaten as a Premier League starter.
Kane saves struggling Spurs attack again
Tottenham Hotspur bounced back from a rough week with a hard-fought victory over a tough Brighton & Hove Albion outfit. It was a big boost for a team that came under fire following defeat in the north London derby and a lackluster goalless outing in the Champions League. The club was dealing with losing a member of Antonio Conte's backroom staff.
Harry Kane's first-half strike was the difference in helping Tottenham climb back into the top three of the table with their sixth win in nine games. However, victory did little to mask concern about their under-achieving attack that – excluding a blowout win over last-place Leicester City – stretches back to early September.
| Date | Match |
| --- | --- |
| Sept. 13 | Sporting CP 2-0 Tottenham |
| Sept. 17 | Tottenham 6-2 Leicester City |
| Oct. 1 | Arsenal 3-1 Tottenham |
| Oct. 4 | Eintracht Frankfurth 0-0 Tottenham |
| Oct. 8 | Brighton 0-1 Tottenham |
After Kane's strike 22 minutes into the game, almost 40 minutes passed before Tottenham registered another attempt on goal in the second half. Luckily, the defense offset their inability to create chances in the final third and, along with goalkeeper Hugo Lloris, were vital down the stretch during long periods of attacking pressure by Brighton.
It's difficult to pinpoint the exact issues plaguing Antonio Conte's sterile forwards. From a lack of service from the middle of the pitch to Heung-min Son's well-publicized goal drought earlier this season, there are many factors behind the club's dip in form. But it's difficult to envision Conte altering his conservative approach anytime soon, especially if Kane, who has eight goals in nine games, keeps scoring to save Spurs from themselves.