theScore examines the most important developments and discusses the biggest talking points from Saturday's busy slate of Premier League action.
Brighton emerge as league's newest crisis club
Premier League strugglers Everton, Watford, Norwich City, and Leeds United can definitely relate to Brighton & Hove Albion. The Seagulls' downward spiral continued Saturday, as title contenders Liverpool cruised to a comfortable win over the Premier League's newest crisis club.
Brighton started the contest positively before Luis Diaz's opening goal for Liverpool in the 19th minute ultimately left the deflated home side with no way back. Mohamed Salah netted his league-leading 20th goal in the second half to help Liverpool cut Manchester City's lead atop the table to three points and condemn Brighton to their fifth defeat in a row.
Fortunately, Graham Potter's side still has an 11-point gap above the relegation zone thanks to strong defensive performances earlier this season, including impressive away draws at Liverpool and Chelsea. But a wretched five-game stretch in which they've found the back of the net only once has seen Brighton slide down the table over the last month, from ninth to 13th place.
The club's prospects of snapping their losing streak look even bleaker with matches against top-four challengers Tottenham Hotspur and Arsenal on the horizon, as well as a rescheduled clash against City. But it's games against Premier League basement-dwellers Norwich City and Southampton that Potter will have his eyes on as winnable matches that could help Brighton avoid a relegation battle.
Diaz's is Liverpool's present and future
Life after Salah and Sadio Mane may not be so bad after all.
Executing Jurgen Klopp's pressing tactics takes a selfless, energetic, and intelligent footballer. Against Brighton, Luis Diaz showed the kind of effort off the ball the German frequently demands. That's not to say Klopp doesn't expect goals or that Diaz can't provide them. After all, he scored his 18th goal of the season at Amex Stadium, absorbing a punishing tackle from goalkeeper Robert Sanchez in the process.
But Diaz can do a little bit of everything. The 25-year-old covered 11.2 kilometers Saturday while winning seven duels and possession of the ball another six times. He ran all around the pitch and still out-touched Salah and Mane in the opponents' penalty area.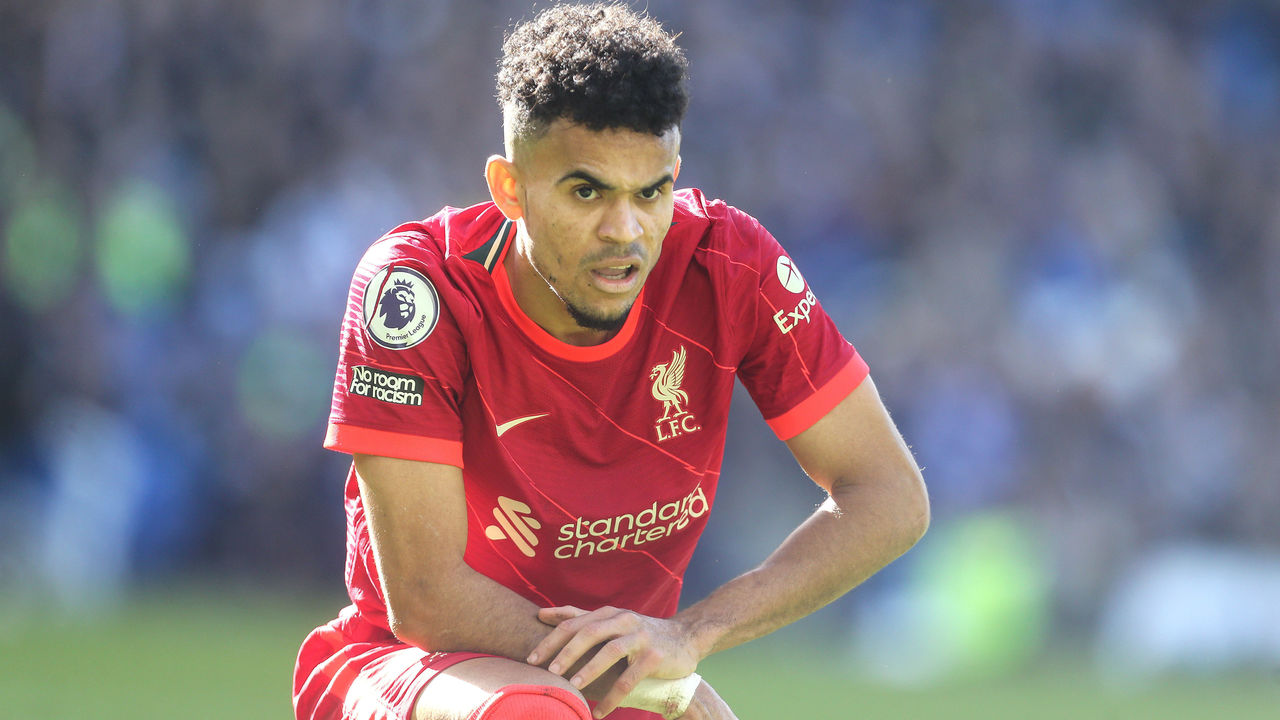 It helped that Diaz played at a high intensity under manager Sergio Conceicao at Porto. "He didn't have to change, really," Klopp said. Still, the Colombian international has made the transition to the rigors of the Premier League look seamless. He's made 10 appearances for Liverpool in just six weeks across four competitions, looking every bit the part as both a starter and substitute.
Few midseason signings hit the ground running in such a commanding way. Diaz's performances should give Liverpool the push they need to challenge Manchester City for the Premier League title – and the confidence that they can and will go on if they can't renegotiate Mane and Salah's expiring contracts.
Ronaldo shows again just how much United rely on him
Interim Manchester United boss Ralf Rangnick admitted Friday that he was unsure if Cristiano Ronaldo was happy. But the smile on the Portuguese star's face throughout his one-man demolition of Tottenham had to be a welcome sign for all associated with the club.
Amid a season when Ronaldo's return to Manchester United has been repeatedly questioned, the aging footballer silenced critics Saturday with a historic performance at Old Trafford.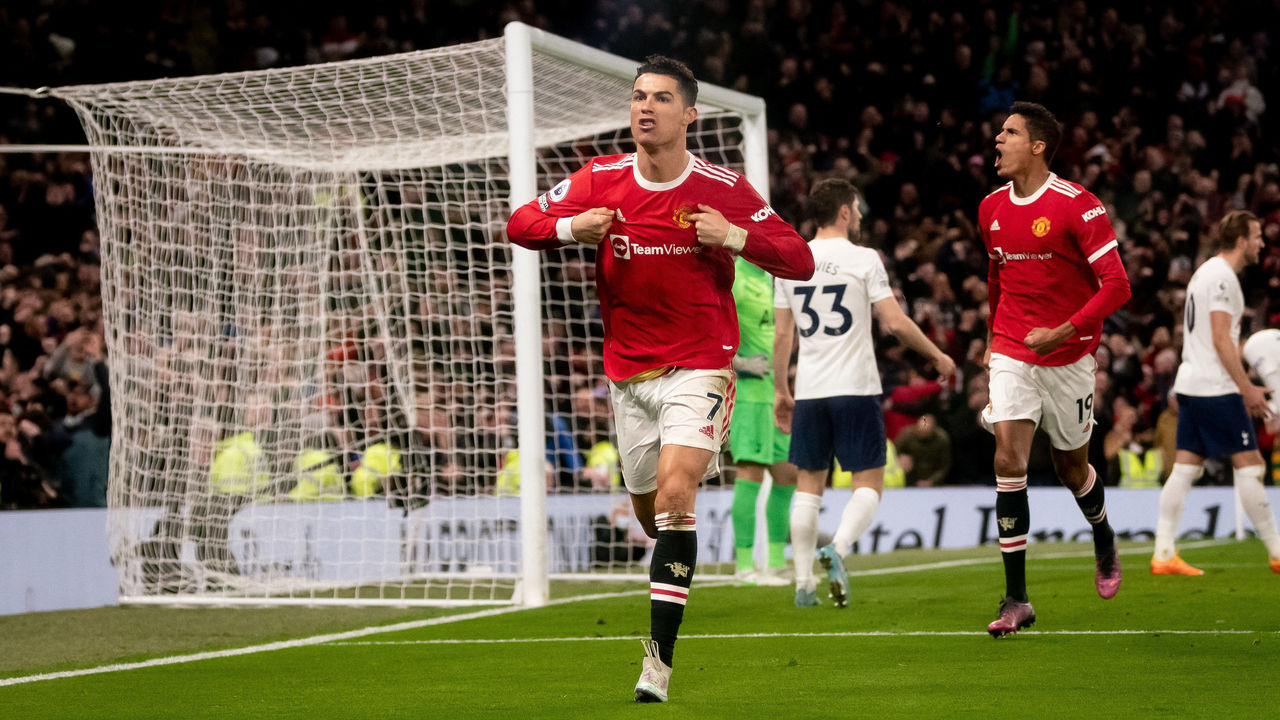 Ronaldo's best game of the season came at a crucial time for a Manchester United side still reeling from last week's lopsided Manchester derby defeat. After a stunning opening strike, Ronaldo found the back of the net again before halftime to put United ahead with a goal that saw him become the all-time leading men's scorer.
"Viva Ronaldo," chants rang out as he completed his hat-trick.
Aside from the goals, Ronaldo's presence alone is enough to transform United's attack. It can go from the futile unit that struggled against Manchester City without him to the high-scoring, cohesive group that brought the Old Trafford faithful to their feet Saturday.
By the numbers: Ronaldo's remarkable career so far
Following yet another memorable performance from Ronaldo, theScore breaks down some standout numbers from his career.
16: The veteran's logged 10 or more goals in 16 consecutive league campaigns. Ronaldo's incredibly scored 20 or more in each of his last 12 league seasons. He'll have to record eight goals in nine matches to extend that streak by another term.
59: Ronaldo has racked up 49 hat-tricks in club football, adding to his 10 Portugal trebles. And that, quite frankly, is obscene.
95: He's now five short of becoming a Premier League centurion for United. He's level on goals with Dutch poacher Ruud van Nistelrooy, and only Wayne Rooney, Ryan Giggs, and Paul Scholes have more in England's top flight for the Red Devils.
115: Ronaldo's goal tally over 184 Portugal caps is unsurpassed in men's international football. He broke Iranian icon Ali Daei's previous record of 109 goals during a World Cup qualifier against the Republic of Ireland last September.
450: The attacker signed off on nine years at Real Madrid with 126 more goals than Los Blancos' second all-time highest scorer, Raul. His final figure is disputed, with some crediting Ronaldo with 451 strikes for Madrid.
807: CR7's overall goals in professional football. He's now two ahead of Austrian-Czech forward Josef Bican's mark that went untouched for 67 years.
Spurs' inconsistency due to over-dependency
Should Tottenham finish outside England's Champions League places this season, the prominent reason for their failure will be clear.
Their recent form across all competitions reads LWLWLWL. The last time Tottenham recorded two straight victories was in December, which came courtesy of a League Cup defeat of West Ham United and top-flight win over Crystal Palace.
"I'm the first to say that if we want to be competitive and improve your level, you have to work a lot. We are up and down," Spurs boss Antonio Conte said after the 3-2 loss to United, according to Alasdair Gold for Football.London.
Conte acknowledged his team's improvements in his post-match press conference. However, he didn't dig into the reasons for the inconsistency that blights his side's pursuit of a top-four finish.
And the truth is, the problem is likely down to Spurs' dependence on just two players.
Against United, Harry Kane's clinical penalty couldn't hide the fact he and Heung-Min Son performed below-par at Old Trafford. Though Dejan Kulusevski was menacing, the Swede's performance wasn't enough to compensate for the other two-thirds of Spurs' attack.
It's often up to Kane and Son to create and finish. It's not in Pierre-Emile Hojbjerg and Rodrigo Bentancur's remit to furnish regular chances from central midfield, and the wing-backs aren't regularly meeting Conte's high expectations from this position. So when Kane and Son aren't up to their usual standards, Tottenham can be a soft, blunt instrument.