The Champions League returned this week with a pair of fascinating semifinal matchups. Below, we dissect the biggest talking points from the action and examine the significance of those events going into the second legs.
Zidane gave Chelsea too much respect
Zinedine Zidane doesn't usually plump for a three-man backline.
The only other time he turned to it in this Champions League campaign was for Real Madrid's second leg against Atalanta in March, when they tried to protect a one-goal advantage in the last-16 scuffle. And the rare occasions a back-three has been used in La Liga have tended to be in games against average-to-poor sides when squad rotation took priority over the team's shape.
But against Chelsea, Zidane decided to mimic the opposition's 3-5-2 formation while Marcelo curiously drifted inside from the left, presumably to protect Real Madrid from counter-attacks.
It didn't work at all.
It was as if Zidane had overthought it; he was too preoccupied with Chelsea's strengths rather than trying to let his side's attacking talents prosper. Vinicius Junior, scorer of two goals during Real Madrid's previous first-leg encounter against Liverpool, touched the ball 22 times before his 65th-minute substitution. Karim Benzema's goal, which was against the run of play, represented their only shot on target throughout the whole match.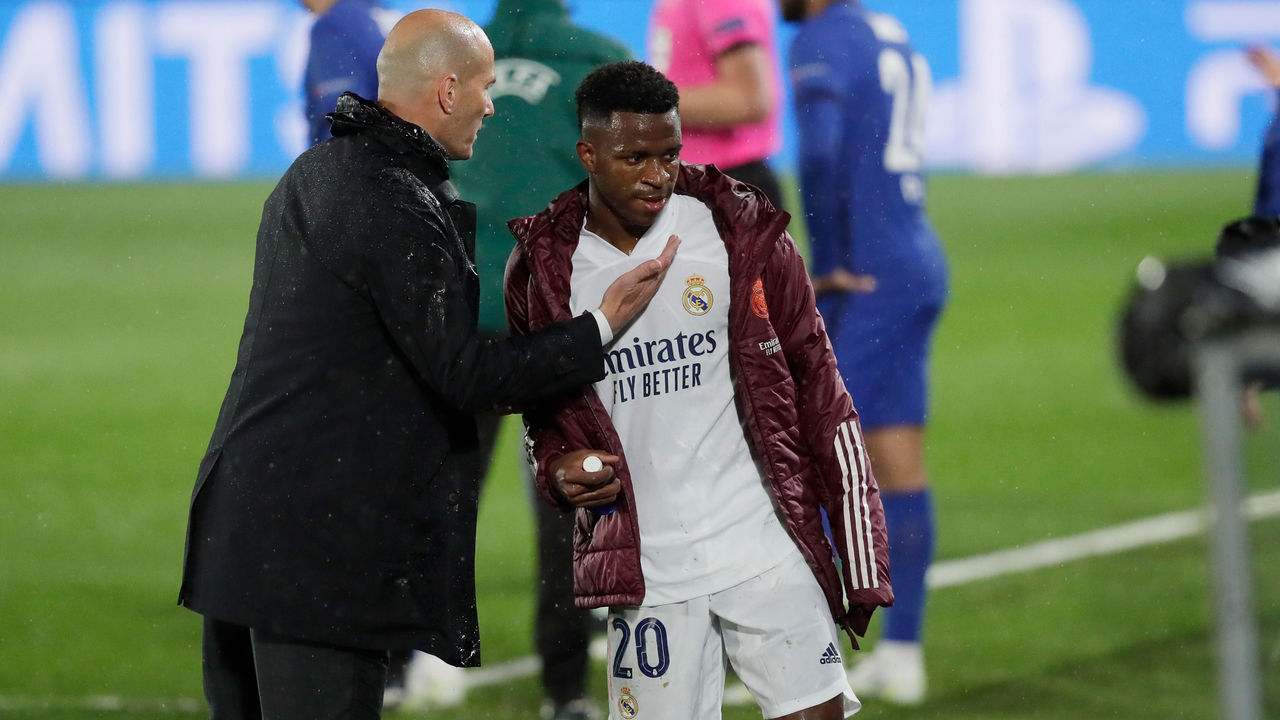 Real Madrid's players were also clearly uncomfortable with their shape and Marcelo's role, as N'Golo Kante was free to carry the ball through the middle again and again. The midfield battle was lost.
A 1-1 home draw to begin this tie isn't a good result for Real Madrid, but it could've been worse.
Once again, Kante was Chelsea's best player
Kante appeared omnipresent, offering his usual tireless protection of the backline while being one of Chelsea's most devastating attacking avenues.
The Frenchman was often the player infiltrating the gaps in Real Madrid's porous midfield, streaking through the middle of the park before slipping the ball to one of his attacking colleagues. He almost logged an assist, too, when his tidy flick found Timo Werner before the luckless forward's effort was blocked by Raphael Varane.
Kante completed six dribbles during the encounter, which was one more than the 15 Real Madrid players who took the pitch managed between them.
His boundless energy also enabled him to contest a game-high 21 duels, give Mason Mount freedom to join Werner and Christian Pulisic in attacks, and eke open space from where Jorginho could dictate the tempo in the heart of Thomas Tuchel's lineup.
Simply put, Kante is Chelsea's most important player. And by some distance.
City unfazed when things go wrong
Manchester City's tendency to disintegrate when things went against them was the main reason they didn't previously reach the semifinals under Pep Guardiola. Yes, the tactics during last season's quarterfinal elimination against Lyon were an act of self-destruction, but the exits against AS Monaco, Liverpool, and Tottenham Hotspur suggested the team was mentally fragile.
Things went wrong, and then they went very wrong.
But, like in their previous European outing against Borussia Dortmund, City ducked behind a shield and let the arrows whistle past their ears when Paris Saint-Germain took the lead on Wednesday. They caught their breath before rolling up their sleeves and getting on with it.
PSG didn't record a shot on target after the 28th minute, and they only mustered a missed header from Angel Di Maria in the entire second period as City fought back to win 2-1.
There are plenty of reasons why City can do this now. Overall, Guardiola is more cautious. He's more careful with his players' minutes, and there's generally more protection through the middle when City lose possession.
However, there's a simpler reason why City can absorb pressure much better than before: Ruben Dias.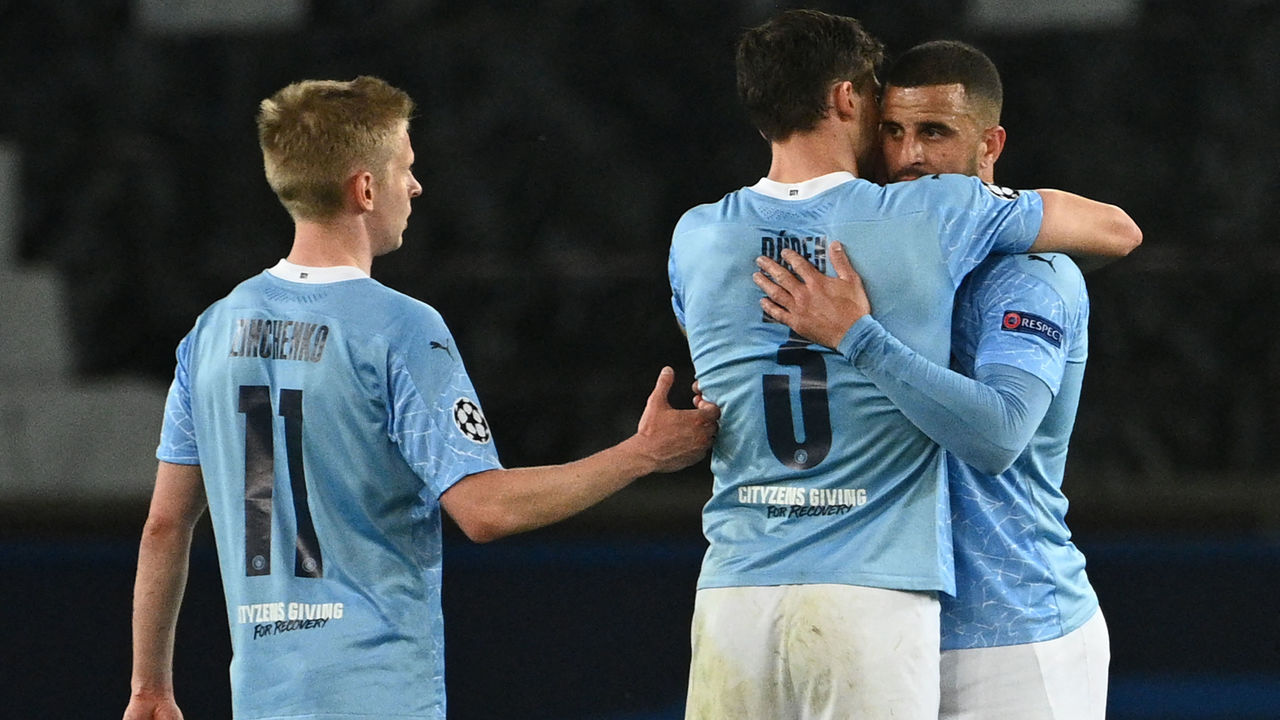 The Portuguese defender is the most influential signing for a Champions League giant this season.
His authority and confidence in what was a long-term problem position for City have been transformative this campaign. That was clear as he logged three tackles, two interceptions, and two clearances during the midweek scuffle, with his immaculate positioning neutralizing Kylian Mbappe and Neymar for prolonged periods.
Di Maria still has it
Paris Saint-Germain were overawed in the second half, but there were still some impressive performers on Mauricio Pochettino's roster.
Marquinhos underlined his importance to the club with his headed opener, Leandro Paredes was combative in midfield and his passing range was the likeliest source for an Mbappe run and finish, and Neymar was excellent at wriggling out of tight spots.
However, Di Maria was on a different level. There was a devilish whip on his set-piece deliveries – he set up Marquinhos' goal from a corner – and Joao Cancelo couldn't cope with the 33-year-old's dribbling ability. And as always, Di Maria was a tenacious tackler.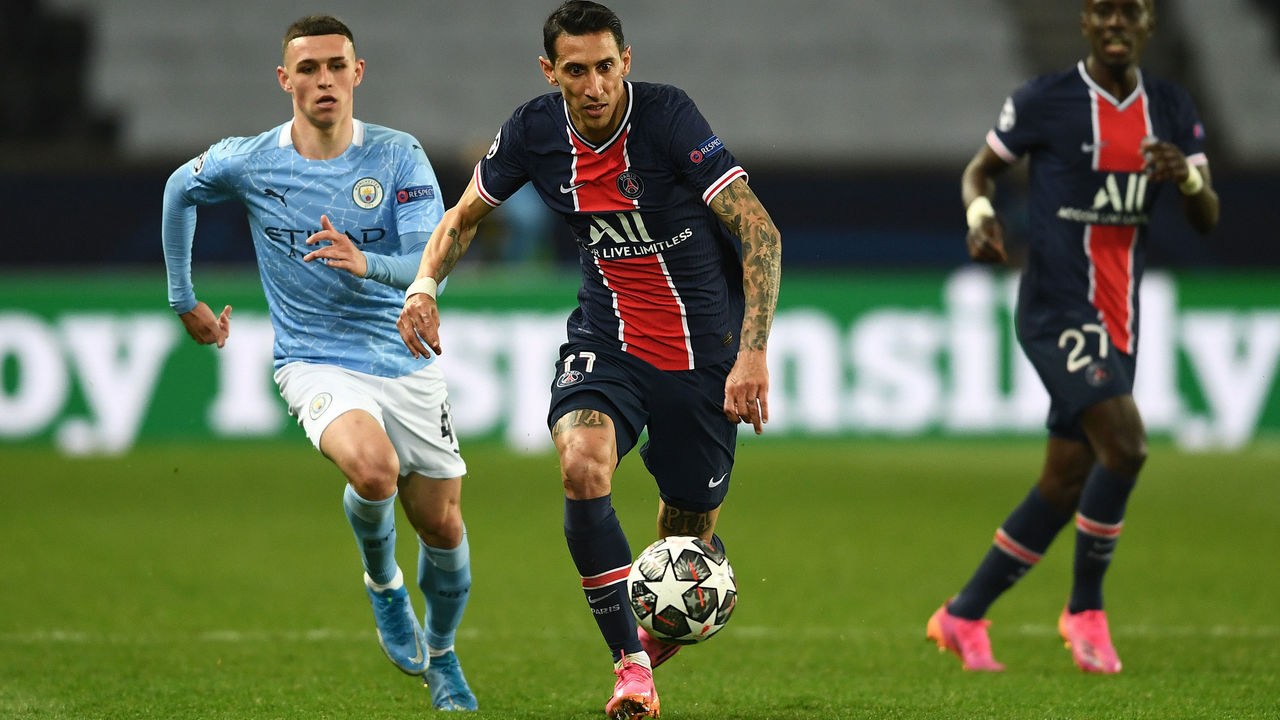 The Argentine also made four attempts on City's mesh. Neymar and Mbappe only registered two efforts between them.
Di Maria's contributions to PSG will be immortalized in the record books. He's now level with Yugoslavian playmaker Safet Susic for the most assists in the club's history (103), and Di Maria may collect his fifth Ligue 1 winners' medal this season. But he should primarily be remembered for his remarkable consistency and staying power in one of the most expensive attacks in football history.
Strikers are overrated
It doesn't take long. A cutback won't met in the six-yard box or a cross will be easily repelled by an opponent's head, and the diagnosis from the social-media masses is simple: City could use a striker today. Sergio Aguero or Gabriel Jesus would've been on the end of that.
And City regularly prove that's not the solution.
The fluidity and unpredictability of City's attack are its greatest strengths. Kevin De Bruyne was often positioned as a false nine on Wednesday, but he didn't simply withdraw into a No. 10 or No. 8 position. Some of his touches while PSG sat deep in the second half were in the left half-space, in front of Idrissa Gueye, and with room to send deliveries into the area or release Phil Foden down the left.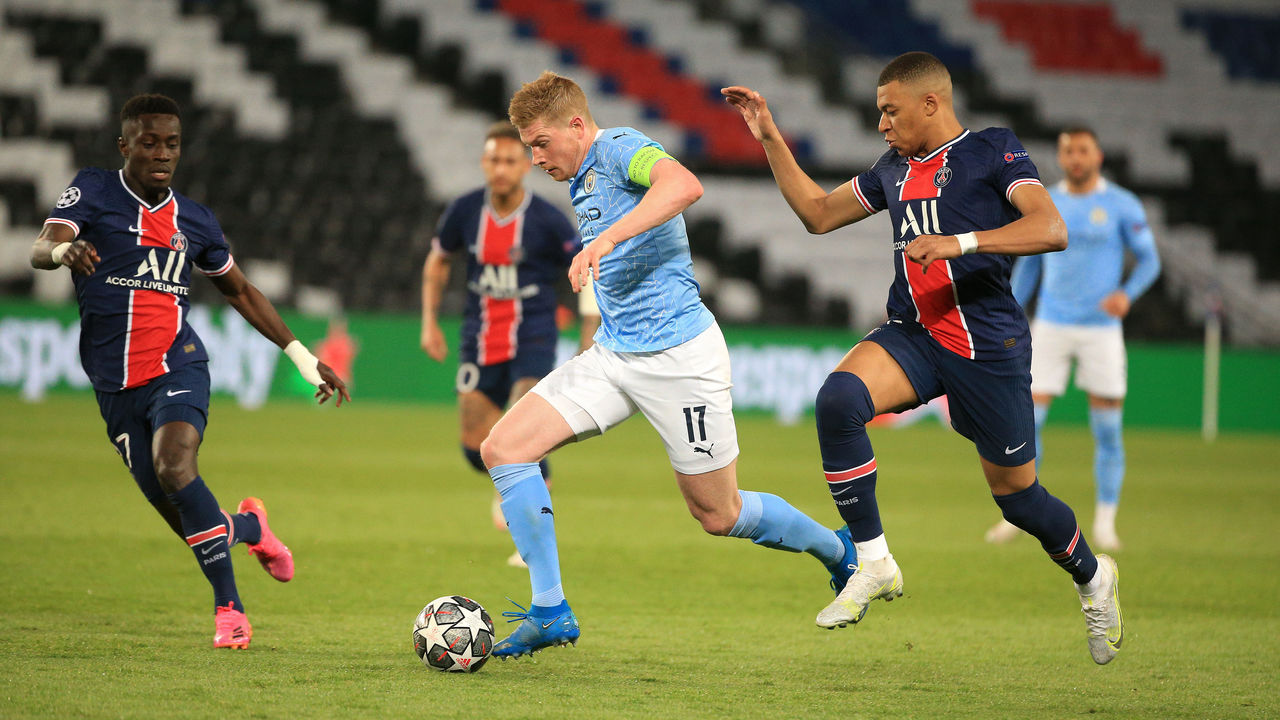 He netted City's unorthodox equalizer in the 64th minute from that position. But he continued to shuffle into other areas while receiving the ball on the flanks and all around the 18-yard box. It's impossible to mark him.
De Bruyne isn't the only one. With the exception of Riyad Mahrez – whose position on the right is set – all of City's attackers skitter around like water droplets on a frying pan. That bewildering movement condemns Aguero and Jesus to the bench, and it makes this iteration of Guardiola's frontline so successful.