theScore examines the most important developments and discusses the biggest talking points from Saturday's busy slate of action in England's top flight.
Onana's all-action debut
Amadou Onana is going to be a lot of fun to watch this season for Everton supporters and neutral onlookers alike.
The 20-year-old midfielder, signed earlier this week from Lille for a reported €35 million, made an eventful debut in Saturday's 2-1 defeat to Aston Villa. He came off the bench with roughly 10 minutes remaining at Villa Park, but, for better or worse, that was all the time he needed to become the central figure.
Trying to wriggle out of a tight situation with virtually his first touch in the Premier League, Onana lost possession in midfield, and that turnover allowed Villa to race down and score the eventual match-winning goal. Welcome to your new digs, kid.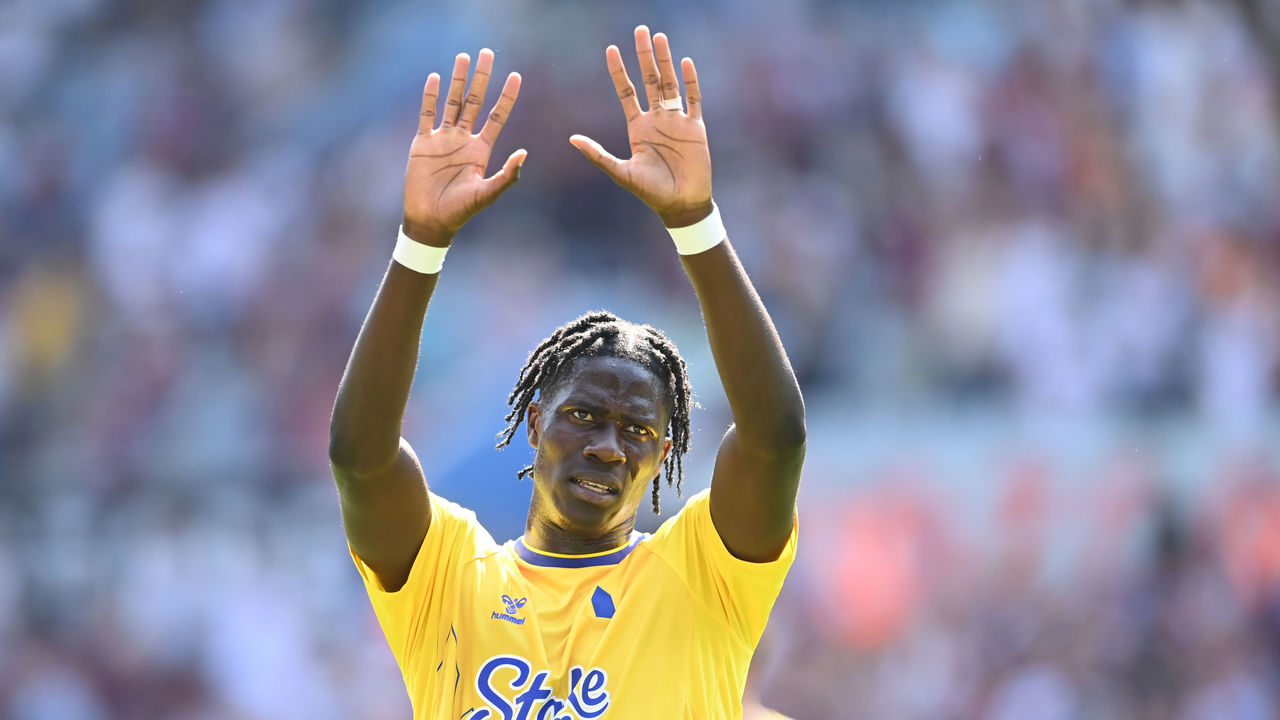 Not deterred, though, the Senegalese-born midfielder bounced right back. Like, literally. From the ensuing kickoff, he created Everton's tally – an own goal from Lucas Digne – with an excellent burst into the penalty area, showing off some quick feet in the process.
He nearly followed that up with a 96th-minute equalizer, too.
Some players may have withered after making such a glaring error just minutes into their first match for a new club, but not Onana. That bodes well for Frank Lampard and Everton, who desperately need someone capable of dictating matches and offering impetus and drive from midfield.
Alex Iwobi, reinvented as a No. 8, is perfectly cromulent in that position, but in his all-action cameo, Onana showed he can be the focal point of the positional group for the Toffees.
Arteta's plan is coming together
Gabriel Jesus exchanged passes with Gabriel Martinelli on the left side, Martin Odegaard and Granit Xhaka caused chaos in and around the penalty area, and Oleksandr Zinchenko tucked into midfield when his teammates pushed forward, offering protection against the counterattack when Leicester City managed to get the ball.
Arsenal played spectacular one-touch football in Saturday's 4-2 win, giving the fans a lot to savor on a sunny day at the Emirates. Mikel Arteta's players, operating in a fluid 4-3-3 formation, ran circles around the visitors for over an hour. They brought the manager's vision of progressive football to life and looked like a real team.
Arteta's system looks a lot like Pep Guardiola's at Manchester City. The forwards are constantly on the move, the midfielders join the rush when they can, and the defenders push up to challenge for the ball. It's not perfect, but it's highly effective.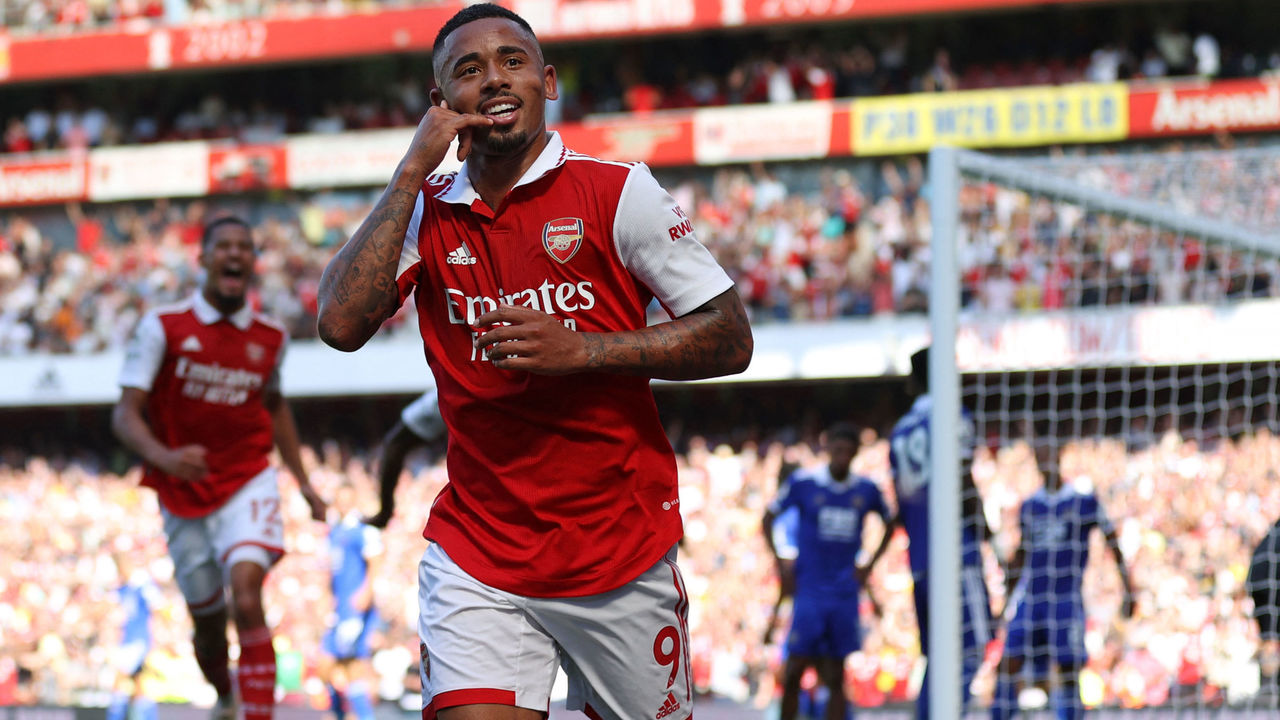 Even when the Gunners stumbled, they made quick amends, scoring within two minutes of the restart each time they conceded. They contested possession and won the ball back in dangerous positions. Arteta will have loved every minute of it.
Jesus' two-goal performance certainly stood out, but his teammates made a great impression as well. A series of quick passes allowed the Brazilian to score in the first place, and a header in his direction set him up for his second. Arsenal just seemed to click.
It's early in the Premier League season, but they're proving to be a coherent unit. If they find a way to be consistent, they'll have no problem finishing in the top four.
Leicester could be in some trouble
Brendan Rodgers has a daunting job on his hands to get Leicester back on track.
There's no shame in losing to a rejuvenated Arsenal team, especially one that was absolutely raring to go in its home opener, but, after being a thorn in the side of England's top clubs for some time, the Foxes have clearly fallen off the pace of the league's better teams.
Not long ago, Leicester was in direct competition with the likes of Arsenal for European places. The gulf on Saturday was very clear, though. Those halcyon days appear to be gone.
And it could get worse before it gets better.
"Not at this moment," Rodgers said when asked after the match if there could be any new signings on the horizon for his team. "We're just trying to work with the players we have."
Leicester have signed only one senior player so far this summer – veteran goalkeeper Alex Smithies arrived on a free transfer – and could yet lose standout defender Wesley Fofana. Two games into the new campaign, it's not time to smash the panic button just yet, but there's reason to be concerned.
Kyle Walker's unique role
Pep Guardiola loves himself some inverted full-backs, but this is perhaps the most extreme example of the tactic we've seen during the Spaniard's Manchester City reign. Kyle Walker is a "full-back" in name only right now.
One of the key cogs in Guardiola's tactical approach, Walker has been asked to adopt an aggressive interior position this season, tucking all the way into central midfield, just in front of the defenders, when in possession.
He is, in actuality, a deep-lying central midfielder when City have the ball, as showcased in Saturday's 4-0 stroll against Bournemouth:
(Source: WhoScored)
With Kevin De Bruyne nearby, in advance of Walker, this leaves the winger – on Saturday, it was Riyad Mahrez – high and wide, giving him a chance to isolate against the opposition full-back and, ideally, create chances for Erling Haaland. City figure to have the ball more than their opponent in almost every match they play this season; they enjoyed nearly 70% of the possession in Saturday's comfortable victory.
Walker's incredible speed makes him the perfect player to adopt this role, since he can easily recover if there's a threat on the counterattack down his vacated side of the pitch. That wasn't much of a consideration against a Bournemouth side that rarely threatened, though.
How this tactic will work, and what tweaks Guardiola will make against more dangerous opposition – if any – will be fascinating to monitor all year long.
De Bruyne is a cheat code
This is far from groundbreaking analysis, but not taking a moment to marvel at De Bruyne's performance against Bournemouth would do everyone a disservice.
He may have been red-faced from the scorching heat in England, but the brilliant Belgian midfielder, as usual, was the coolest man on the pitch. The way he created a sliver of space with a quick body feint, and then used that tiny opening to arrow an outside-of-the-boot finish perfectly into the bottom corner for his goal, was simply sublime. Few other players in the world could have done the same with such precision. He followed that up with a classic assist on Phil Foden's goal, first seeing the passing lane and then sliding the ball through with pinpoint weight to hit the Englishman in perfect stride.
So much of the focus surrounding Manchester City this season has centered on Haaland, and rightfully so; the Norwegian is a transcendent talent who could, when the dust settles, go down as one of the most dominant strikers of all time.
But, at least for the moment, De Bruyne is still the player that stirs the proverbial drink for Guardiola's team.
United's problems are all too familiar
David De Gea may have cost Manchester United three points on Saturday, but he's not to blame for the club's biggest problems. In truth, De Gea is one of the most vocal critics of his team's performances. He calls a spade a spade, and he takes losses on the chin.
Embarrassed by his own performance, De Gea asked to speak with the media following the 4-0 loss to Brentford, and he took full blame for the result. If only Harry Maguire, United's captain for the past two-and-a-half years, would do the same.
The issue begins here. There isn't enough accountability in the dressing room to sustain a turnaround in fortune. There are too many players from different regimes with varying degrees of attachment to the club. It's all patchwork, and it's been that way for a while. Erik ten Hag is trying to stamp his authority onto this team, but issuing fines for lateness isn't enough. The entire culture has to change.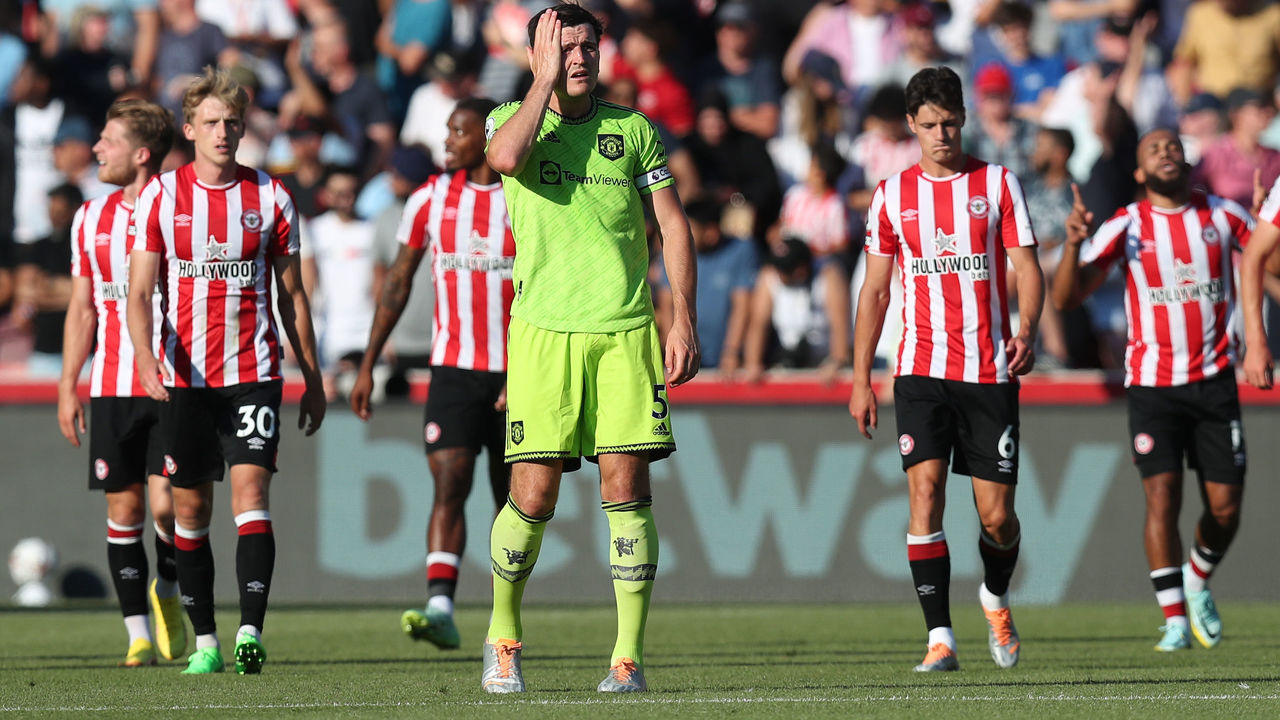 When the Red Devils conceded to Brighton & Hove Albion last weekend, referee Paul Tierney might as well have called the game then and there. United dropped their heads again Saturday. They didn't fight back with a vengeance; they just surrendered to the result.
There were 72 minutes remaining in the game when United trailed 2-0. Cristiano Ronaldo knew this. He told his team to rev up their engines and go again. United had enough time to right their wrongs. Instead, they lost track of the ball on a corner kick, conceded a third, and, with numbers forward and their guard down, yielded a fourth off a counterattack they could do nothing to stop. They didn't pay attention to detail.
Lisandro Martinez, Ten Hag's signing from Ajax, looked lost. Maguire could've been sent off. Jadon Sancho was anonymous. The game passed by Fred, Bruno Fernandes, and Luke Shaw. They were all passengers on the pitch – and, for many, not for the first time.
That's Ten Hag's problem. The majority of his players are either not good enough or simply not interested. They certainly can't play the kind of pressing football that he wants to see. United lack a spine and an identity, and until they find both, they'll continue to drift into irrelevance.