theScore examines the most important developments and biggest talking points from Saturday's slate of action in England's top flight.
Learning to play without Haaland
Much of the talk surrounding Erling Haaland and Manchester City heading into this season centered on the idea of adaptation. Most assumed, rather fairly, that it would take time for player and club to acclimate and get the very best out of one another. Not quite, in hindsight.
If anything, Saturday's slim 1-0 win over Leicester City showed that Pep Guardiola's team is already so accustomed to the Norwegian being the focal point of the attack that it needs to relearn how to play without him. Malleability has always been a trait of Guardiola's sides, so it was interesting to see City look largely blunt at the King Power Stadium, where Julian Alvarez started in place of Haaland, who was out with an ankle injury.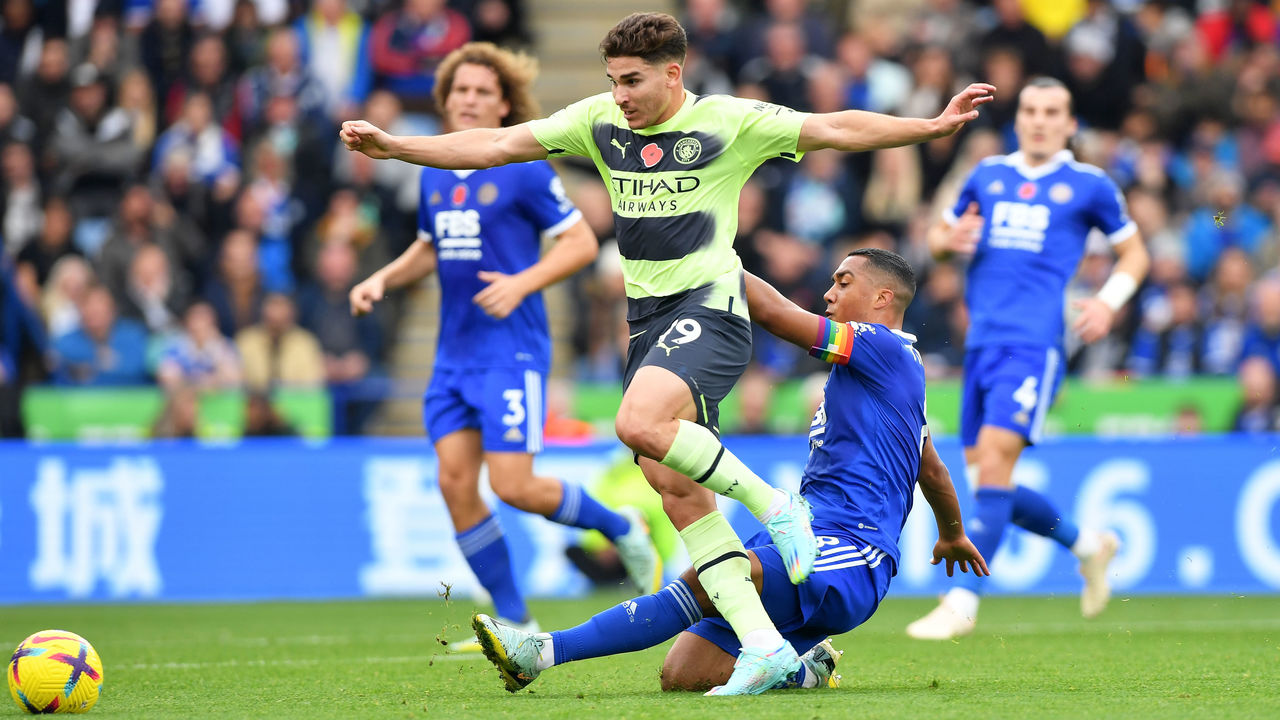 Using a nontraditional No. 9 is something City did to great effect, of course, before Haaland's arrival. Saturday, though, the young Argentine struggled to make an impact before being replaced by Phil Foden. Despite Manchester City dominating the ball and making a season-high 181 first-half passes in the final third, Alvarez had just seven touches in the opening stanza. One of those was the kickoff and only two were inside the penalty area. For his many exciting skills, Alvarez isn't a Haaland clone. Far from it. His presence in the lineup requires a different stylistic approach.
City, obviously, have learned how to maximize Haaland's skills. Now they need to brush up on what to do without him.
Tottenham lack defensive depth
Tottenham Hotspur deserve plenty of credit for the resilience they showed in Saturday's comeback win over Bournemouth, battling until the very end to turn a 2-0 deficit into an uplifting 3-2 win. But the final score shouldn't distract from the problems that continue to plague the team.
Last week, we highlighted a lack of attacking ingenuity and incisiveness as one of the key reasons for Spurs' recent slump; the injury-enforced absences of Richarlison and Dejan Kulusevski continue to loom large. This time around, an alarming lack of defensive depth came to the fore.
With Cristian Romero out and the overworked Eric Dier in need of a breather, Antonio Conte opted for a back-three of Ben Davies, Clement Lenglet, and Davinson Sanchez.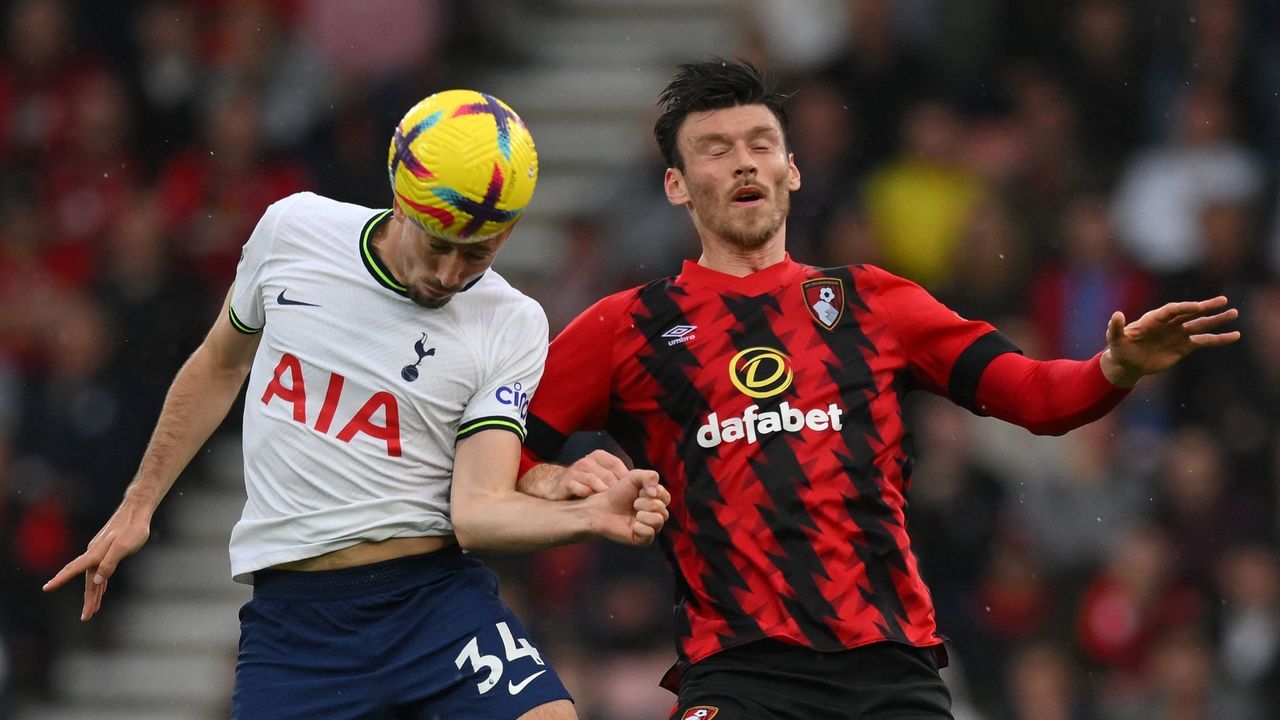 The trio conspired to make Kieffer Moore look like prime Pele. Moore is a fine footballer, but he isn't exactly a prolific scorer. He was consistently menacing against Tottenham, though, scoring both goals for the Cherries. He came into the match with one goal all season. Conte, seemingly admitting his selected trio wasn't up to the task, swapped Sanchez for Dier before the hour mark. Tottenham looked infinitely better after that change.
Missing your best central defender is difficult to overcome for any team. Romero, with his combination of aggression and athleticism, is absolutely vital to holding Tottenham's backline together. But Spurs' inability to cope with these absences is hugely concerning, especially during a season when the workload on players is enormous and rotation is more important than ever before. Tottenham could be busy in January.
Horror return for Potter
Graham Potter's name was belted out around Amex Stadium once again. But it wasn't the songs of embrace that he had come to expect over the years with Brighton and Hove Albion. Instead, there was a clear negative tone to the songs fans sang to their former manager upon his return to the south coast with Chelsea.
And with every Brighton goal in Saturday's 4-1 victory, the anti-Potter chants grew louder.
Facing the Seagulls for the first time since joining Chelsea, Potter was left stunned after just five minutes when the hosts took the lead in front of a record crowd at the Amex. After Brighton doubled their advantage minutes later, fans belted out chants of, "You're getting sacked in the morning."
It was a message from a frustrated fan base that was left reeling after Potter left for an opportunity that he said earlier this week was "too good to turn down."
Potter tried desperately to stop the bleeding, switching formations and abandoning his back-three in favor of four defenders. Kai Havertz promptly scored after halftime, but it ultimately wasn't enough to prevent Potter from tasting defeat for the first time since joining Chelsea.
The Blues' sterile attack was once again a major issue, as they failed to convert multiple chances that could've had a significant impact on Saturday's contest.
De Zerbi's 1st win was a long time coming
Before Saturday's awakening at Amex Stadium, Roberto De Zerbi encountered the same problems his predecessor couldn't quite solve. Brighton outshot and outplayed their opponents in four of De Zerbi's first five matches as manager but walked away without victory from each one. Brighton just couldn't convert the many, many chances they were creating.
Their fortune turned against Chelsea. Sensing space in midfield, De Zerbi ordered his charges to attack the Blues from the start, and their relentless pursuit of the ball paid instant dividends, allowing them to head into halftime with a 3-0 advantage. Chelsea's two own goals certainly helped, but they were far from acts of charity. The hosts put the ball into such dangerous situations that goals of any kind seemed likely. Chelsea captain Thiago Silva made two goal-line clearances in the first five minutes alone.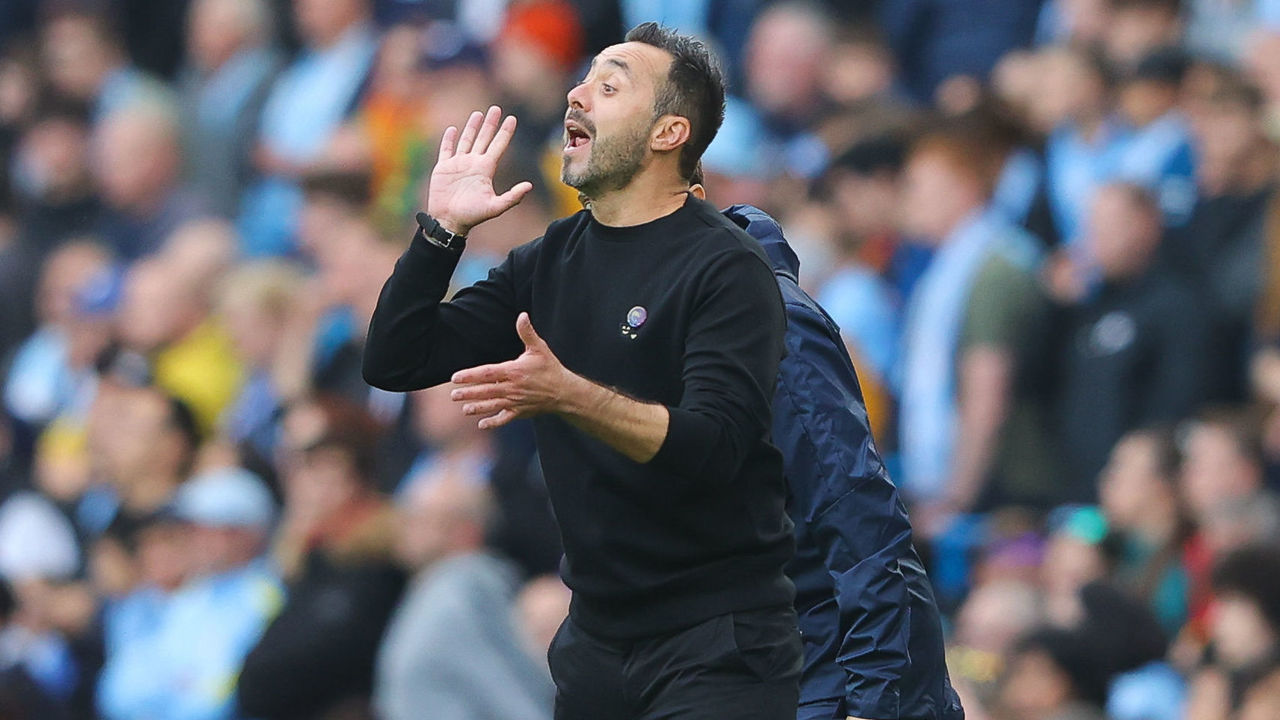 De Zerbi is now reaping the rewards of a system he has tweaked but largely sourced from Potter's two-and-a-half seasons on the south coast. Brighton have always played some of their best and most enterprising football against the Premier League's big six teams, and Saturday was no different. The Italian showed the same tactical flexibility that Potter had shown on previous occasions, switching from a 3-4-2-1 to a more compact 4-2-3-1 that enabled Brighton to dominate the midfield.
The fans must've taken particular delight in Pervis Estupinan's performance on the left flank. Signed as Marc Cucurella's replacement, the Ecuadorian full-back owned that side of the pitch. Despite taking every opportunity to bomb forward, Estupinan still managed to maintain his defensive shape.
There's more to come from De Zerbi's side. This win will be the first of many.
Collector's item for Costa
Diego Costa was shown the first red card of his Premier League career on Saturday. We know. We're surprised, too.
More than maybe any other player in recent memory, Costa is the biggest benefactor from the lack of video technology during his previous stint in England with Chelsea. He wasn't so lucky this time, though, as a headbutt on Ben Mee was flagged, and punished, by VAR in stoppage time of Wolverhampton Wanderers' 1-1 draw with Brentford.
Costa, brought in on a free transfer in September to help address Wolves' scoring problems, now has more red cards than goals this season. It was only a matter of time.
Wilson deserves ticket to Qatar
The only thing missing from Callum Wilson's match-winning performance Saturday against Aston Villa was a third goal. His third career Premier League hat trick nearly arrived when he fired a late shot off the crossbar. But the near-miss mattered little in the end. Newcastle United's 4-0 win reinforced their top-four credentials, and Wilson boosted his chances of making England's World Cup squad with two goals and an assist.
Among the revelers at St. James' Park was Three Lions boss Gareth Southgate, who was undoubtedly happy to see another striker within his purview at the top of his game. In truth, Wilson, an unassuming striker with just four international caps to his name, had already played his way into England's consciousness. Southgate wouldn't have made the trek to the northeast if he wasn't interested in Wilson or English teammates Kieran Trippier and Dan Burn.
The center-forward has an unbelievable tendency to step up when it matters most. Wilson scored the opener in last weekend's win over Tottenham, struck the go-ahead goal in Newcastle's 3-3 draw with Manchester City earlier in the season, and put in his best performance of the campaign with a call-up on the line.
Statistically, the 30-year-old has outperformed his contemporaries in two of the most significant scoring categories. Though he's not the most prolific of poachers or the most blessed with playing time, he's clinical. In a fast-paced tournament setting, that's key.
| | Minutes per goal | Conversion rate |
| --- | --- | --- |
| Callum Wilson | 152 | 23% |
| Harry Kane | 163 | 15% |
| Ivan Toney | 204 | 16% |
| Tammy Abraham | 204 | 15% |
| Dominic Calvert-Lewin | 261 | 16% |
| Marcus Rashford | 299 | 15% |
It's now up to Southgate to reward a player who has done all he can to prove himself.
Liverpool are their own worst enemy
Liverpool's loss to Leeds United on Saturday followed the same playbook as recent contests. They conceded first for the eighth time in 12 Premier League matches and, after finally springing to life, ran into a red-hot goalkeeper. Crucially, they walked away from another fixture without anything to show for the fight they put up.
Liverpool didn't play badly. In fact, they haven't played that poorly in the Premier League this season. As they did in last weekend's 1-0 loss to Nottingham Forest, Jurgen Klopp's side bordered on 70% possession against Leeds, creating more than enough chances to produce more than one goal. Leeds 'keeper Illan Meslier made nine saves, including several of the spectacular variety, in a match-saving performance that mimicked Dean Henderson's majestic display at City Ground.
The issue for Liverpool is simply mental. While they're creating a lot of chances, they're conceding too many of their own. Mix in an inordinate number of individual errors, and it's a recipe for disaster.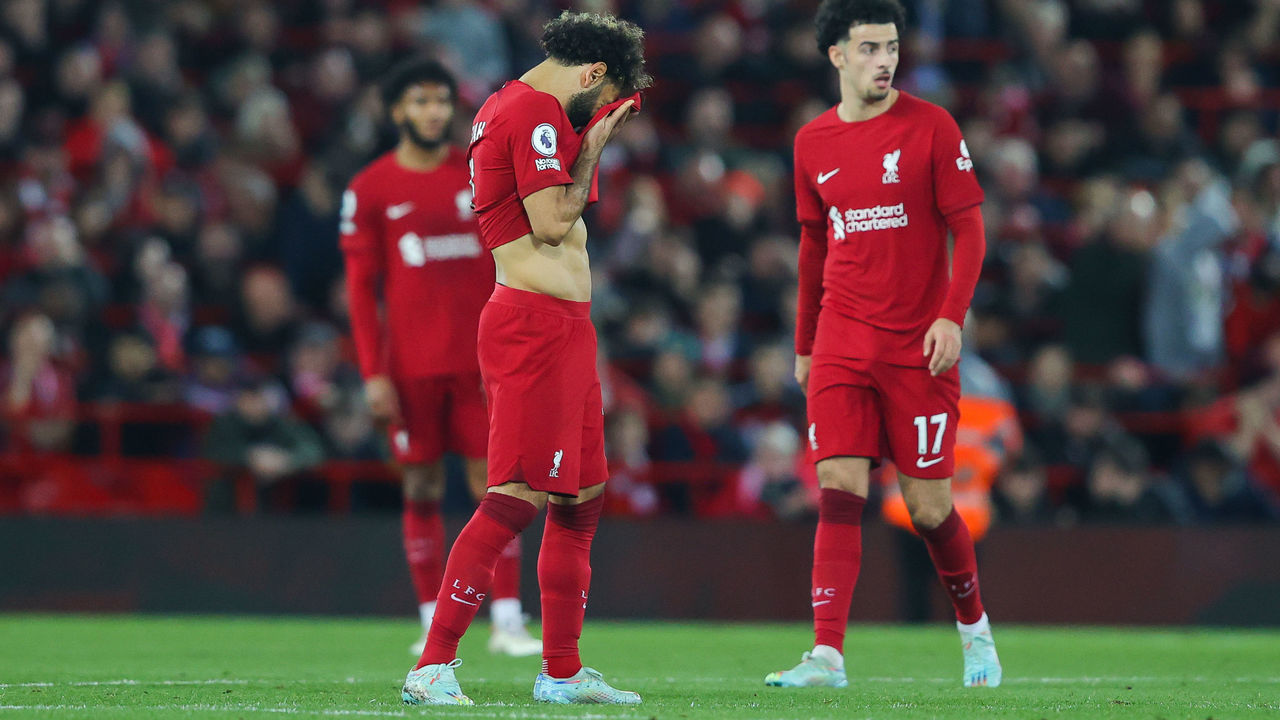 They made a tough game even harder for themselves. Joe Gomez's misplaced pass gifted Leeds an early opener, and James Milner's giveaway led to Crysencio Summerville's winning goal in the 89th minute. With better defending, Liverpool could've recovered from Milner's sloppy pass into no man's land. Three defenders surrounded Summerville as he angled for a shot in the penalty area. Somehow, he eluded all three and arrowed his shot into the bottom corner.
That's not to say Klopp's outfit isn't still capable. No team in the Premier League averages more than Liverpool's 17.7 shots per game. They rank second to Manchester City in shots on target and possession while conceding the third-fewest shots per game. But as long as they struggle to manage games – to score first and early, limit errors, and capitalize on massive spells of possession – they'll continue to lose matches. Liverpool's biggest problem used to be their biggest strength: to make every touch and pass count.