Inter Milan are on the verge of the Champions League final after a confident and commanding 2-0 win over bitter rivals AC Milan in the first leg of their Champions League showdown Wednesday. Below, we dissect the biggest talking points from the derby at the San Siro.
Milan match up horribly against Inter
AC Milan looked like a team of strangers Wednesday, and not for the first time. The Rossoneri committed the very same disappearing act in January and February, and all the games they lost in Serie A during that horrific seven-match winless skid could cost them a place in next season's Champions League.
Now, thanks to a similarly spineless showing against rivals Inter Milan in the semifinals of this year's competition, Milan are down 2-0 on aggregate and all but certain of losing the tie if Rafael Leao can't play in the second leg next week.
But how? How could last season's Serie A champions look so lost and confused?
The players had no explanation for it in January and February, and they may not have any way to explain it this time around. It's a conundrum: The same team that lost its last three derbies by a combined score of 6-0 also outscored Napoli 6-1 in their last three meetings. Nothing makes sense.
Or does it? Milan tend to have more success against teams like Napoli that control possession. They can lie in wait and pounce on mistakes. They can play extremely slick vertical football, especially on the counter. But they're far more ponderous when they're forced to probe for an opening.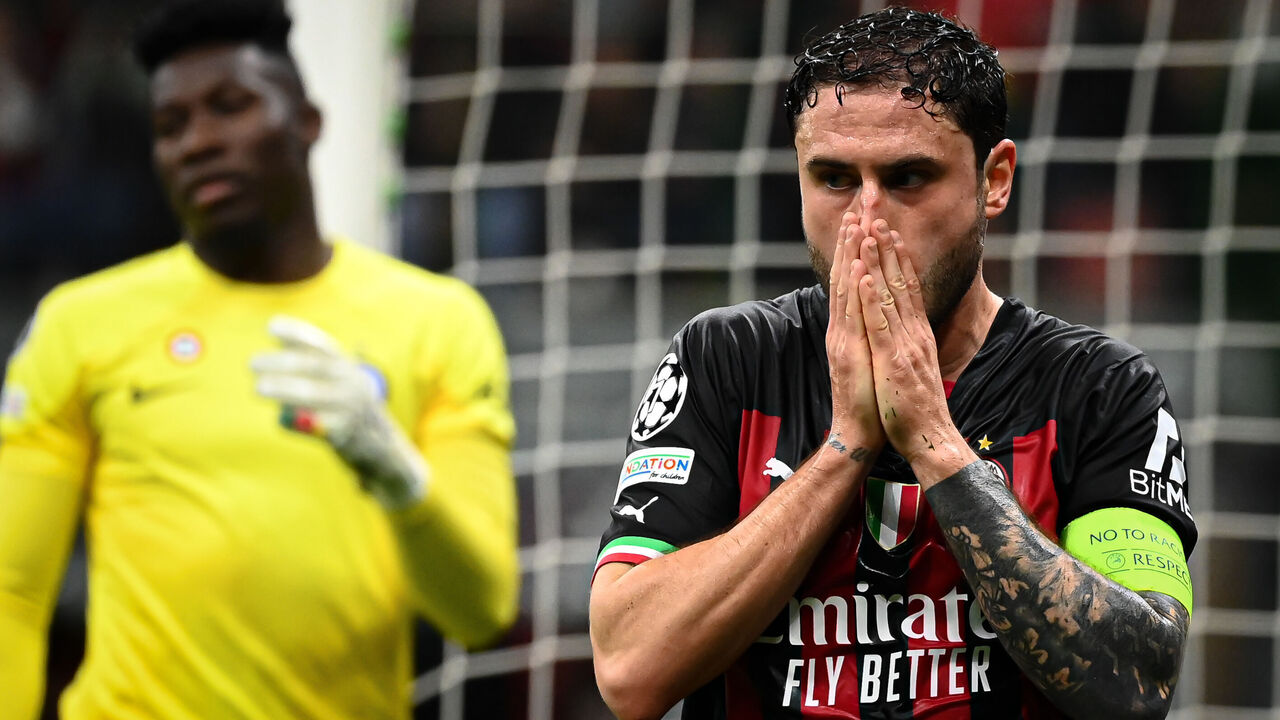 Head coach Stefano Pioli has certainly struggled to find the right balance with this group of players. None of the summer signings have been particularly useful – Divock Origi has just two goals and the odd dribble in his locker, and €35-million acquisition Charles De Ketelaere has no confidence whatsoever when he steps onto the pitch – leaving Pioli with even less depth than he had during Milan's title run last season. It's also true that injuries have robbed the team of its best players at critical junctures.
But Pioli isn't blameless, either. It's up to him to devise strategies, and while he's found ways to neutralize opponents – as he did when Brahim Diaz and Davide Calabria combined to double-mark Napoli's Khvicha Kvaratskhelia – the coach has found it incredibly difficult to solve teams like Inter that play with a low block of five.
Inter preyed on this particular frailty, closing up shop after scoring early. They've done that to Milan often – four of their last six goals against their rivals have come inside the first 25 minutes of play – and it's granted them the leeway to sit back and protect their lead. Milan, as ever, had no answer for it. Their first shot on target came in the 81st minute, and it was comfortably saved by goalkeeper Andre Onana.
Wily Dzeko puts on a clinic
AC Milan had no answer for Edin Dzeko, who, at 37 years young, is a fascinating player that defies conventional wisdom about the state of modern football. The Bosnian veteran, on the surface, is an old school No. 9, a big target man whose primary role is to act as a reference point up front, occupy defenders, hold the ball, and wait for his more fleet-footed peers to arrive on the scene before bringing them into the attack.
Some of that is accurate, in fairness. Dzeko easily outmuscled Calabria for Inter's opening goal, standing his ground inside the penalty and putting the Milan captain on his hip before connecting with a sumptuous left-footed roundhouse volley; Dzeko has always been an expert technician when striking balls directly out of mid-air. His shrewd run also dragged Milan defenders out of the way and created an enormous hole for Henrikh Mkhitaryan to cruise into for Inter's second goal just minutes later.
But he showed the entire array of his skill set, which includes talents not often associated with someone of his size. Dzeko, as if jolted by the spectacular atmosphere inside the San Siro, was spry throughout the match, often initiating runs from midfield and, to the astonishment of many, consistently pulling away from defenders with the ball at his feet – he bamboozled Fikayo Tomori on multiple occasions, too.
His understanding with Lautaro Martinez is crucial to Inter's success. Romelu Lukaku's partnership with the Argentine was one of the pillars behind Inter's Scudetto-winning season under Antonio Conte, but with Lukaku spending much of this campaign sidelined, Dzeko has stepped up and fostered an excellent on-field relationship with Martinez. It's not the classic big-and-small combo, but rather a complementary collaboration in which both players can do some of the same things, interchanging roles throughout matches and keeping the opposing defense off balance. Dzeko and Martinez took turns toying with the Milan backline Wednesday.
"Sometimes you get in this difficult moment where the ball doesn't want to go in," said Dzeko, who scored twice over the weekend to break a drought that dated back to mid-January. "Patience and work always pay off. I was calm knowing the goals would come as always. Today is the proof."
Dzeko isn't the same prolific force that he was earlier in his career – Father Time is inescapable – but even as the game gets faster and everyone around him gets younger, the artful striker still has the tools to thrive and help drive Inter toward an unexpected European triumph.
Quick free-kicks
Inzaghi knows how to win cups
Inter manager Simone Inzaghi is becoming quite the cup specialist. After winning the Italian Cup and Super Cup with Lazio in 2019, the 47-year-old helped Inter win the same two trophies over the last 12 months. He's now within touching distance of reaching the Champions League final after outcoaching adversary Stefano Pioli in yet another convincing derby win. Inzaghi's tactical approach – typified not by beautiful passing sequences but by resolute defending and clinical finishing – usually pays dividends in knockout tournaments precisely because it's so short term. Inter haven't had nearly the same consistency in Serie A, losing 11 of their 34 league matches this season, but they've stymied enough teams to make a Champions League run.
Leao and Bennacer's ill-timed injuries
Star forward Leao injuring his thigh just days before Wednesday's clash was a cruel blow for AC Milan. The explosive winger makes magic happen all on his own and can actually force the opposition to alter its tactics to account for the threat he poses in open space. But losing Ismael Bennacer early in Wednesday's game was equally impactful; the Algerian international is Milan's best midfielder. While they were already down 2-0 when he was forced off in the 18th minute, his absence robbed the Rossoneri of the composed on-ball presence needed to help calm the team down after its brutal start. "There was a bit of anxiety in the team (after going down 2-0)," Tomori admitted. Bennacer's injury meant Sandro Tonali had too much ground to cover in midfield on his own. The Italian started to influence the match in the second half after Inter took their foot off the gas and sat back. By then, it was too late.
Stat of the day
Inter have owned their city rivals this season.
Tweet of the day
You can't help but feel like Napoli are kicking themselves right now.