Chelsea were crowned European champions for the second time in their history after Kai Havertz's breakaway goal downed Manchester City on Saturday.
Thomas Tuchel, who only inherited the Chelsea squad from his predecessor Frank Lampard in December, relied on strong defensive foundations and stardust in attack to mastermind a 1-0 victory in the Champions League final.
Here are three takeaways from an absorbing contest in Porto.
Trust in Werner (and Havertz) paid off
Tuchel's main selection conundrum was which attackers to start. He plumped for Mason Mount, Timo Werner, and Havertz, and his decision to select the German duo, in particular, proved to be an inspired move.
Rather than task a natural wide player to charge into gaps behind City's full-backs, such as Christian Pulisic or Hakim Ziyech, it was Werner who busied himself with runs down the sides. The former RB Leipzig forward has struggled this season, seeming to provide more meme-worthy misses than goals, but his energy and willingness to run into channels were enough to encourage Tuchel to pick him.
Havertz, meanwhile, took chances to dart through the center, infiltrating the space eked open by Werner's wise off-the-ball movement.
It took a crucial header from John Stones in the 23rd minute to prevent Havertz from nodding Chelsea into the lead. Part of Tuchel's reasoning behind selecting Havertz over Pulisic and Ziyech may have been his superiority in the air.
Then, when Havertz got his match-winning goal in the 43rd minute, Werner's influence was pivotal.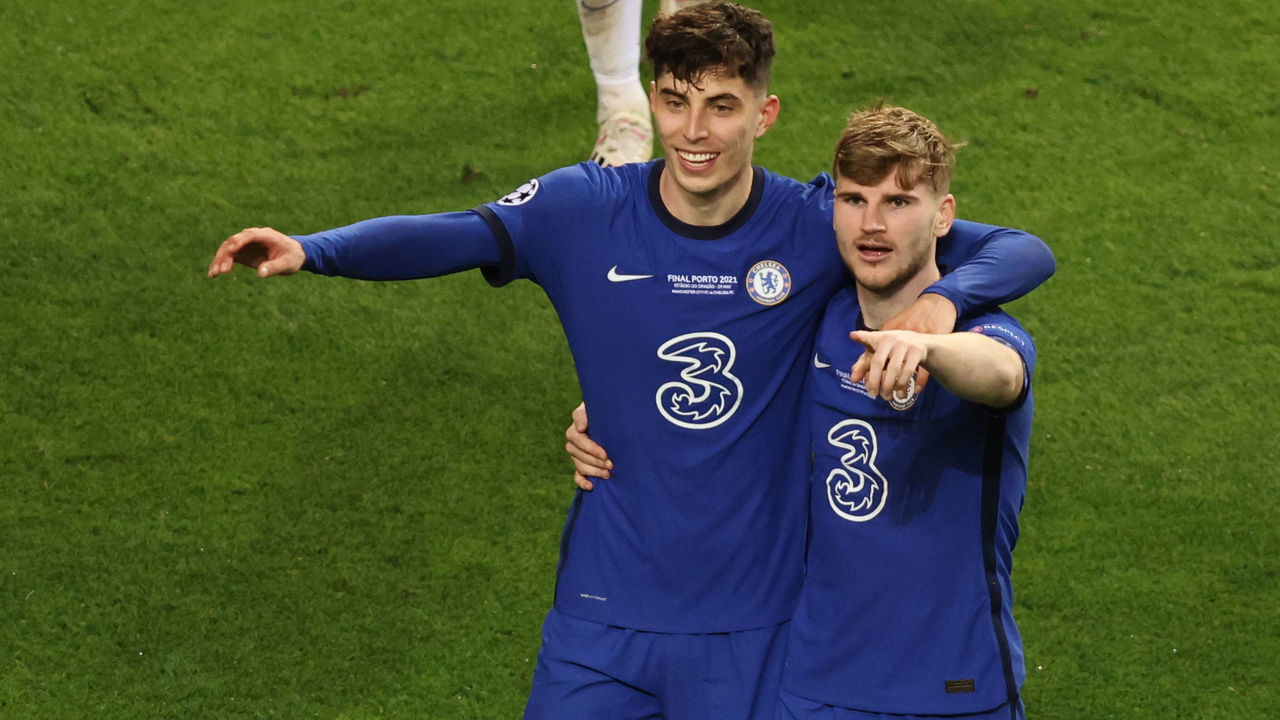 Werner hurtled down the left-hand side to offer Mount an option down the flank, but he may not have anticipated receiving the ball given that both Stones and Kyle Walker were blocking the passing lane. However, the 25-year-old's run succeeded in drawing Ruben Dias toward him and stretching open swathes of space through the middle for Havertz to rush into.
Mount took up the invitation and played the ball ahead of Havertz, who notched the decisive goal after skipping through a challenge from Ederson.
Pep Pepped
Raheem Sterling was on the periphery of Pep Guardiola's plans. He started one match against Borussia Monchengladbach during the knockout rounds preceding the final, and he mustered just 10 minutes over the doubleheaders with Borussia Dortmund and Paris Saint-Germain in the quarterfinals and semifinals.
So, the out-of-form Englishman's starting spot – at the expense of a defensive midfielder in Fernandinho or Rodri – was a peculiar choice by Guardiola. The well-worn accusations of the City manager overthinking his game plan were dusted off immediately after the XIs were announced.
"I know exactly the way we want to play, with whom we are going to play, and I am not going to bother them much," Guardiola said Friday, indicating he'd been buffing the leather and picking at the seams long before pitching his latest curveball.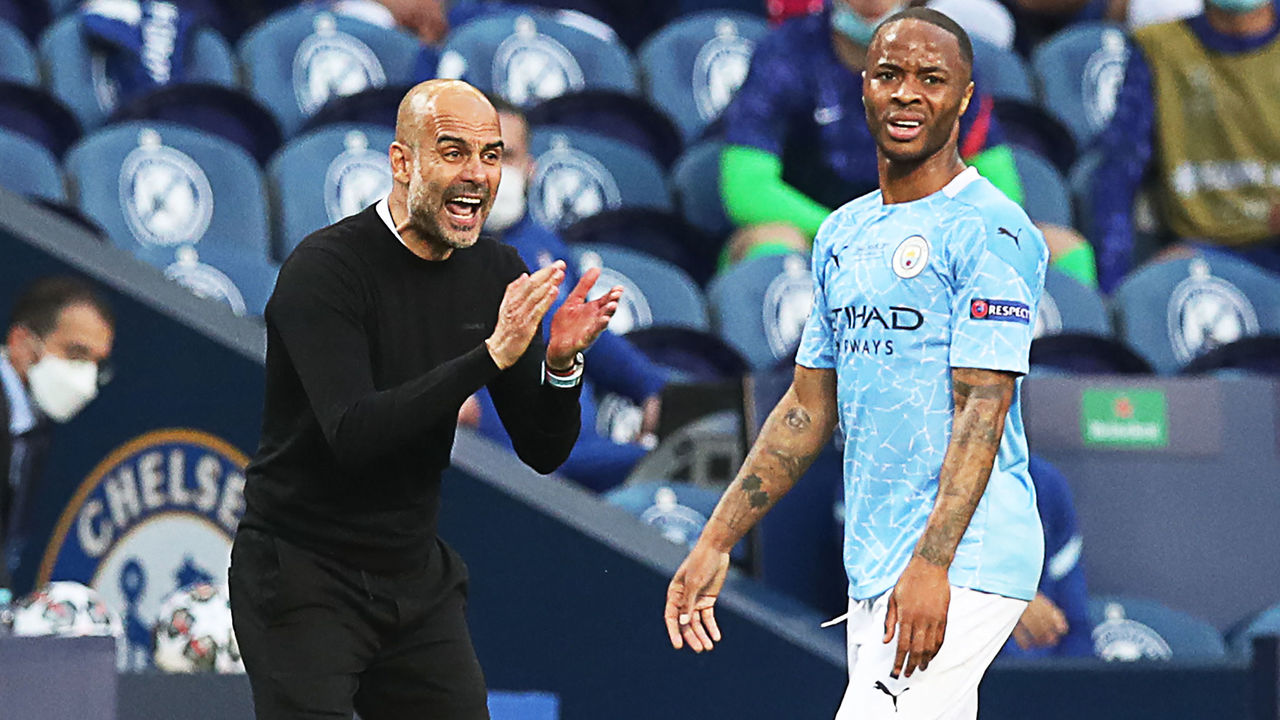 There were glimpses during a couple of counterattacks in the first half as to why Guardiola picked Sterling. There were openings behind Reece James to be exploited, and Cesar Azpilicueta, who was to the right of Tuchel's back three, isn't the sprightliest defender nowadays.
But, ultimately, Sterling didn't do enough to justify Guardiola's meddling with a winning formula. The attacker was substituted with under 15 minutes remaining and finished the game with a single shot on target and the same number of touches (30) as his goalkeeper.
And you have to wonder: Would Havertz had gotten all of that space for his goal if Fernandinho or Rodri were plugging the midfield?
Guardiola had arguably his finest season as Manchester City manager, given that he implemented tactical tweaks in winter that reversed the fortunes of an ailing team, winning the Premier League and League Cup in the process. Still, he faces similar lines of criticism after yet another baffling change to his lineup in Europe.
To Pep could soon be added to the dictionary.
Rudiger leads merciless defensive effort
Antonio Rudiger's most memorable contribution to the fixture was rather controversial. Kevin De Bruyne ran with the hope of meeting a return pass from Riyad Mahrez, but Rudiger, with no intent to play the ball but plenty of intent to hit the Belgian, flattened him.
Rudiger's block left De Bruyne with a throbbing black eye and robbed City of their vital playmaker after an hour.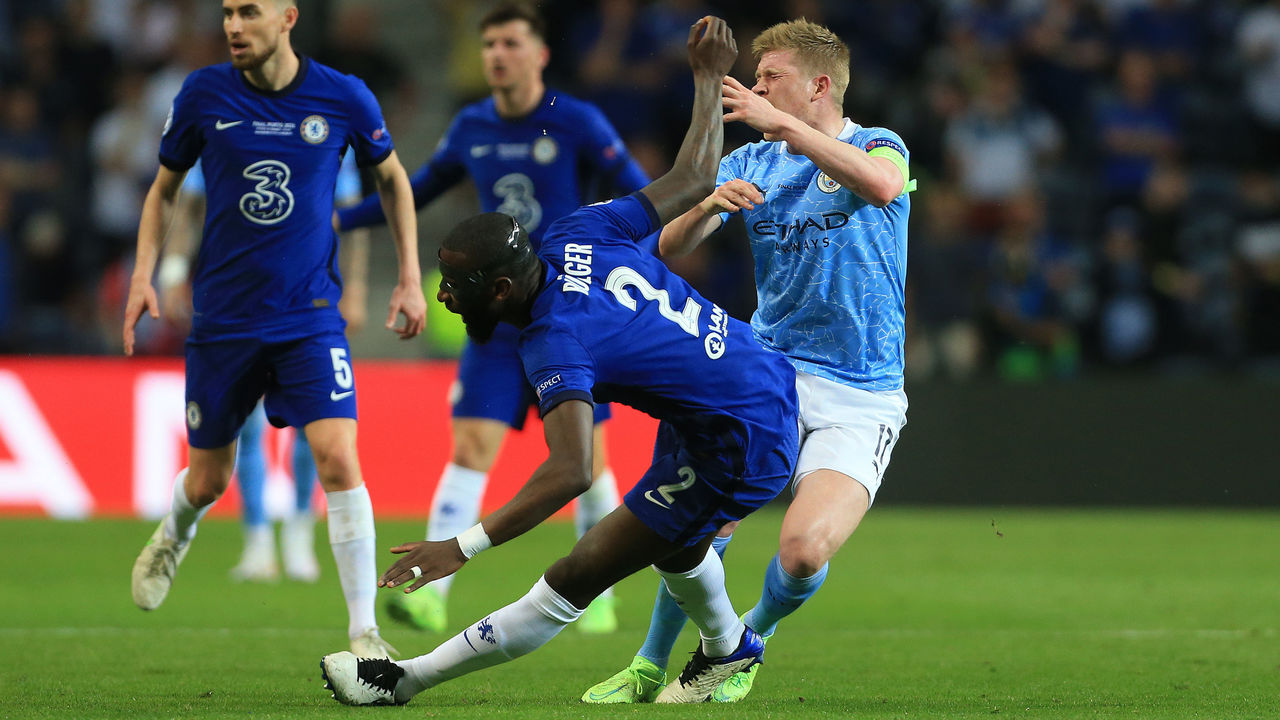 This is Rudiger's game. He struggled to get off the bench when he played in Peter Hyballa's under-19 team at Dortmund because of his weaknesses in possession, but his aggression was never in doubt. "He'd eat the striker," Hyballa told theScore last year.
Frank Lampard didn't seem to be a fan, either, but Tuchel has used him regularly over his short time at the helm – and it's easy to see why. Aside from Rudiger's unsavory challenge on De Bruyne, his combativeness was the perfect response to City's diminutive, artful attackers, with an excellent block tackle on Phil Foden during the first half the real highlight of his workday.
Without that, Foden would've given City the lead.
But it wasn't Rudiger alone. James made a game-high seven tackles on his own – the same number as the whole Manchester City squad – and led in clearances as he bludgeoned five balls to safety. And N'Golo Kante, undoubtedly Chelsea's best player of their Champions League run, was his usual tireless self as he mopped up with three tackles and two interceptions in midfield.
"I was very impressed, from the first moment, with the intensity, the attitude, and how we defended together. (This) is an (important) point," Tuchel said this week when reflecting on his tenure so far. "The group plays like a group that has something to prove, and they really want to prove how strong they are."
Tuchel turned Chelsea into a solid, Champions League-winning unit in four months. Think of what he could do with a full preseason under his belt.