theScore examines the most important developments and biggest talking points from Saturday's slate of action in England's top flight.
Everton adopt Dychean spirit
There were hints near the end of last season and at the start of this campaign that this is what Everton would become. They wouldn't attempt pretty passing patterns or charming trickery; instead, they'd focus on the basics – rush at rivals, gnaw at heels, punt it into the box – and hope that would be enough to pinch a result here and there.
For some reason, Frank Lampard came up short. Alex Iwobi's transition from a frustratingly average winger to a functional midfield grafter was perhaps the strongest hint that Lampard tried to make Everton ugly yet effective, but the effectiveness was lacking. Maybe Lampard, with his rather comfortable playing career and somewhat privileged path into management, struggled to play the part of a cantankerous general drilling his warring troops.
Enter Sean Dyche.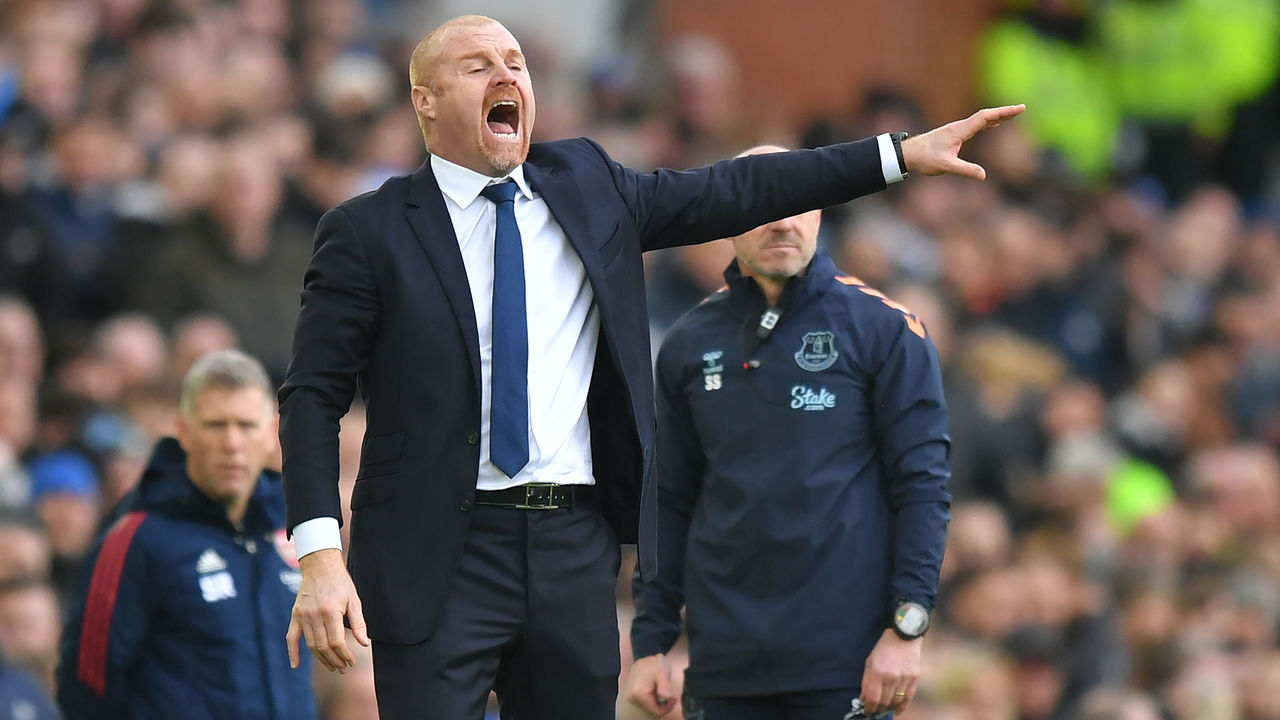 Dyche embodies the blue-collared approach. He patrolled the training ground in shorts, put his squad through grueling fitness tests, and banned hats and snoods. "You train how you play," he explained of the changes he implemented at Finch Farm.
It took five days for Everton to undergo a drastic transformation and beat table-topping Arsenal 1-0. Dwight McNeil probably played his best match for the club, chipping in with tackles and clearances while logging three key passes and taking the corner-kick that resulted in James Tarkowski's match-winning header. It was fitting that two staples of Dyche's Burnley side combined for the goal.
But it wasn't just lofted crosses and defensive drudgery. Arsenal faced more shots (eight) in the first half than they have in any other opening period in this Premier League season. Everton pressed with intensity. Amadou Onana torched two players and darted in the box before sliding a ball across that was inches away from being turned in by Dominic Calvert-Lewin.
It was effective, but it wasn't ugly. It was a stirring performance that completely changes the mood in the blue half of Merseyside. It wasn't the most conventional route for Everton to hire their new manager – Marcelo Bielsa, a veteran tactician who likes his teams to attack, was reportedly the preferred choice – but Dyche might be precisely the right person at the right time for the Toffees.
Is it time for Klopp to leave Liverpool?
Forget tactics. Forget formations. Liverpool didn't lose Saturday because they were the worst of the two teams at Molineux. They lost because they decided not to play at all.
The Reds conceded twice in the opening 15 minutes to Wolverhampton Wanderers, the Premier League's lowest-scoring side, and the game, for all intents and purposes, was over then and there. Liverpool tried to regain control of proceedings, but nothing came of their efforts. Only four of their 22 shots hit the target, and when Wolves swiftly countered for a third goal, the lights went out.
It's bad enough Liverpool can't defend. But this team is equally hopeless in attack. They can't score their way out of trouble, and that's as much down to the indecisiveness of big-money signings Darwin Nunez and Cody Gakpo as it is to the team's overall lack of fluidity. There's no rhythm to this side, no serenity in possession, and seemingly no way out of this utterly shambolic situation. Liverpool are rooted in 10th place. That's simply unacceptable.
Liverpool's last four EPL matches
| Date | Opponent | Score |
| --- | --- | --- |
| Jan. 1 | at Brentford | 3-1 L |
| Jan. 14 | at Brighton & Hove Albion | 3-0 L |
| Jan. 21 | vs. Chelsea | 0-0 D |
| Feb. 4 | at Wolverhampton | 3-0 L |
Jurgen Klopp was at a loss for words in his post-match interview. He couldn't identify the problem. That in and of itself is a massive issue. It's far worse than any tactical shortcoming. Time on the training pitch can resolve those kinds of issues. This is completely mental.
"Concentration for the first 15 minutes. Again, I cannot explain," Klopp said. "But these 15 minutes cannot be allowed. It needs to change. That's the thing. I stand here again and for the first 15 minutes, I have no explanation. I'm sorry."
Klopp's job is undoubtedly safe. Fenway Sports Group would never sack him. But how long can this go on before he seriously thinks about walking away? Are the players listening to him anymore? Does he even have a solution?
That's not to say Klopp's the only one to blame. FSG has done a poor job recruiting over the last year. Liverpool's midfield is sagging, and it can't play the kind of swashbuckling football the manager has long demanded. But Klopp's also had a hand in the signings Liverpool have made. He signed off on Gakpo and Nunez when the money would've been better spent on midfielders. Will they have enough funds to refresh the squad in the summer? It doesn't seem like it.
A lot of questions remain. Klopp may not have the answers.
Wolves look like a proper team again
Wholly uninspiring, doing precious little to recapture the attention they garnered when they bulldozed their way back to the Premier League in 2018, Wolves have spent the past year simply existing in the division. The firing of manager Bruno Lage in October didn't light much of a spark. Neither did Julen Lopetegui's arrival. Had the club not intervened in the January transfer window, it may not have had anything but relegation on the horizon.
But Wolves did something about it. They signed Pablo Sarabia from Paris Saint-Germain for virtually nothing, added Matheus Cunha on loan from Atletico Madrid, brought in security in the form of Craig Dawson, and acquired a midfielder with Premier League experience in Mario Lemina. Wolves didn't spend a fortune, but they targeted areas that needed attention.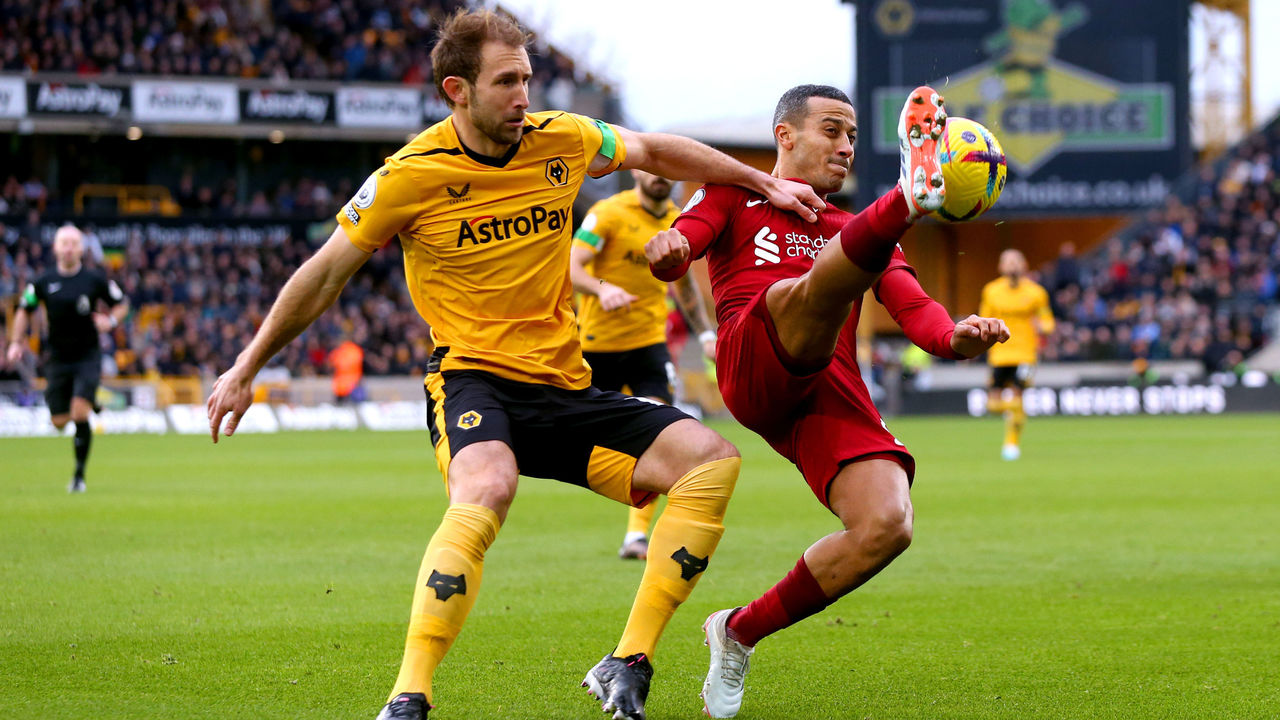 Dawson immediately proved his worth Saturday, bundling home the second of Wolves' three goals during a particularly scrappy sequence. With a game-high seven clearances, the 32-year-old helped keep Liverpool at safe distance. He also seemed to give assurances to center-back partner Maximilian Kilman, who made a pair of equally important goal-line clearances during the match.
If nothing else, Lopetegui now has a capable squad at his disposal. He also has depth. When Hee-Chan Hwang came off injured, Lopetegui didn't have to look far for a replacement. Adama Traore emerged and played a crucial part in the third goal. Even if Liverpool made Wolves' day easier, they still took the opportunity to signal their intention not only to exist in the Premier League but to once again challenge for a place in the top half of the table.
Quick free-kicks
Signings allow Arteta to freshen things up
Jakub Kiwior, Jorginho, and Leandro Trossard were all named on the bench for the defeat at Everton, but each January signing should play an important role for the rest of the season. Mikel Arteta has used the two most common lineups in the Premier League this term – he's picked Saturday's XI five times, and the same lineup with Gabriel Jesus instead of Eddie Nketiah on six occasions – and his side's familiarity is certainly one of many reasons that Arsenal are top of the league. But, now that we're steadily approaching the business end of the season, having extra bodies to refresh the squad, carry some of the Europa League workload, and raise competition for places should only benefit the Gunners. Arsenal fans should feel good about their club's winter business.
Casemiro's 3-game ban could cost United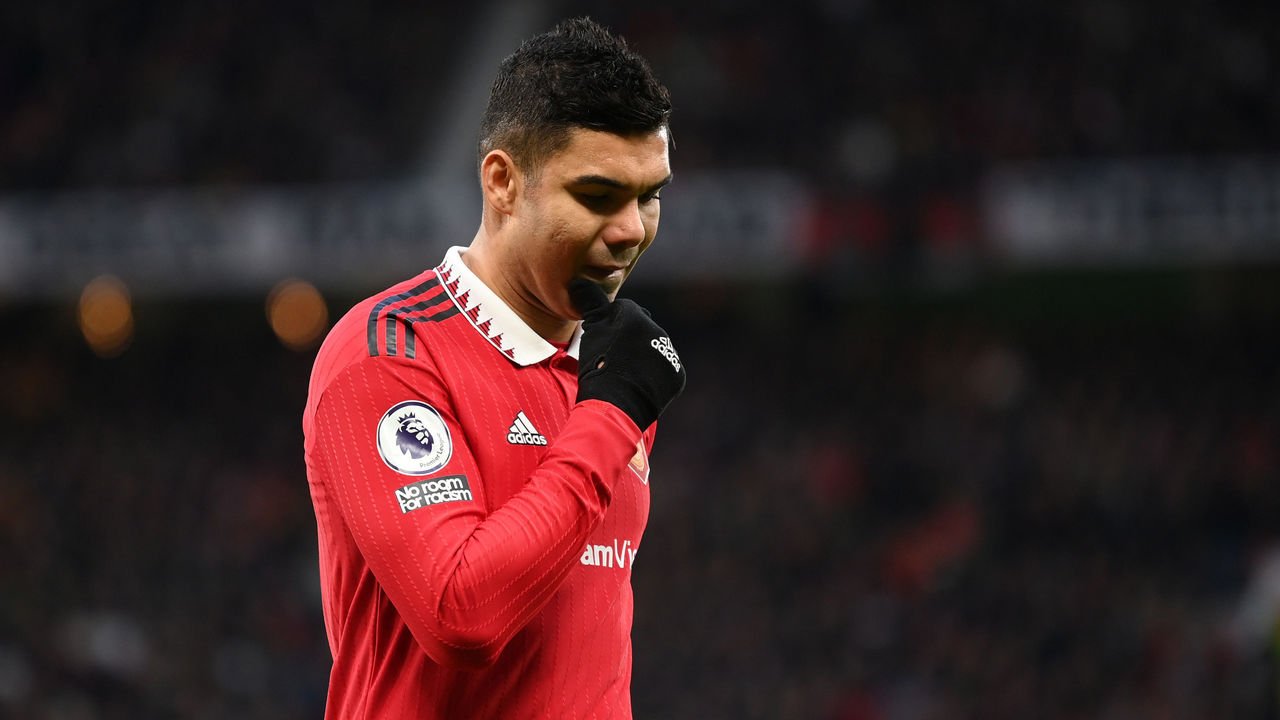 Before Casemiro decided to put two hands to Will Hughes' neck, Manchester United looked like a sure bet to win Saturday's match against Crystal Palace. That all changed when referee Andre Marriner reviewed footage of the incident and sent off the Brazilian for violent conduct. Palace reduced the deficit and threatened to score a late equalizer, sending United into panic mode. Though the Red Devils held on to win at home for a 13th consecutive time, Casemiro's red card seemed to unnerve the team. The last thing Erik ten Hag's side needed was a disruption. But Casemiro's moment of madness has achieved exactly that. Already without Christian Eriksen, United will now be without Casemiro for the next three matches.
The Jones gamble isn't paying off
It would be harsh to dub Nathan Jones a "gamble" due to his remarkable exploits over two stints in charge of Luton Town. Despite the club's modest budget, the intense coach took it from League Two to last season's Championship playoffs. Instead, Southampton represented Jones' gamble, and just like when he left Luton for Stoke City in 2019, it's not paying off. Southampton's defense has been creaky for years, so boosting that department's organization and confidence midway through a season was always going to be tough. Jones also kick-started Luton's rise by recruiting seasoned EFL players but on the south coast finds himself trying to survive with a hugely inexperienced squad. The Saints are bottom and have conceded 53 goals in their past 27 Premier League matches after the weekend's 3-0 slump at Brentford.
Stat of the day
Liverpool are at crisis point after yet another uninspiring performance.
Tweet of the day
Wolves responded quickly after Klopp said he didn't count the West Midlands club's third goal because "it was the first time they passed the halfway line in the second half."