theScore examines the most important developments and biggest talking points from Saturday's slate of action in England's top flight.
Arsenal show their mettle
Arsenal could have wilted. On the back of a dispiriting defeat to Manchester City less than 72 hours earlier, the Gunners were in danger of seeing their blip in form turn into a season-defining slump on Saturday. Winless in three matches and knocked off their perch atop the Premier League table for the first time in several months, Arsenal fell behind in just the fifth minute of the day's early match against Aston Villa.
Their response was telling.
Instead of shrinking, Mikel Arteta's team dug deep on multiple occasions to claim a dramatic 4-2 victory, twice coming from behind at Villa Park before snatching three crucial points with a pair of stoppage-time goals. There was some good fortune involved in the eventual match-winning tally in the 93rd minute – Jorginho's fierce shot smashed the crossbar before careening off Emiliano Martinez's head and back over the line – but, at this stage of a title race, the "how" of collecting points isn't important. Every team that has ever won anything of significance has benefitted from some luck along the way. Perhaps it's too simplistic, but, one way or another, these are the kinds of matches you have to win when chasing a title, by any means necessary.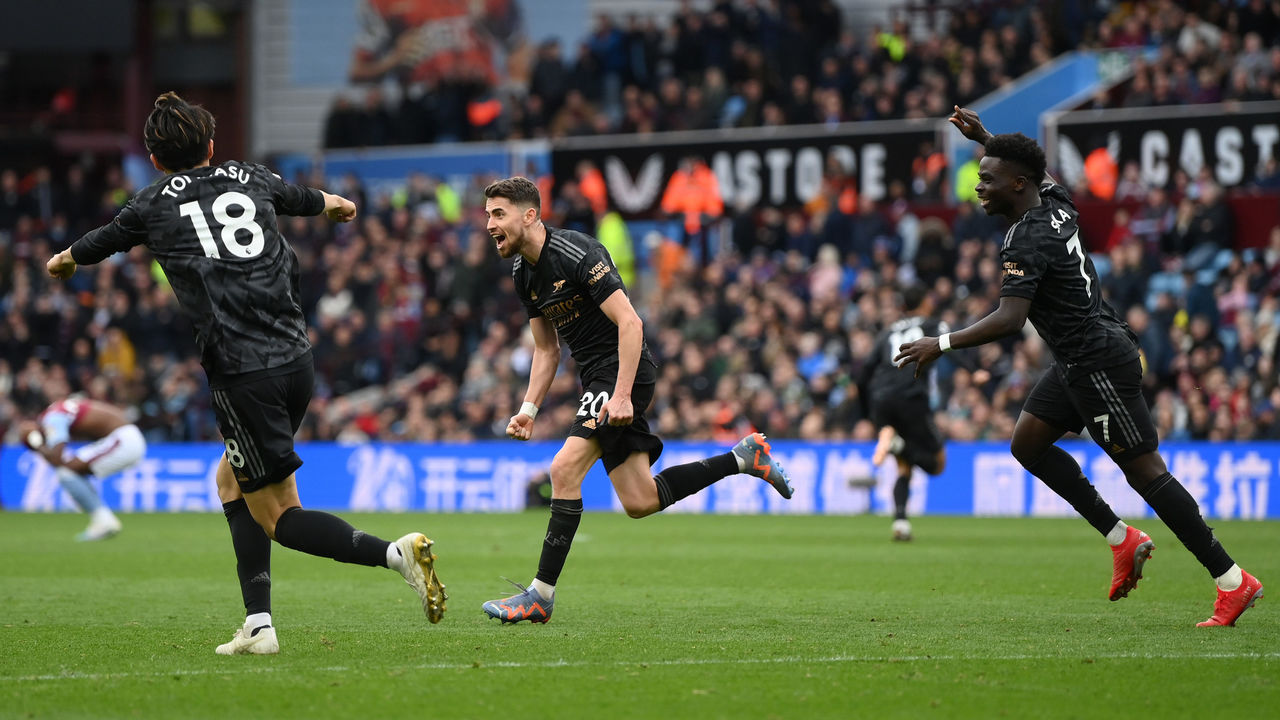 The bigger lesson from Saturday's thrilling contest was Arsenal showing their mettle. On limited rest, against their former manager, and out of rhythm for the first time all season, previous versions of this team would not have displayed the fortitude necessary to get the win.
"This group are such amazing people. They can achieve everything they want if we continue this way, if we keep fighting, keep believing," said Oleksandr Zinchenko, whose guttural roar after scoring a second-half equalizer served as a rallying cry for his teammates. "The reaction from all of us in the second half was perfect."
The resilience they showed became all the more consequential just hours later when Manchester City stumbled, giving Arsenal their place back at the top of the standings.
No more moral victories for Man City
Pep Guardiola thought Manchester City's performance in Saturday's 1-1 draw with Nottingham Forest was "brilliant." He had a point: City controlled 73% of possession, outshot Forest 22-4, and created enough quality chances to win by four or five goals. His players didn't perform badly at all. But they still dropped points in a game they should've won.
City have dropped points before and still won titles. Think of the times they lost to Crystal Palace at home and drew away to Southampton. But those instances were few and far between, anomalies that stuck out like blemishes on an otherwise clean record. The opposite is true this time around: City have dropped points from winning positions six times this season and 15 points away from home thus far. Last term, they conceded just 11 points on their travels.
Saturday's stalemate also came in stark contrast to the battling performance Arsenal showcased just hours earlier. The Gunners found a way to turn what seemed like a frustrating draw – and perhaps even a loss – into an inspiring win that veteran defender Zinchenko described as an important lesson in resilience.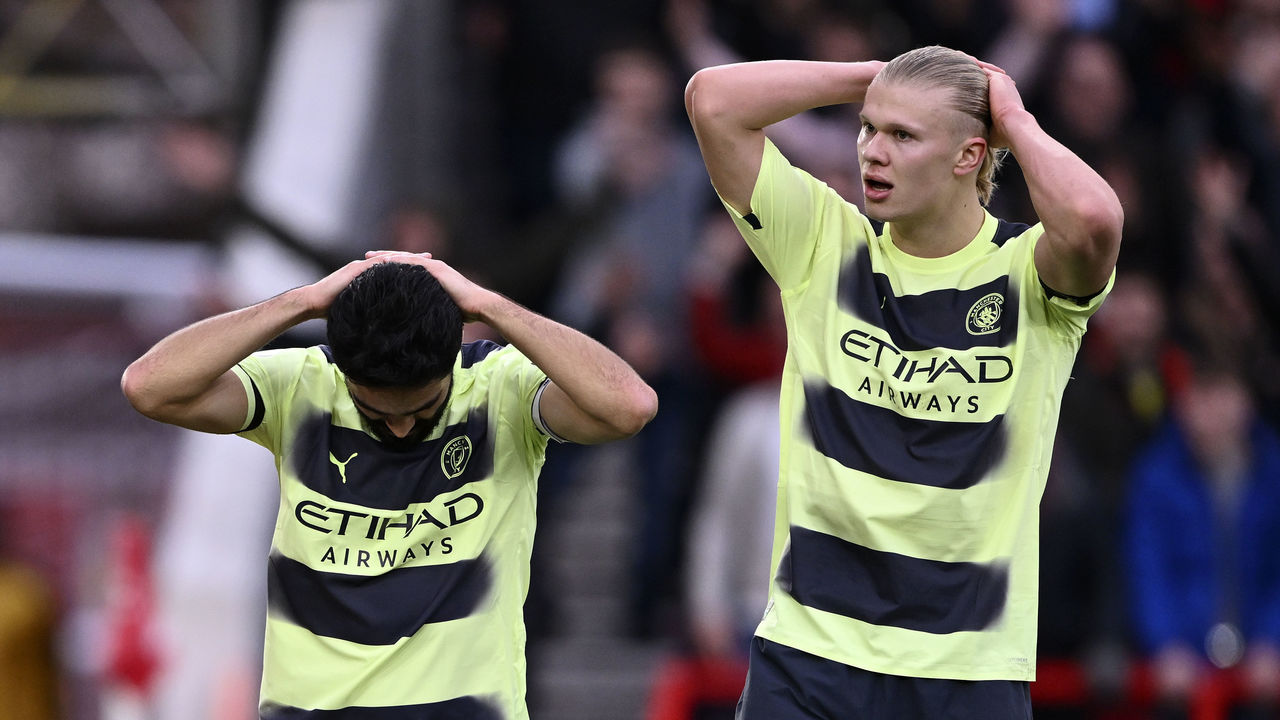 "Win in any context," Arsenal boss Mikel Arteta said afterward. "We've always talked about that. Today we had a really difficult context."
City, meanwhile, have struggled to impose themselves in contexts that should favor them. They monopolized possession against Manchester United – and lost. They outfired Brentford 29-10 – and lost. They controlled 65% of the ball against Tottenham Hotspur – and lost. They had every chance to beat Forest on Saturday, and Erling Haaland missed two clear-cut chances of his own. Still, City couldn't win.
These hiccups are becoming more and more frequent. They have interrupted progress. City's longest winning streak in the Premier League this season has been just three matches. That pales in comparison to the 12-match winning run that allowed them to match Liverpool stride for stride last season. Guardiola can take solace in the fact his team played well, but that may not be enough to win the title this time.
Pope's moment of madness
Nick Pope picked a terrible moment to make a baffling blunder – for multiple reasons.
The typically unflappable Newcastle United goalkeeper, an integral part of the club's outstanding campaign thus far, was sent off in the 22nd minute of Saturday's eventual 2-0 loss to Liverpool for a confounding handball incident. Pope raced well outside of his area to beat Mohamed Salah to a long ball, but, inexplicably, tried to stoop and head the ball away instead of using his feet. Panicking after botching the clearance, a scrambling Pope reached out and grabbed the ball to ensure Salah didn't have a free run at an open goal. The red card inevitably followed.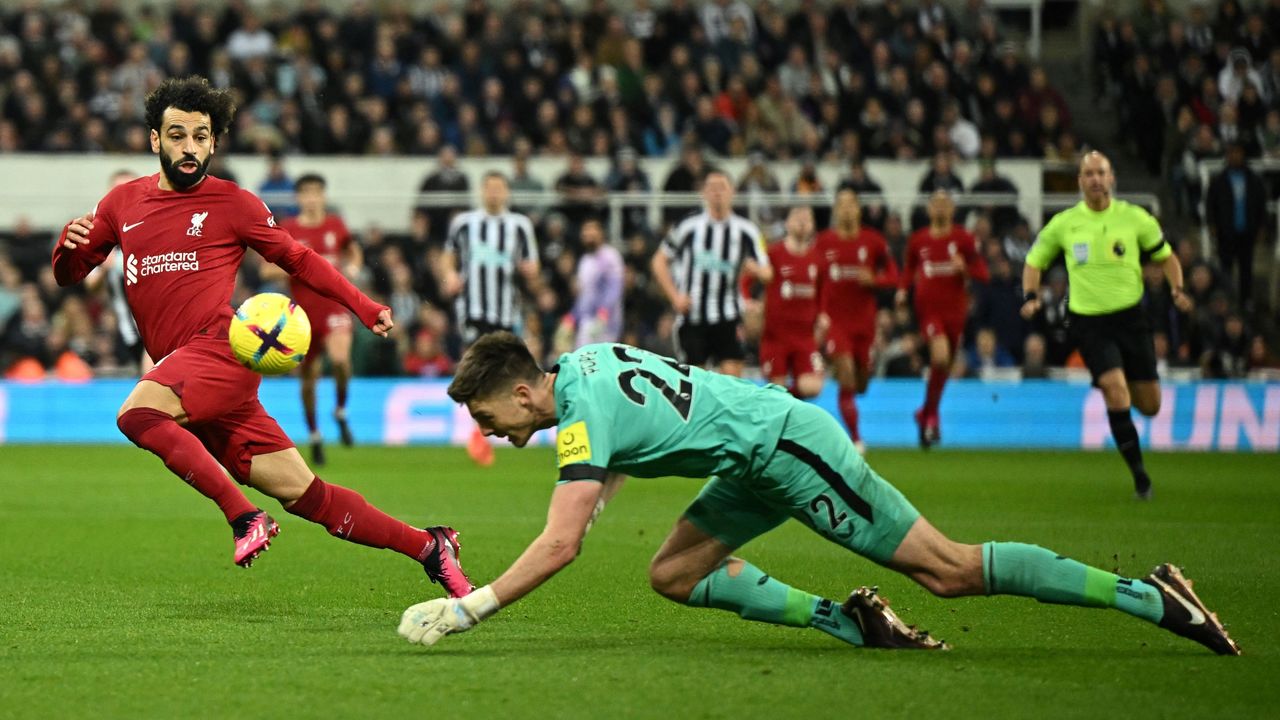 The timing couldn't have been worse. Pope will now be suspended for the League Cup final next weekend against Manchester United – bans for red cards in league play apply to the cup competition. Strike one. England manager Gareth Southgate was in attendance at St. James' Park amid growing calls for Pope to get an opportunity as the Three Lions' starting netminder. Strike two. And, with Newcastle trailing 2-0 at the time of the sending-off, Pope's lapse in judgment effectively torpedoed any hopes his team had of mounting a legitimate comeback attempt. Strike three.
Newcastle were riding a 17-match unbeaten streak in the league heading into Saturday's game. The last team to beat them? Liverpool in August. Eddie Howe's men, sans Pope, will have to dust themselves off quickly and regroup as they head to Wembley looking to claim their first major trophy since 1955.
Quick free-kicks
Liverpool finding their footing
Don't look now, but Liverpool are slowly creeping back into the Champions League race. Saturday's win over Newcastle has the Reds just six points behind the fourth-placed Magpies. Jurgen Klopp's team has a match in hand, too. Even playing against 10 men, the victory wasn't entirely straightforward, as Newcastle created multiple scoring opportunities; Alisson, and the woodwork, kept the home side off the board at St. James' Park. The defensive cracks are still there for Liverpool. But things are trending in the right direction at the other end of the pitch. Darwin Nunez and Cody Gakpo both scored, the latter finding the net for a second consecutive game. Roberto Firmino and Diogo Jota are back. Luis Diaz is training as he nears a return from an injury of his own. Salah looks like the sharp, menacing version of himself that everyone expects. Liverpool, somehow, are right in the hunt for a top-four spot. With enormous matches coming up in the next few weeks – on multiple fronts – this mini resurgence couldn't come at a better time.
Manor Solomon finally feels at home
Fulham have had a number of players step up during their first season back in the Premier League. Tim Ream, once the butt of jokes among fans of the United States men's national team, has been a rock at the back. Willian, the 34-year-old Brazilian who had to terminate contracts with his previous two clubs, has rediscovered his footing. Finally, there is Manor Solomon, who scored for a second match running Saturday at Brighton & Hove Albion to secure another win on Fulham's unexpected quest for European qualification. Solomon's journey has been long and winding – the winger, on loan from Shakhtar Donetsk, suffered a serious knee injury after fleeing the war in Ukraine last year – but is now reaching what he considers its final destination. Solomon's last-gasp winner on Saturday was a blessing, especially with the club's primary scorer, Aleksandar Mitrovic, out injured and unavailable to perform his usual heroics.
Emi Martinez goes rogue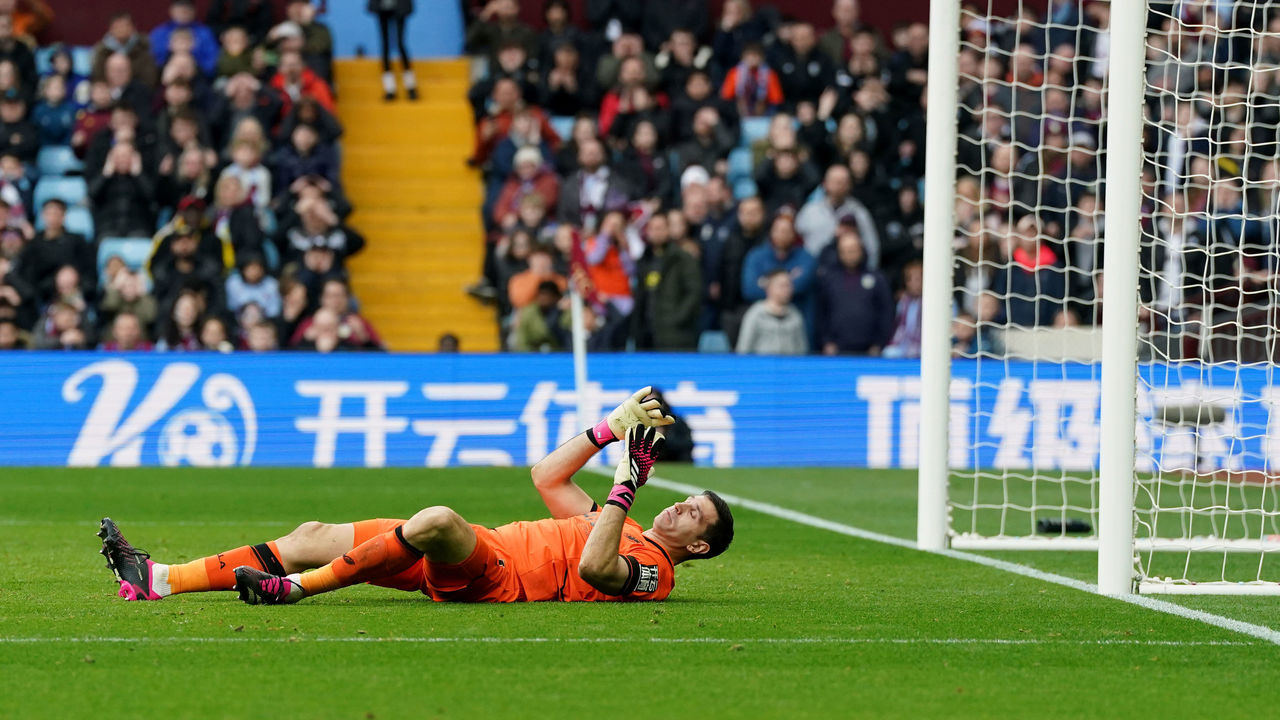 It's not that often that a manager reams out one of his players in public, but that's precisely what Unai Emery did after Aston Villa's loss to Arsenal. The Spanish manager was enraged by Martinez's decision to go forward for a last-minute corner while trailing 3-2 deep into stoppage time. The Gunners cleared the corner kick, and Gabriel Martinelli walked the ball into a gaping net at the other end while Martinez was helplessly running back to his vacated area. Emery made it abundantly clear that he wasn't pleased with the series of events.
"I am embarrassed about the last goal. I have never told my 'keeper to go forward. It's not the spirit," Emery said. "We have to keep our mind clear and be smart. Today he decided it was his decision. He knows now." Martinez has always been a maverick. The antics, which can sometimes cross the line, are part of the deal. Emery and the Argentine shot-stopper will need to find some common ground as they work together going forward.
Leeds don't have a plan for survival
Leeds United are decaying from within. It's a slow and painful process that majority owner Andrea Radrizzani, CEO Angus Kinnear, and sporting director Victor Orta have found no way of stopping. Sacking American head coach Jesse Marsch after signing several U.S.-based players on his recommendation has had a largely negative effect. Fans are now turning their anger toward Radrizzani, whose usually active Twitter account has suddenly fallen quiet now that Leeds are seemingly relegation-bound.
Saturday's 1-0 loss to relegation rivals Everton was absolutely dire, devoid of any of the battling spirit required to stop the rot. No manager seems interested in taking the job, and the man leading the way in the interim, Michael Skubala, seems out of his comfort zone. Leeds don't even have a somewhat reliable striker to bail them out of trouble every now and then. The halcyon days of Marcelo Bielsa, whom Radrizzani unceremoniously sacked last season, seem so far away now.
Stat of the day
How much longer will David Beckham's free-kick record stand?
Tweet of the day
White smoke for Loris Karius after Pope's red card.