The Champions League quarterfinals got underway this week. Below, we dissect the biggest talking points from Tuesday's action in Europe's premier club competition.
Tuchel didn't lose this one, his team did
Thomas Tuchel's main frustration with Bayern Munich's 3-0 defeat at Manchester City will stem from the fact that such a scoreline was avoidable. The hosts found it hard to pass it out of the back in the first half while Rodri and John Stones were habitually crowded out by red shirts – usually Leroy Sane and Jamal Musiala – and Erling Haaland wasn't given many opportunities to run at goal and grapple with defenders.
There was little fault with Bayern's shape and their organization – but there wasn't anything Tuchel could do about the brief positional lapses and defensive jitters that resulted in the Bavarians' disintegration at the Etihad Stadium.
Tuchel was furious when Rodri opened the scoring in resplendent fashion. From a City perspective, the Spaniard's first Champions League goal required evasive footwork and a superb strike (with his weaker foot) to send the ball curling out of Yann Sommer's reach. However, Tuchel was furious on the touchline after it went in, presumably directing his ire at Musiala for his tardy attempt to plug the area in front of the back four and ineffectual challenge on Rodri. Musiala was admittedly given a lengthy job list in Manchester – but it was one he should've conquered. He's already set himself those high standards in his young career.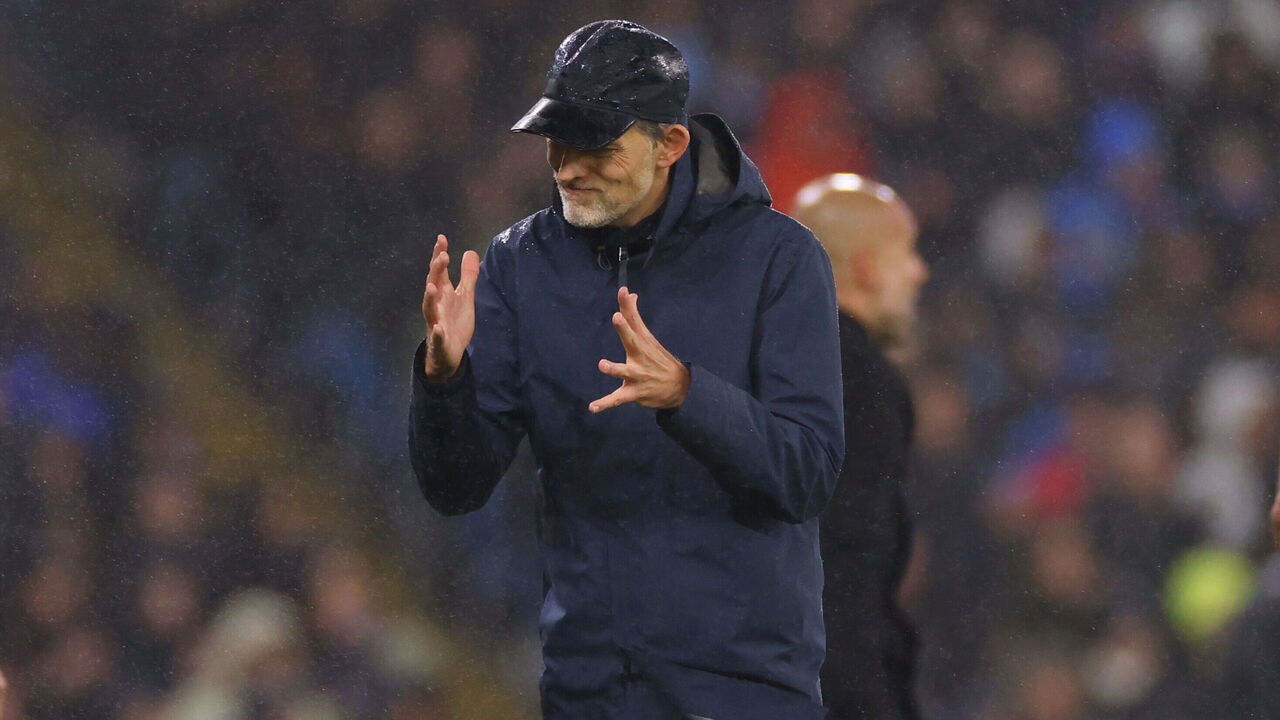 Bayern weren't out of the game, though, and could've taken the lead soon after halftime. Ederson was forced to save three Sane shots within the first eight minutes of the second period, Nathan Ake blocked a Matthijs de Ligt header, and Benjamin Pavard's deflected shot looped onto the roof of the net.
But, for no clear reason, the visitors' composure was fraying deeper in the lineup. Miscommunication between Dayot Upamecano and goalkeeper Sommer triggered a calamitous chain of events that eventually ended with Joshua Kimmich heroically blocking a Haaland shot.
City's second goal unsurprisingly followed another Bayern gaffe. Upamecano received the ball under no pressure but seemed to try to dribble it around Grealish before the City winger was anywhere near him. It was too easy. Grealish swiped the ball, backheeled it through for Haaland's overlapping run, and Bernardo Silva met the Norwegian's subsequent cross with an emphatic header.
Now, it was officially a capitulation. Haaland was left completely unmarked for his goal, and as the match neared 90 minutes, the extent of some of the Bayern players' panic was summed up by, of course, Upamecano. The center-back, who has seldom looked convincing since he moved to Bayern from RB Leipzig for around €42.5 million in 2021, vaguely hit the ball toward Sommer, sending it rolling across Bayern's goal and out of play for a City corner.
It wasn't the kind of performance you'd usually associate with Bayern Munich. But it was exactly the display that City have been offering in recent weeks: professional, clinical, and with an ability to quickly move through the gears.
Bayern were poor but make no mistake: Manchester City were excellent.
Dias leads solid City backline
Few would've predicted Guardiola settling on a quartet of center-backs this season.
The goals have flowed during City's run of nine consecutive victories across all competitions, but they've only conceded three goals over that span. It seems Guardiola has accepted his squad's shortcomings at left-back – both in numbers and quality – and the difficulties in achieving balance when fielding one full-back in the lineup on the right, so he's stripped them away altogether. Ake goes forward but his primary focus is on his defensive responsibilities. Manuel Akanji moved inside from right-back against Bayern, letting center-back Stones step up into midfield. There's no full-back streaming ahead with little thought to what's going on behind him, like Joao Cancelo before he moved on loan from City to the German champions.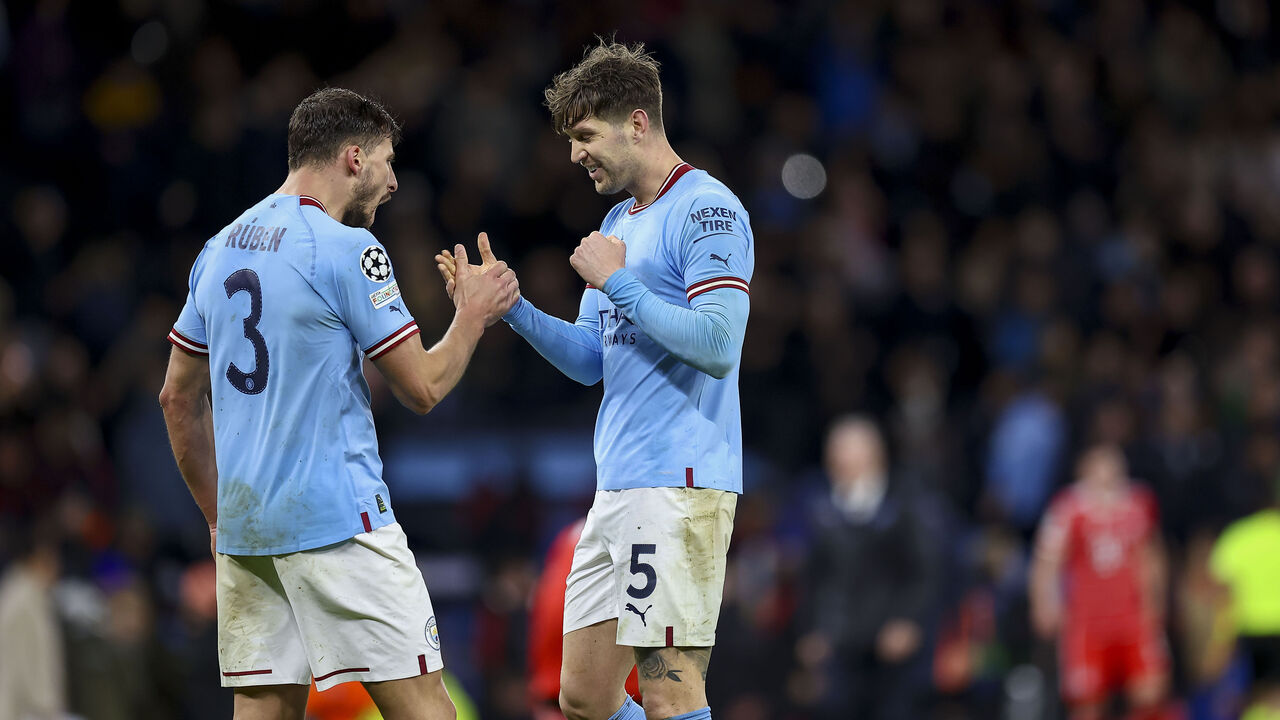 The fresh approach has given City a solidity and some sleeves-up drudgery, while also allowing the team to regularly string five players along the attack.
Dias was his side's standout player in Beswick. He timed his tackles and blocks to perfection, most notably spreading his legs to deny a Musiala shot and whipping the ball off Sane's toes shortly before Rodri's opener. But in truth, Dias, Ake, and Akanji all excellently kept Bayern at bay.
| Player | Tackles | Interceptions | Clearances | Blocked shots |
| --- | --- | --- | --- | --- |
| Nathan Ake | 3 | 1 | 6 | 1 |
| Ruben Dias | 3 | 0 | 3 | 3 |
| Manuel Akanji | 7 | 3 | 1 | 0 |
"The key for me today was the defensive side, it was great, and we understood how to punish them," Rodri told BT Sport post-match, according to BBC Sport.
Inter's cautious approach works in Europe
The Champions League is all about results. It's not a popularity contest, or else Inter Milan wouldn't be in such a great position to reach the semifinals.
No one would rate Inter as a particularly attractive team to watch, and yet here they are, up 2-0 on aggregate after a professional performance away to Benfica on Tuesday in the first leg of their quarterfinal. As they've been all season in the Champions League, Inter were solid at the back, dangerous on the counterattack, and clinical enough to get the goals they needed to win. They didn't play much better than Benfica – one could argue the Portuguese side was better with the ball – but they managed to get the most important details right.
While Benfica controlled possession and waited a virtual eternity to slip in each and every final pass, Inter struck swiftly. Alessandro Bastoni emerged from central defense to curl in an accurate cross that Nicolo Barella headed into the far post. Then, substitute Romelu Lukaku dispatched a penalty kick to seal the victory. Benfica did all the huffing and puffing, but Inter were the ones who actually blew the door down.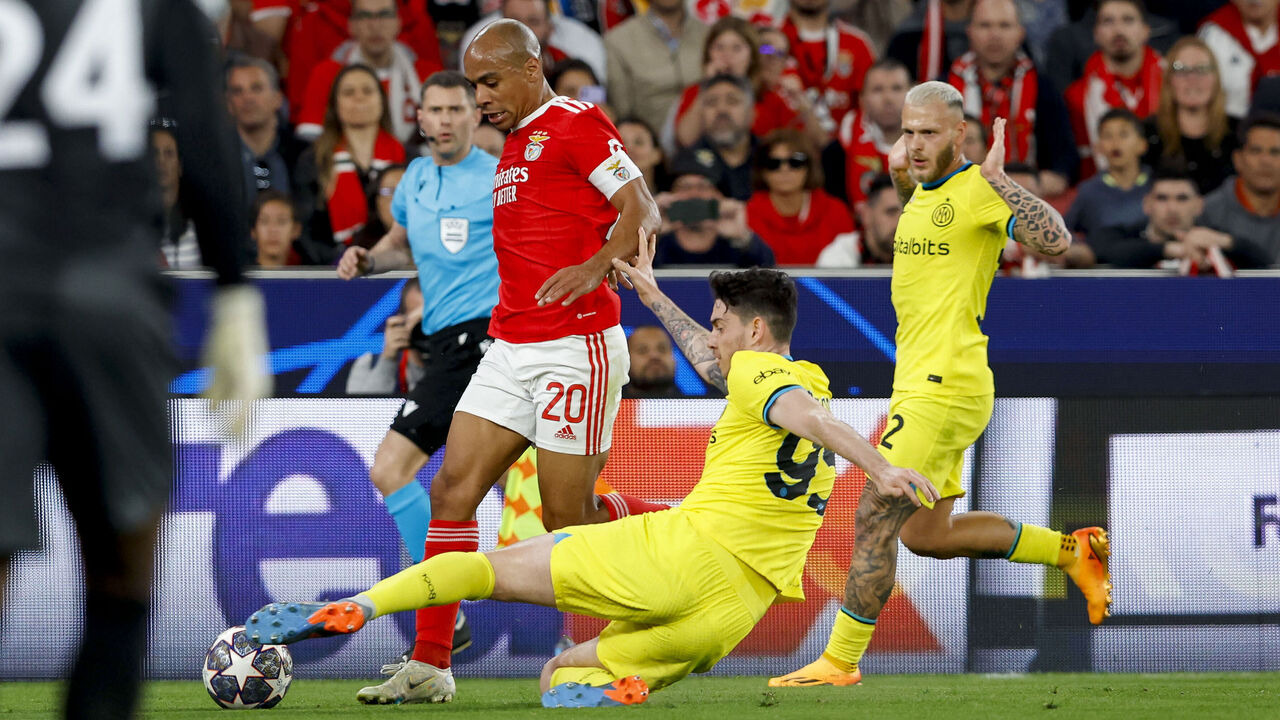 In the end, Benfica's slick passing moves counted for nothing. They outshot Inter 12-9 but managed just two on target. With Matteo Darmian and Bastoni covering so much ground as the most mobile defenders in Inter's back three, the Nerazzurri boxed out the hosts on most occasions, forcing them to take pot shots from distance. The majority of Benfica's chances came on the edges of the penalty area, and the one time they penetrated Inter's force field, deep into second-half stoppage time, Andre Onana was there to make the save.
Now the Italian outfit has an incredible advantage ahead of next week's second leg in Milan – and it hasn't even had to play that well to get there. Tuesday's win was just its second on the road in the Champions League, and it had scored the fewest goals of any team heading into the quarterfinals.
They've also had luck on their side. The penalty Inter won was tenuous at best – Denzel Dumfries' cross appeared to hit Benfica's Joao Mario in the head before striking him in the arm – and Goncalo Ramos was seemingly denied a spot-kick of his own when Bastoni slid into his backside. But every team that goes on a run in Europe has some kind of helping hand.
They've also earned it. One doesn't record three clean sheets in a row in the Champions League without doing something right.
Stat of the day
Haaland set foot on a football pitch today, so, naturally, he set another scoring record.
Tweet of the day
How rough has Liverpool's season been? They weren't even playing on Tuesday and they were still the butt of jokes.