Over the last 12 unprecedented months, soccer leagues across the globe shut down, opened back up, and played on despite numerous health and logistical challenges. The sport never looked – or sounded – so different. But it wasn't only the coronavirus pandemic that made headlines in the world of soccer. Here, theScore chronicles the year's five biggest soccer stories. Part 1 of this series – running through stories 10-6 – can be found here.
5. Players take knee to combat racism
When the Premier League resumed play in June, bringing an end to a 100-day hiatus, players and staff had something other than the pandemic on their minds. Teams decided to take a knee to show solidarity with the Black Lives Matter movement, which gained steam after the police killing of George Floyd, an unarmed Black man. Protests erupted across the United States, and after a number of Bundesliga players, including English winger Jadon Sancho, made anti-racism statements, the Premier League followed suit with demonstrations at its venues. Players wore "Black Lives Matter" on the back of their shirts and kneeled in silence before kickoff.
The campaign, which carried into the 2020-21 season, had its critics, and some believed it was too political. Queens Park Rangers director of football Les Ferdinand said the gesture had become little more than a public relations stunt, claiming the movement was "diluted." QPR players stopped taking a knee as a result.
"The message has been lost," Ferdinand, the only Black director in English soccer, said. "It is now not dissimilar to a fancy hashtag or a nice pin badge. What are our plans with this? Will people be happy for players to take the knee for the next 10 years but see no actual progress made? Taking the knee will not bring about change in the game. Actions will."
Later, fans of second-tier side Millwall booed players who took a knee before a match in early December. The incident overshadowed what was supposed to be a triumphant return of fans to stadiums across England. The Football Association condemned the display and offered its support to all players and staff that "wish to take a stand against discrimination in a respectful manner, which includes the taking of the knee."
4. Liverpool end 30-year title drought
Liverpool needed just six points to clinch the Premier League title when play was suspended in March. Nothing, it appeared, could stop them. But as the coronavirus pandemic worsened, West Ham vice chairman Karren Brady called for the season to be rendered null and void, sparking a huge debate over the integrity of the 2019-20 campaign and providing an opportunity to deny Liverpool at the final hurdle.
However, the Reds cut out the white noise when they returned to the pitch in June. And when Chelsea beat second-place Manchester City toward the end of the month, Liverpool officially became champions of England, ending a title drought that had lasted three long decades.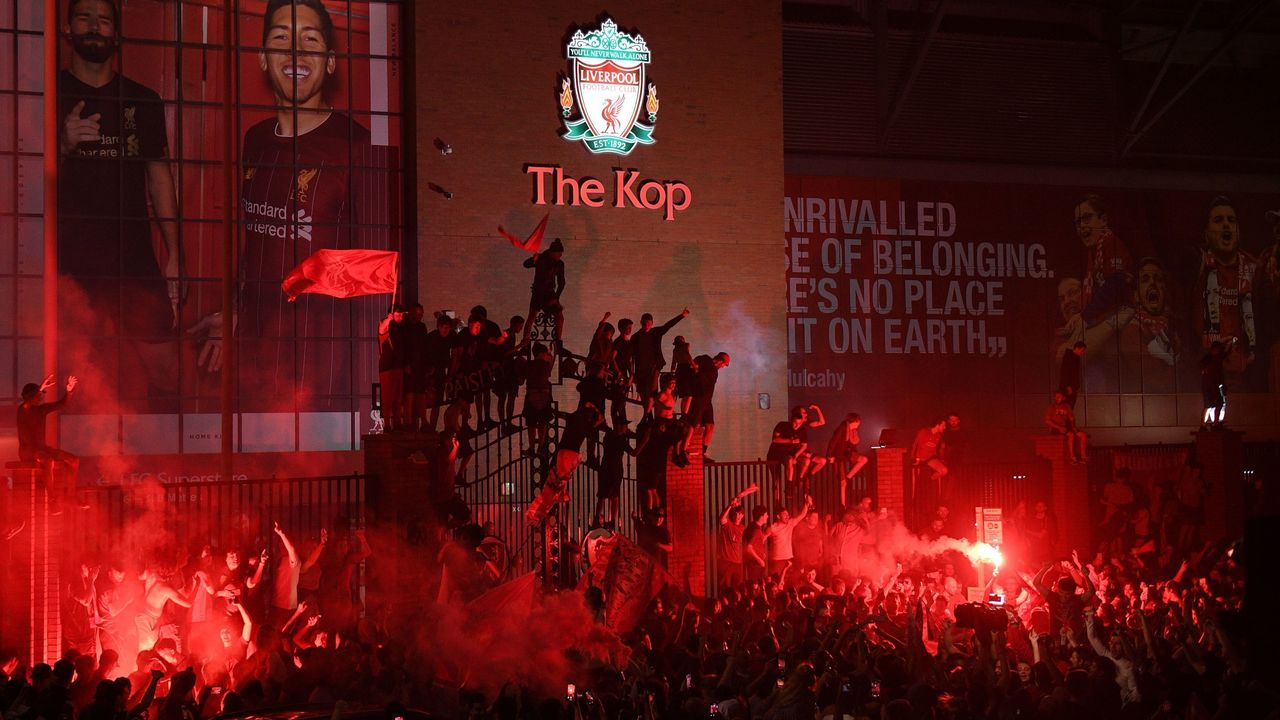 Jurgen Klopp's side ultimately captured the title with seven games remaining.
Despite coronavirus restrictions and calls to celebrate privately, fans showed up in droves outside Anfield and around the city centre, lighting flares and waving flags in large groups. Police issued a dispersal order as thousands of people flooded the streets, and emergency services had to respond to a fire that broke out on a prominent balcony. A victory parade was put on hold until a later date.
3. Messi tries to leave Barcelona
Shortly after Barcelona's humiliating 8-2 thrashing at the hands of Bayern Munich, Lionel Messi informed the club's executives via burofax he was terminating his contract. Messi admitted afterward he was frustrated by Barcelona's lack of direction and fed up with president Josep Maria Bartomeu in particular.
Messi's camp argued that a termination clause in the Argentine's contract, which had been due to expire in the summer, was still valid because the season was delayed by the pandemic. His father, Jorge Messi, pleaded for Barcelona to release his son, but to no avail. Bartomeu refused the request and said any team interested in signing Messi would have to pay his €700-million release clause. Unwilling to take the matter to court and leave the club he joined as a 13-year-old in a blaze of fire, Messi agreed, albeit reluctantly, to stay.
"I would never go to war against the club of my life," Messi said.
Amid talk of a potential divorce, Manchester City and Paris Saint-Germain emerged as the favorites to sign Messi. Neither side made an official bid.
Bartomeu eventually resigned as a result of the fiasco. Messi said he had told Bartomeu all year he wanted to leave. Fans called for the club to remove the president and hold elections early. An election will now take place in January.
Messi could still leave Barcelona next summer. His contract expires on June 30, and he's allowed to speak with any interested club from January on. The story may not be over just yet.
2. Maradona dies of heart attack
The death of Diego Maradona, one of the greatest soccer players of all time, made international headlines. Argentina observed three days of national mourning, and athletes from various sports paid tribute to a man who, while flawed, inspired millions of people with his masterful dribbling ability and colorful personality. After captaining Argentina's national team to World Cup glory in 1986 and leading Napoli to multiple titles in Italy's Serie A, Maradona struggled with cocaine and obesity, and his health deteriorated.
Though his career was cut short due to weight and drug problems, Maradona became an idol to his people, not just for his match-winning performances but for his improbable rise from the poor outskirts of Argentina to the pinnacle of world soccer.
His infamous goal against England in the 1986 World Cup – scored with, as he called it, the "Hand of God" – was everything that people liked and hated about him. He was supremely talented, capable of arcing beautiful free-kicks and gliding past multiple defenders at a time. He paid the price for his brilliance on the pitch, suffering nasty fouls that left his back in devastating pain.
After his death at the age of 60, Maradona's coffin lay in state as tens of thousands gathered in Buenos Aires to pay their respects. Police later raided the office of Maradona's doctor as part of an investigation into possible manslaughter. Dr. Leopoldo Luque insisted he gave Maradona the best possible care and said he cooperated with the authorities.
1. Leagues shut down due to COVID-19
At the start of March, soccer in Italy, Spain, France, the Netherlands, Portugal, and the U.S. had suddenly ground to a halt. The Premier League, widely regarded as the sport's most popular division, persisted until March 12 before Arsenal manager Mikel Arteta tested positive for COVID-19, forcing his entire team into quarantine. A day later, the Premier League shut down entirely. Play didn't resume until June.
By then, soccer had changed. Clubs faced bankruptcy. Leagues forfeited huge sums of money from broadcasters. Euro 2020 was postponed by a year, a decision taken at a "huge cost" to UEFA. In France and the Netherlands, the Ligue 1 and Eredivisie seasons ended prematurely, and later, a lucrative TV deal worth billions of euros collapsed, threatening the health of France's top teams. Without fans in attendance, teams lost out on matchday revenue, plunging the lower tiers into crisis.
But the show went on. In May, the Bundesliga became the first of Europe's top leagues to restart, and in August, the Champions League concluded over two whirlwind weeks in Portugal. Soccer around the world slowly resumed, and for a brief period, fans were allowed to attend matches.
Doctors later discovered that two fixtures in particular had accelerated the spread of COVID-19 in Europe. One expert described Atalanta's match against Valencia as a "biological bomb," claiming it set off a wave of cases in Italy. Another study linked 41 coronavirus-related deaths to Liverpool's Champions League clash against Atletico in March.