Countless controversies litter soccer's diverse history, which makes sense within a global sport that sees climactic outcomes decided by microscopic margins. While conceding that an abundance of worthy incidents didn't make the cut, here's a look at the 15 most controversial moments in soccer history.
15. Tempers flare at Stamford Bridge (2009)
With each dubious call in favor of the visitors by referee Tom Henning Ovrebo during the 2009 Champions League semifinal second-leg contest between Chelsea and Barcelona, Stamford Bridge seethed a little more. So too did the players. Andres Iniesta's injury-time goal dashed Chelsea hopes – and overshadowed Michael Essien's ethereal strike – but not before Ovrebo denied the Blues another penalty claim in the dying seconds. An irate Didier Drogba was restrained and later banned, while Ovrebo, who required a police escort to leave, admitted "It was not my best day, really."
14. Suarez's forbidden feats (2010, 2014)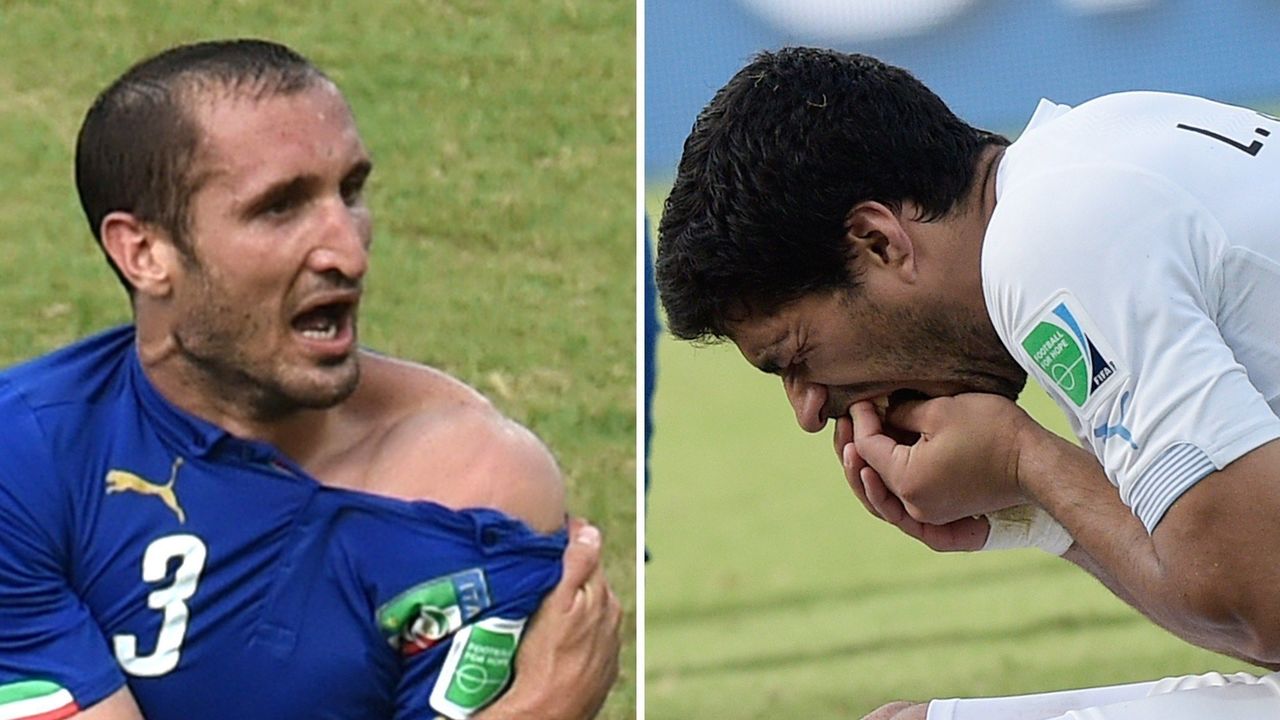 A mischief-maker of the highest degree with a knack for diving and stamping, Uruguay striker Luis Suarez denied Ghana a last-minute match-winner in the quarterfinals of the 2010 World Cup with a handball. Suarez called it the "save of the tournament," Asamoah Gyan missed the ensuing spot-kick, and Uruguay advanced on penalties. Then, at the 2014 tourney in Brazil, Suarez bit Italy's Giorgio Chiellini on the shoulder and promptly received a four-month ban. It was the third time Suarez had been punished for snacking on an opponent. His inclusion on this list is a lifetime achievement award of sorts.
13. Ronaldo's World Cup sickness scare (1998)
It can't be undersold just how big Ronaldo's cachet was at the 1998 World Cup. On the heels of a 34-goal term with Inter, he bagged four more in guiding Brazil to the final against host France. Ronaldo then suffered a convulsive fit in the buildup that required neurological and cardiac tests, was left off the team sheet 72 minutes before the match, and yet was somehow named to the starting XI just a half-hour later amid rumors of division in Mario Zagallo's camp. There are an untold number of versions of the story that only enhance the mythology, but in the end, Ronaldo was below par, Zinedine Zidane was not, and France won.
12. Lampard's ghost goal (2010)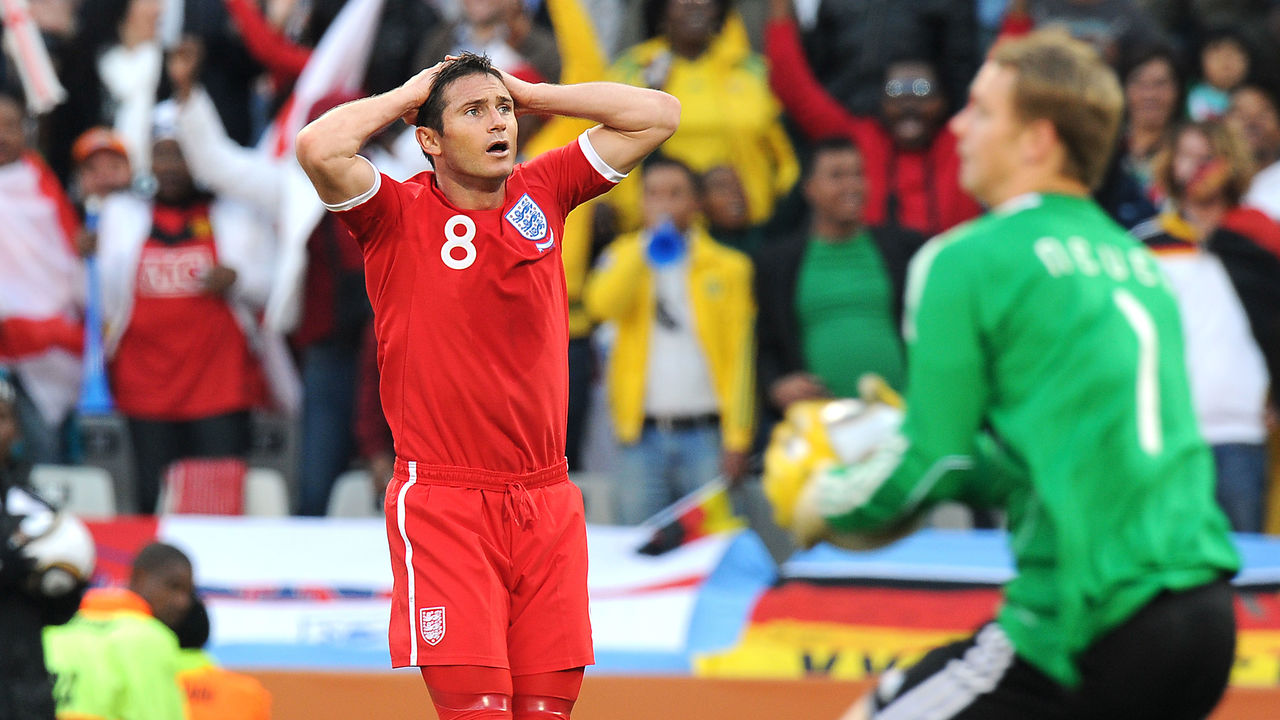 Goal-line technology exists in large part because of Frank Lampard. Not because of the former England man, per se, but rather due to his ghost goal versus Germany at the last-16 stage of the 2010 World Cup. In the end, the Three Lions weren't slain by the Uruguayan officiating crew, but by the gulf in talent between the two sides that allowed Thomas Muller's countless fertile forays on the counter in a commanding 4-1 German victory. "It changed the game for the better," Lampard would amiably say after goal-line technology was approved by the International Football Association Board (IFAB) in 2012.
11. Hurst's dubious World Cup winner (1966)
One generation had Lampard; the other had Geoff Hurst's equivocal second goal for England against West Germany in the 1966 final at Wembley. With the score knotted 2-2 in extra time, Hurst spun swiftly and fired an authoritative shot that struck the underside of the crossbar and bounced down toward the goal line. Referee Gottfried Dienst consulted his lineman before awarding the goal and Hurst would complete his hat-trick late as England won its solitary World Cup. It all happened in a flash, years before unambiguous video replay became the barometer.
10. Maradona's failed drug test (1994)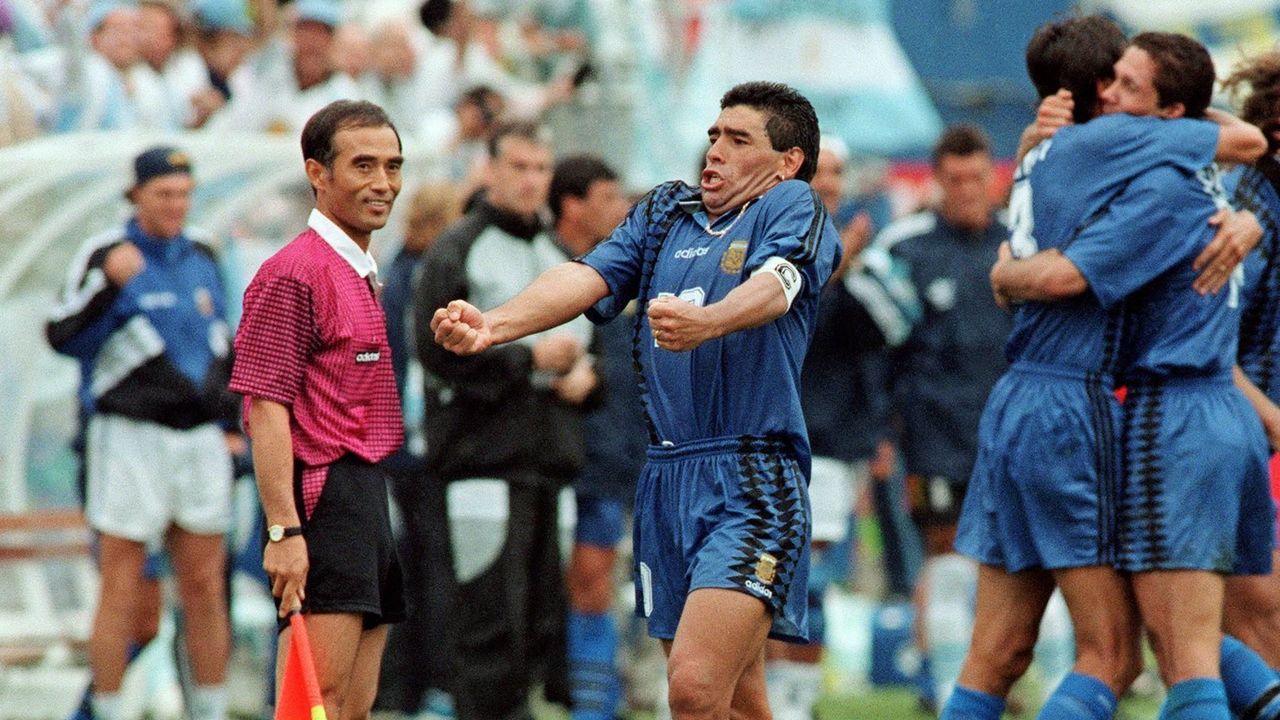 Diego Maradona's fourth and final World Cup in 1994 ended following two group-stage tilts against Greece and Nigeria when the Argentine icon tested positive for the stimulant ephedrine. It was the latest twist in a celebrated and conflicted career that last saw the diminutive world-beater banned 15 months for cocaine in March 1991. In one fell swoop, Argentina's tournament hopes were fundamentally crippled, with Maradona's final goal and indelible celebration versus Greece marking the end of a fabled international tenancy for the troubled star.
9. The 'Disgrace of Gijon' (1982)
West Germany and Austria headed into the final match of first-round group play at the 1982 World Cup in Spain knowing a West Germany win by one or two goals would seal progression for both European sides at the expense of Algeria, who'd played the previous day. A furious opening 10-minute spell from the West Germans saw Horst Hrubesch score before both sides appeared to ease off in concert. Despite widespread indignation that prompted match-fixing claims, FIFA said there was no wrongdoing. Soon after, the rule book was altered so that group-stage finales would be held simultaneously.
8. South Korea's shady semis run (2002)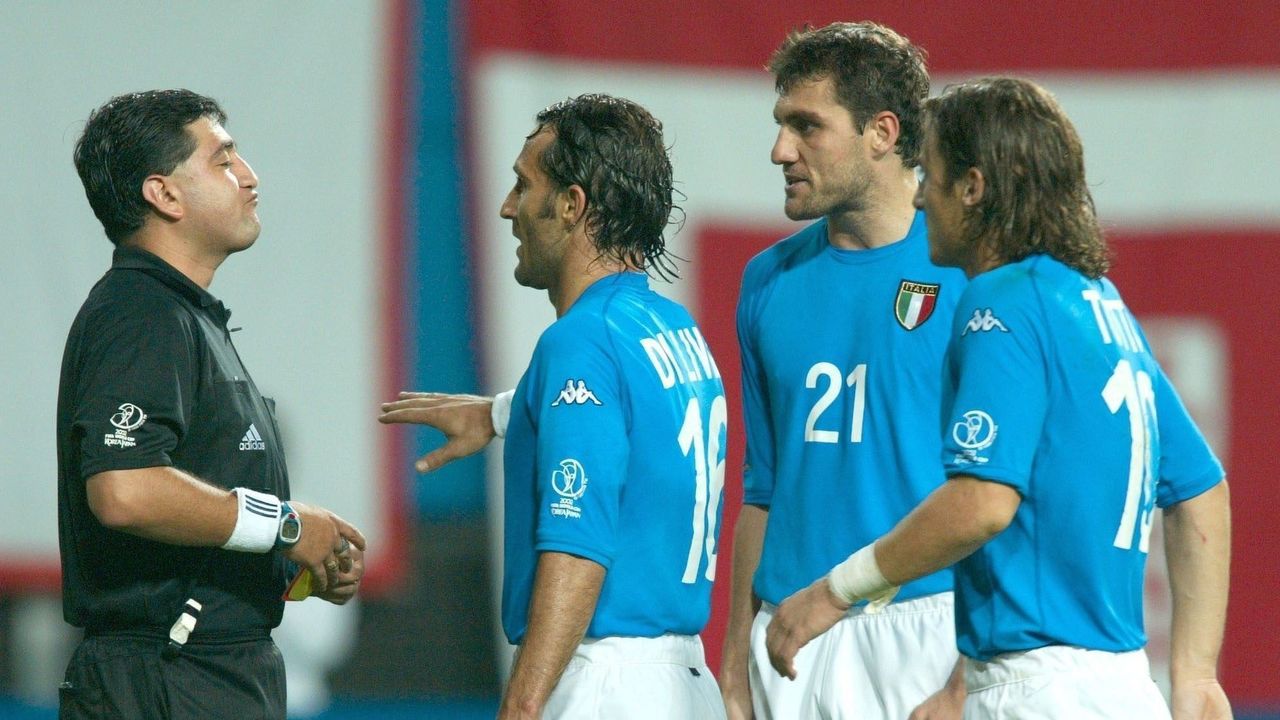 Co-host South Korea's shock semifinal run at the 2002 World Cup was a fanciful voyage marred by heinous refereeing. First, it was Byron Moreno of Ecuador who disallowed an Italian goal and sent off Francesco Totti to ensure South Korea's safe passage to the quarterfinals. In South Korea's next match against Spain, Egyptian ref Gamal Al-Ghandour waved off two La Roja tallies that had somehow escaped the gaze of an ornery linesman. South Korea got bounced in the following round by Germany, and convicted heroin smuggler Moreno and Al-Ghandour both retired shortly after amid match-fixing claims.
7. Terry-Bridge fiasco (2011)
A British media empire fueled by scandal combusted in late 2009 when Chelsea and England captain John Terry allegedly slept with former club and country teammate Wayne Bridge's ex, Vanessa Perroncel. Court documents denied the dalliance, but the defamation was no less inflammatory. Terry lost the England captaincy and his reputation as one of sport's most repellent characters was cemented, Bridge quit an "untenable and potentially divisive" international career, and Perroncel, the mother of Bridge's son, was ridiculed. Finally, there was the memorable non-handshake.
6. Calciopoli scandal (2006)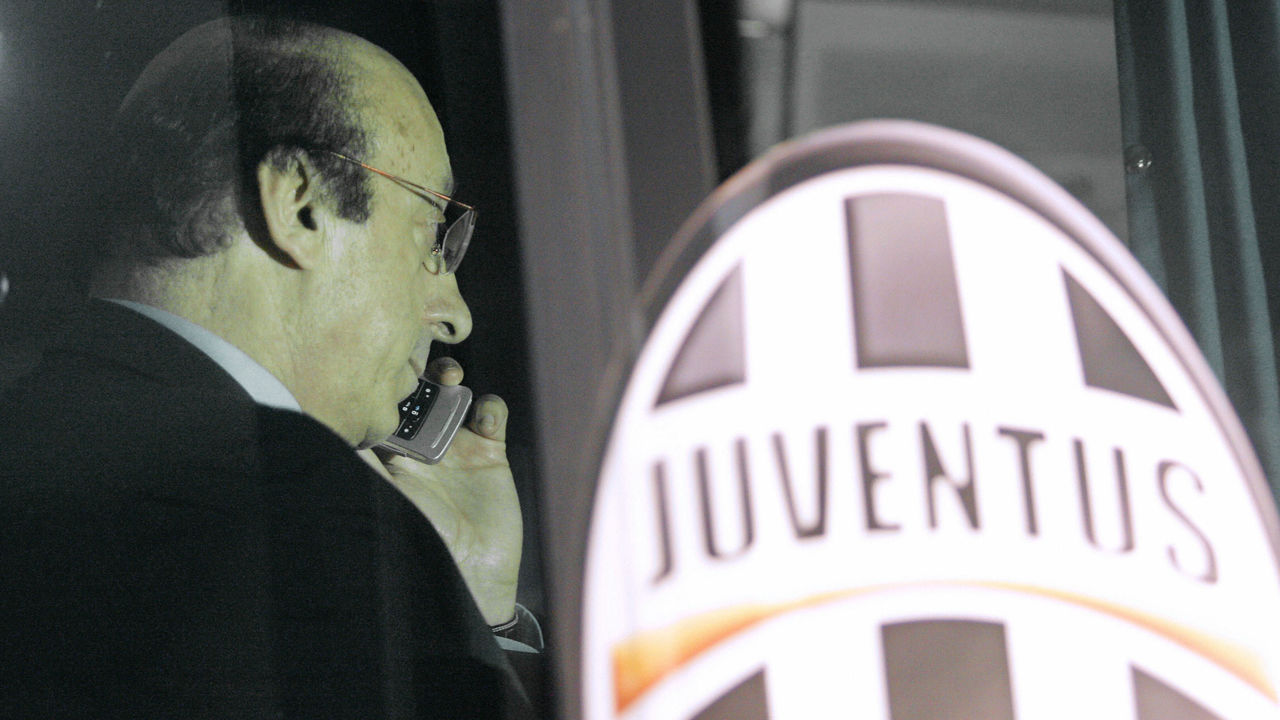 Serie A sides Juventus, AC Milan, Fiorentina, Lazio, and others were implicated in the Calciopoli scandal that was uncovered in May 2006 and shook Italian football to its core. It came to light following investigations into Italian football agency GEA World over doping claims that unearthed conversations between referee designators and top Serie A executives. Juventus sporting director Luciano Moggi had orchestrated favorable referee appointments, and the club was stripped of the 2004-05 title, downgraded to last place for the following campaign, and relegated to Serie B.
5. Qatar named World Cup host (2010)
Ethical ne'er-do-well FIFA added to a famed reputation for jobbery in selecting Qatar to host the 2022 World Cup. A nonexistent soccer history, an arid local climate, startling costs, and Qatar's blighted human-rights record were among the abundance of concerns raised after the Middle Eastern nation's bid was awarded in 2010 amid widespread allegations of bribery. Additionally, the systematic abuse of migrant laborers building the infrastructure has been deemed "serious exploitation" by Amnesty International; 34 stadium workers have died in the six years since construction began.
4. Henry's handball vs. Ireland (2009)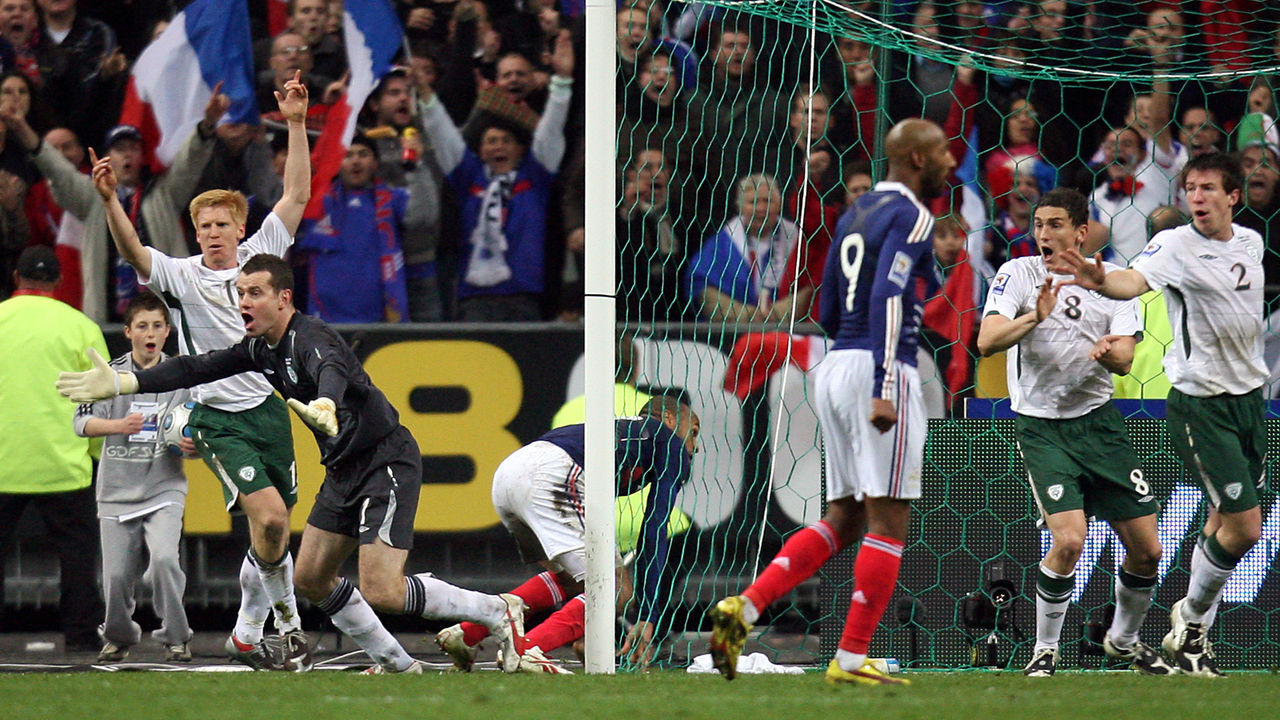 Even with a retrospective admission of guilt, Thierry Henry was labeled a cheat for handling the ball on William Gallas' extra-time playoff match-winner that booked France a spot at the 2010 World Cup while cruelly crushing Ireland's hopes. The Irish government's and the Football Association of Ireland's petitions for a replay or passageway into the quadrennial showcase as an unprecedented 33rd team were denied, and the FIFA Executive Committee held an emergency meeting to explore the inclusion of technology for scrutinizing such incidents. Now we have VAR, which is not without its faults.
3. Zidane's headbutt (2006)
Perhaps it's fitting that Zidane's sparse noggin was lowered into Marco Materazzi's chest with the panache that typified a celebrated tenure rife with virtuoso performances. It was entirely unexpected, but when Zidane headbutted the shit-talking Italy defender with the 2006 World Cup final deadlocked at 1-1 in extra time, he already knew it would be his final match. As the incomparable talent marched off the pitch and past the trophy, the curtains drew on an exceptional career capped by a shocking final act and accompanied by the call, "He leaves football in disgrace."
2. Maradona's 'Hand of God' (1986)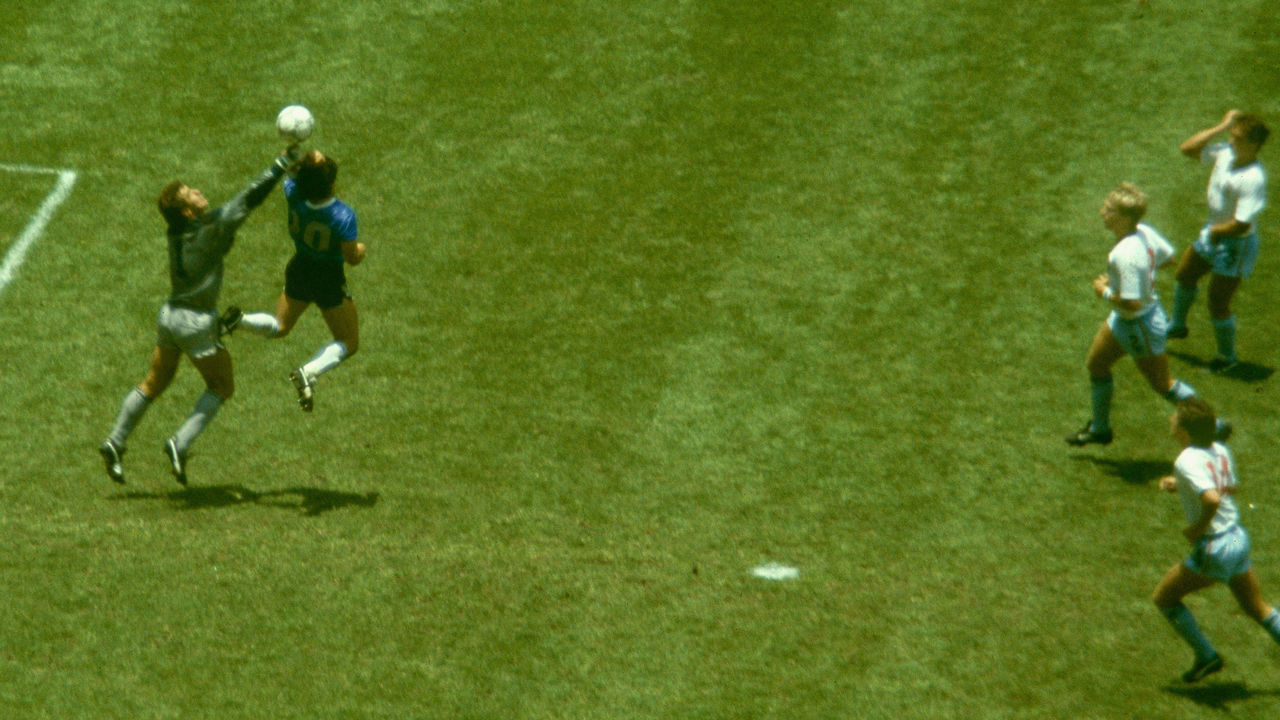 The stage was set at the Azteca Stadium in Mexico City. Two storied opponents were facing off in the 1986 World Cup quarterfinals with the Falklands War freshly in the rearview. Maradona has credited divine aid for his seminal "Hand of God" finish, though it was pluckiness alone that saw the Argentine deity leap to challenge Three Lions 'keeper Peter Shilton before fisting the ball into the back of England's net. Four minutes later, with England agitated, Maradona scored arguably the best solo goal in World Cup history.
1. Escobar's fateful own goal (1994)
Just days after Colombia was eliminated from the 1994 World Cup, captain Andres Escobar was shot to death at a Medellin nightclub car park. It was suspected retaliation for Escobar's own goal against the United States that helped seal the tournament front-runner's exit. In shocking the sporting world, the murder highlighted the inherent and precarious connection between sport and criminal activity in a city and a country that were spiraling even further out of control following the 1993 death of drug trafficker Pablo Escobar. Andres Escobar paid the ultimate price for those societal failings.