Lionel Messi is ready to accept a contract from Paris Saint-Germain and will travel to undergo a medical with the French club, according to The Guardian's Fabrizio Romano.
Talks between Messi's father, Jorge, and PSG started on Thursday – the day Barcelona confirmed Messi would be leaving Catalonia – and an official contract offer was submitted to the superstar on Sunday.
Messi's PSG deal will reportedly last two years with an option for a third. He's set to link up with Neymar and Kylian Mbappe in Mauricio Pochettino's attack.
The Argentine was in tears while confirming his departure from Barcelona earlier on Sunday. Staying at Barcelona was what he and his family "wanted more than anything," the 34-year-old said, before adding that joining PSG was now a "possibility."
Messi moved to Barcelona when he was 13 and went on to win 35 trophies with the club, including 10 La Liga titles and four Champions League crowns. However, the attacker's salary meant the club's wage bill far exceeded its income, making his position untenable.
Even Messi's reduced demands – he was reportedly willing to accept a 50% pay cut to extend his stay by five years – weren't enough to reach a deal.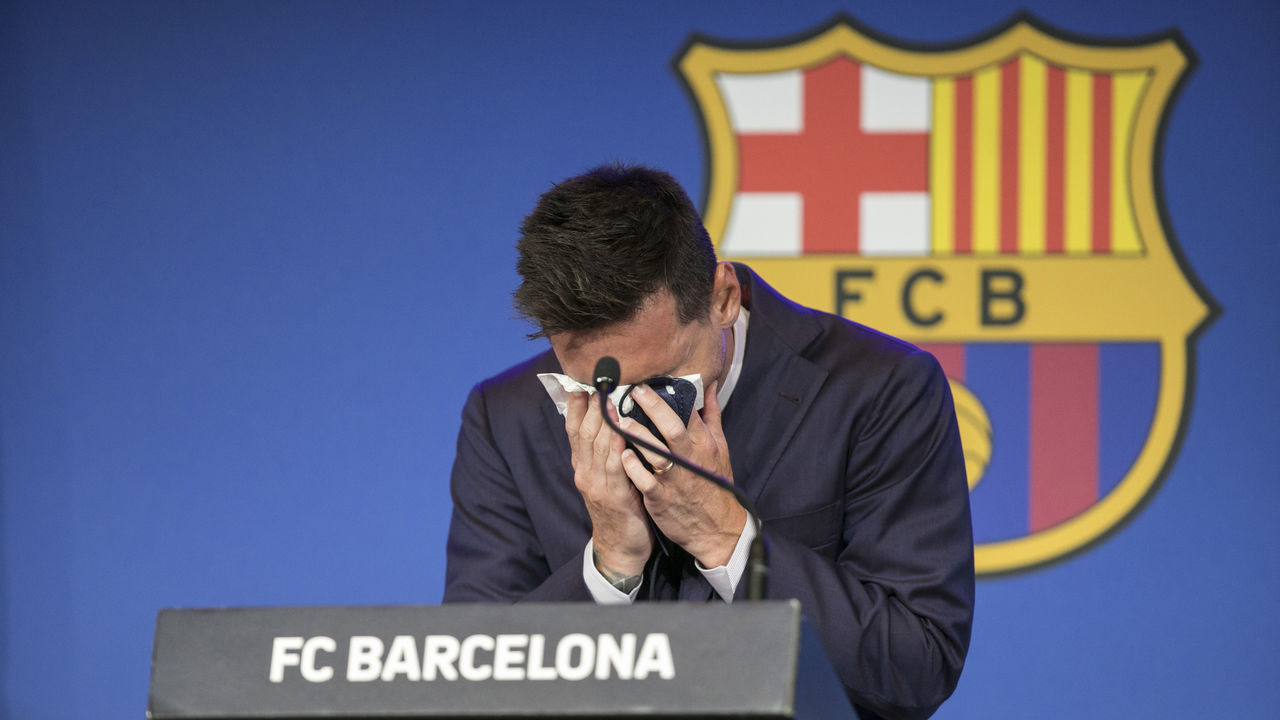 "The situation we have inherited is abominable," said Joan Laporta, who returned for a second tenure as Barcelona's president last November.
La Liga's salary limit also forced Barcelona's hand, with the cap for last season set at €382.7 million. Barcelona's annual wage bill was €671 million before the coronavirus pandemic hit, and the club's overall debt currently stands at around €1.173 billion.
Meanwhile, Qatari-owned PSG seemingly have bottomless reserves of cash. In addition to partnering with Neymar and Mbappe, Messi will join a club awash with lavishly paid stars. Sergio Ramos, Gianluigi Donnarumma, Georginio Wijnaldum, and Achraf Hakimi have all arrived in the French capital this summer, joining the likes of Angel Di Maria, Marco Verratti, Mauro Icardi, and Marquinhos.
PSG are desperately pursuing their first triumphant Champions League campaign after losing in the final and being eliminated at the semifinal stage over the past two terms. They surrendered the Ligue 1 title to Lille in 2020-21, but PSG collected silverware in the Coupe de France.
The team opened its latest Ligue 1 season with Saturday's scrappy 2-1 victory at Troyes. PSG next face Strasbourg, Brest, and Stade de Reims in the French top flight.