Gift Orban was different from anyone else Patrick Metcalfe had encountered in his career.
"He would literally kill someone to score a goal," Metcalfe, who played with the burgeoning Nigerian striker while at Norwegian club Stabaek, told theScore. "Even if it was in training and someone could play him the ball, and they didn't, and he was in a position where he could score, he would almost be trying to fight the player."
Metcalfe admits Orban's desire to win and score goals could go "over the limit" but believes that's a key reason why the 20-year-old will earn a transfer to the Premier League within a year. While Metcalfe moved on to another Norwegian side in Fredrikstad, Orban took his breathtaking form at Stabaek – where he crammed 20 goals into just 21 starts for the club – and replicated it with Gent in Belgian and European football.
Orban is one of the few players on the globe who's challenging Erling Haaland's punishing scoring rate for Manchester City. The world is starting to take notice.
Orban's record at Gent
| Competition | Appearances | Goals | Assists |
| --- | --- | --- | --- |
| Belgian Pro League | 8 | 9 | 2 |
| Europa Conference League | 4 | 5 | 0 |
For a relative latecomer to professional football, Orban's training-ground tenacity could be viewed as surprising, as many young players deal with timidness following a sudden leap into the senior ranks or a new team. He was discovered in Nigeria at 19 during one of Stabaek sporting director Torgeir Bjarmann's regular trips to Africa in search of talent. Within a few months, he had forced himself into the club's starting XI.
Orban's determined and perhaps aggressive ascent to first-team consideration didn't lose him many friends. It was quite the opposite. Metcalfe credits Orban for being able to "flip the switch" and be a "really nice guy" when he's off the pitch. The pair still talk regularly today.
Stefan Smet, a journalist who's covered Gent with Belgian publications Het Nieuwsblad and De Gentenaar for 13 years, describes Orban as "a constant ray of light shining in the club." Unlike other foreign players who've joined Gent over the years – like Jonathan David, who Smet still counts as the "most special" footballer he's seen represent the Buffalos – Orban didn't withhold elements of his personality while he acclimated to his new surroundings and got to know his new colleagues.
"He's not only speaking to one or two people," Smet said of Orban's earliest days with Gent, "he's speaking and making jokes with everybody. He's a phenomenon, even off the pitch."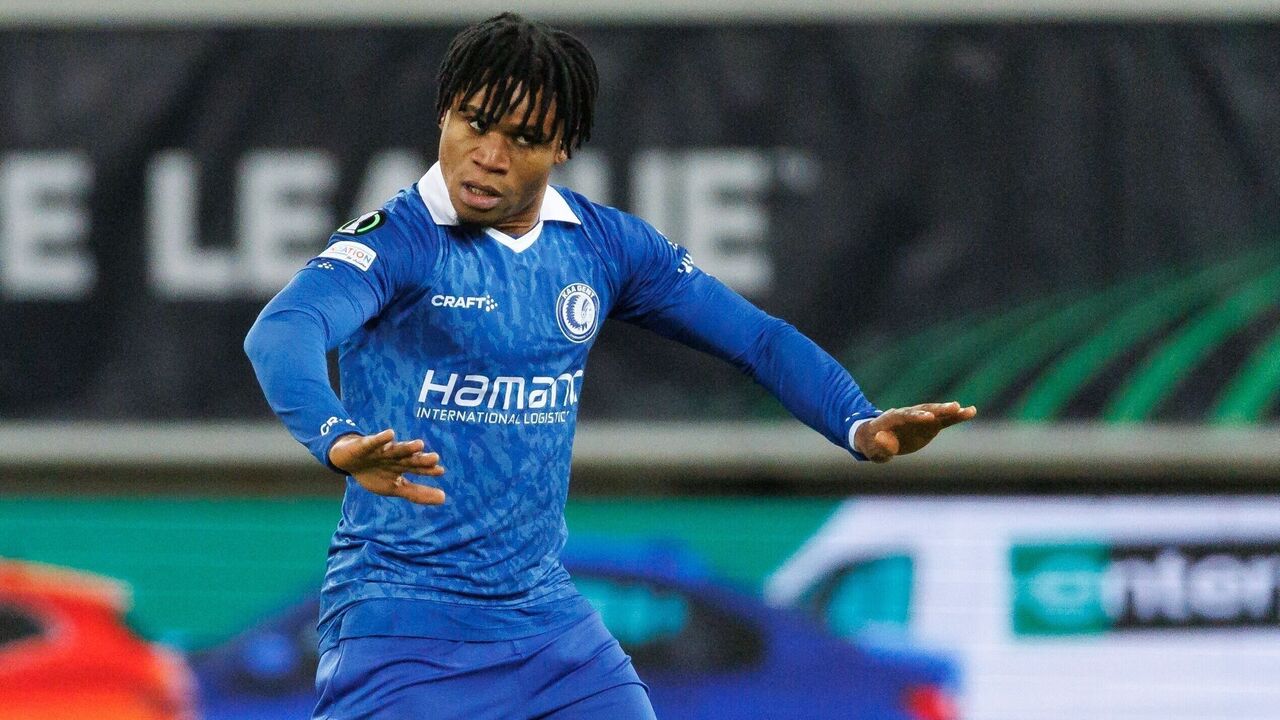 Metcalfe remembers Orban's fondness for Grammy-winning Nigerian singer Burna Boy. "It's like a trigger for him. (It) doesn't matter where he is or what time it is, if he hears Burna Boy come on, he'll start dancing."
Music is an ongoing theme at Gent.
"People sometimes get crazy about the way he starts playing music very loud in the early morning," Smet revealed about Orban's behavior at Gent's training ground. "The more experienced guys have told him, 'No worries, Gift, but a little less loud would be nice.'"
It's not just his own inexperience that could've eroded Orban's ebullience as he strived to make an impact at Gent following his January transfer from Stabaek. There was also the fee. Smet says Gent spent over €3 million – a considerable sum in Belgian football – for a player who had only scored goals in Norway's second division. That level of football was several rungs below the standard Orban was set to encounter in Belgium's top tier and the Europa Conference League.
But any concerns harbored by the local media and Gent supporters were soon dispelled. In his debut, he scored an unorthodox, slingshot-esque volley and grabbed another goal when he ruthlessly rifled the ball into the top corner. He also won a penalty.
And now, just two months into his Gent career, he's already their second-highest scorer of the 2022-23 season with 14 goals across all competitions. Orban fired Gent into the Europa Conference League quarterfinals with a hat-trick in 205 seconds at Istanbul Basaksehir – the fastest treble ever recorded in a UEFA club competition.
Naturally, former players have tried to compare Orban to other footballers past and present. Eighty-six-time Belgian international Franky Van der Elst, who won the country's title five times with Club Brugge, suggested French icon Jean-Pierre Papin as a comparison, but Smet believes that does Orban a disservice. Smet is too young to have appreciated watching the 1991 Ballon d'Or winner live but said old videos indicated Papin was similarly clinical in front of goal while perhaps lacking Orban's creativity.
"At one moment, you think he's a real striker who lives on scoring goals, but then a few days later, he demonstrates that he's also very gifted – no pun intended – at delivering assists," Smet explained.
"It's not like he only waits for an opportunity to come along. He tries to build attacks."
Canadian forward David, Smet's favorite former Gent player, became the most expensive outgoing transfer in the club's history when he joined French side Lille for around €30 million in 2020. The Belgian journalist thinks it's "almost impossible" that Orban doesn't break that record.
A big test lies ahead for Orban in the Europa Conference League. Gent face two meetings with West Ham United in the quarterfinals starting Thursday, offering Orban an opportunity to pit himself against Premier League opposition. Playing in England's top division isn't just what former teammate Metcalfe is forecasting for Orban – the striker himself described it as a "dream" just two days after he joined Gent.
Orban might not be competing with Haaland's scoring feats from afar for much longer.